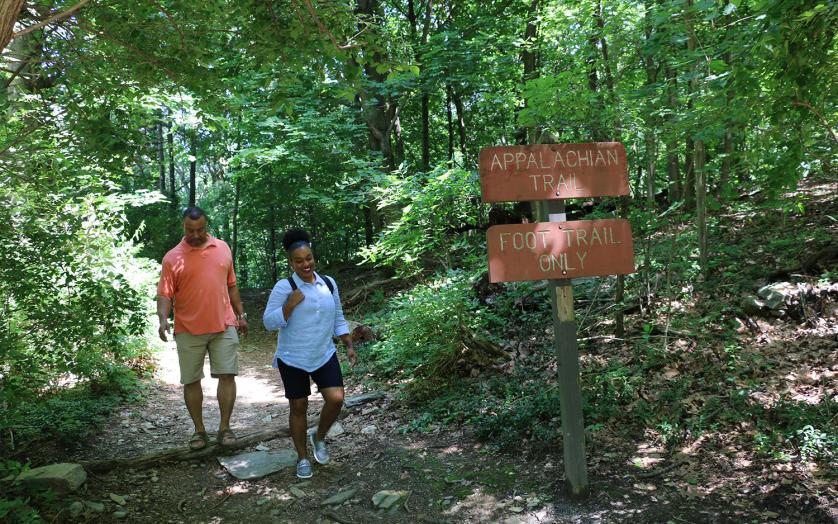 Places to Go Hiking
Get off the beaten path with these Maryland hiking trails.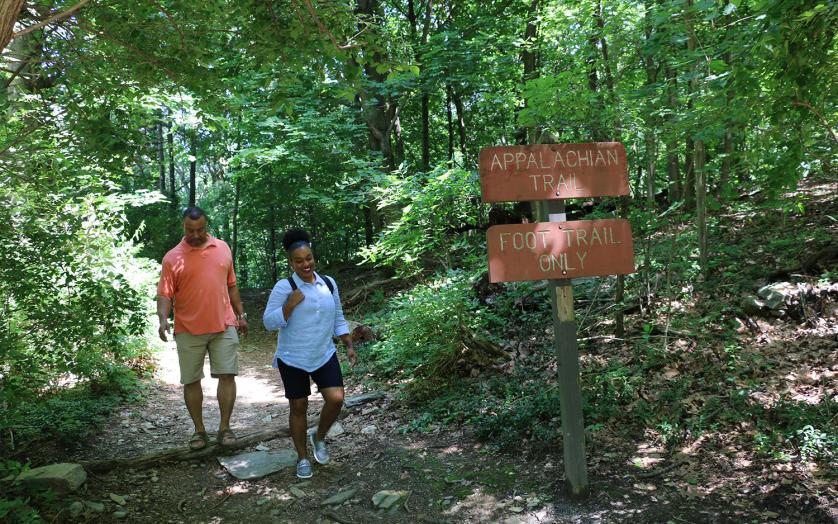 Maryland Hiking Trails
Maryland has a trail system second-to-none with routes ranging from coastal to forest and mountainous to flat. There are short, easy trails for those who want a quick walk to get some fresh air, to heart-pumping mountain trails for a longer trip with the best views. From the urban to wilderness, you'll find a hike that's just right for you. Lace up your boots and hike to stunning Cunningham Falls, stop to explore Civil War era Fort Foote, or search for ancient fossils along the beautiful Calvert Cliffs. With limitless options to go off the beaten path, here's a few favorites to get you started.
Celebrate your inner royalty with a hike up to the majestic King and Queen Seat. This natural promontory soars 190 feet above Deer Creek and offers an unforgettable view of the Maryland Piedmont. With more than 855 acres of stunning forest land to explore, this Harford County favorite is a true hikers' treasure.
2
Catoctin Mountain Park and Cunningham Falls State Park
At Catoctin Mountain Park near Frederick, the harder the hike, the steeper the reward. On the Cunningham Falls Nature Trail, the payoff for this 2.8-mile loop is a view of the 78-foot-high cascading falls. If that was a breeze for you, take the Wolf Rock Loop Trail. This strenuous hike leads to the unique Wolf Rock and Chimney Rock formations.
3
Chesapeake & Ohio Canal
Antietam Campaign
A national park with a system of trails, the Chesapeake & Ohio Canal is full of adventure. Things take a turn for the rugged on the Billy Goat Trail (A) in Potomac. This 1.7-mile Maryland hike may be short, but the steep descent is not for the faint of heart. Along the trail you'll find jagged cliffs and views of the Potomac River and its falls. Another can't miss hike is the Maryland Heights Trail in Knoxville, a 1,200-ft. climb to breathtaking views.
The Fort Foote Civil War Ruins Trail in Fort Foote Park is equal parts hiking and history. The easy 1.7-mile trail passes through one of the most preserved Civil War forts—with real Civil War bunkers. There's more history to explore throughout Fort Washington.
5
National Colonial Park and National Colonial Farm at Piscataway Park
The National Colonial Park is home to a variety of nature trails where you may see bald eagles, beavers, deer, foxes, ospreys and other wildlife. Short trails take nature lovers through forests, wetlands and along the Potomac River. Take in stunning views of George Washington's historic home - Mount Vernon - from the River Trail. Stop by the Visitor Center to learn about these ecosystems, a working colonial farm, Native-American history and more.
6
Torrey C. Brown Rail Trail - Gunpowder Falls State Park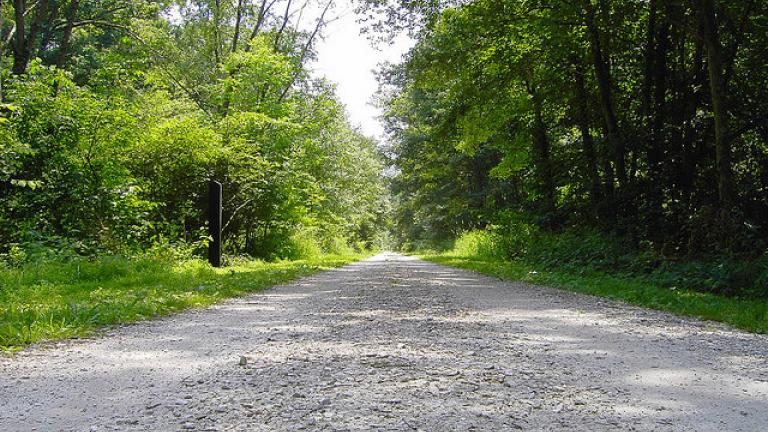 Once the Northern Central Railway, explore miles of history and wide open spaces on the Torrey C. Brown Rail Trail. The wide, flat trail is popular with joggers, walkers and cyclists and extends 20 miles from Hunt Valley to the state line. Stop by the Monkton Station for a snack or water.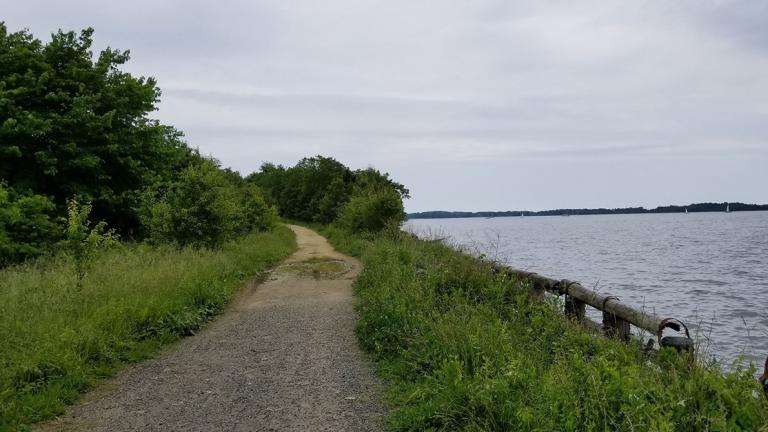 You don't have to leave the city to explore the outdoors. This 3.1-mile loop trail in Annapolis provides views of the Severn River and wildflowers and serves up a great urban adventure! Trails pass the Nature Center and the Naval Academy Golf Course
If you're looking for hiking in Maryland that offers minimum effort and maximum views, check out Swallow Falls State Park. Two waterfalls, including the tallest waterfall in Maryland, make this short hike worth the shoe-leather.
9
Calvert Cliffs State Park
Park Ranger Talks to Young Fossil Hunters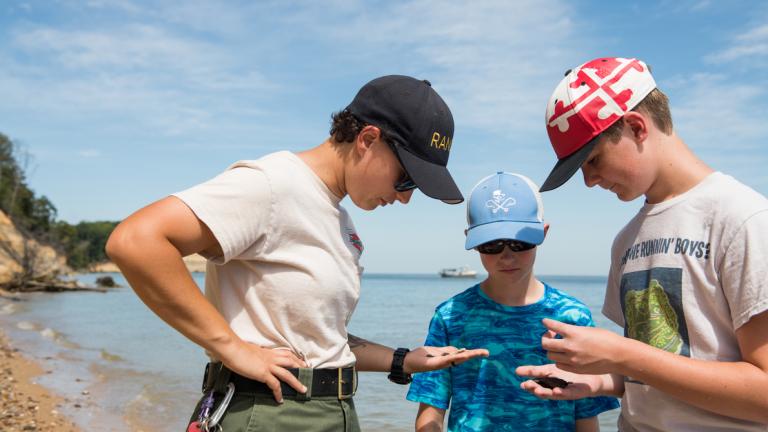 Hike 13 miles of trails along a dramatic Chesapeake Bay coastline at Calvert Cliffs State Park. The 1.8-mile red trail ends at the beach where you can hunt for ancient fossils in one of the best places to find massive megaladon sharks' teeth on Earth!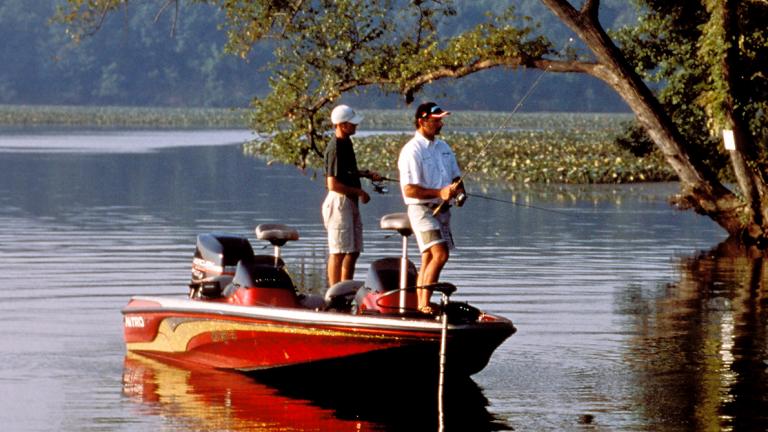 The Upper Loch Raven Reservoir Trail is a serene escape near Baltimore. for some great hiking.. Breathe easy on the 6.5-mile loop along the water surrounded by tall forest.
11
Oregon Ridge Nature Center and Park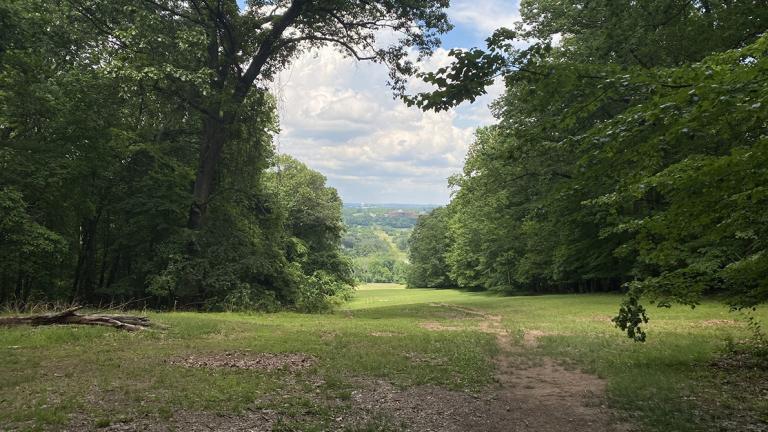 With the amazing Oregon Ridge Nature Center offering a unique window into the wildlife and the history of the park, Oregon Ridge is a great spot for family hikes in Cockeysville, just minutes from downtown Baltimore. The Oregon Ridge Loop is an easy, 4.4.-mile groomed trail, and a great place to introduce the family to the joys of hiking.
12
Chesapeake Beach Railway Trail
Calvert County Dept of Economic Development
One of the best ways to start a morning is with a warm cup of joe and hike along the  Chesapeake Beach Railway Trail. Take a leisurely nature walk in Chesapeake Beach and explore the old railroad and meet local wildlife along the way including otters, blue crabs, and even bald eagles! Make sure to save time to visit the Chesapeake Beach Railway Museum.
13
Sugarloaf Mountain Recreation Area
Frederick Office of Tourism
Find some of the best rural hiking near Baltimore and Washington, D.C. at the Sugarloaf Mountain Recreation Area. When hiking along the 5.7-mile Sugarloaf Mountain Loop and its quartzite cliffs, your reward is the view. Sugarloaf Mountain was once a Civil War signal station. Civil War Trail signs explore this history.