As part of the Union, but rife with Southern sympathizers, Maryland was a microcosm of a nation torn apart by war. Discover our unique Civil War history, and explore the battlefields that made Maryland "The Crossroads of the Civil War."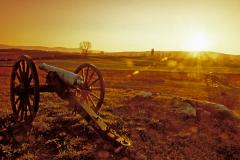 Antietam National Battlefield
Site of the single bloodiest day of battle in American history, it was early battlefield photography from Antietam that first brought the realities of war back to American homes.  The Union victory at Antietam gave President Lincoln the stimulus he needed to deliver the Emancipation Proclamation. Begin your visit at the historic Newcomer House at Antietam National Battlefield, site of the Heart of the Civil War Heritage Area Exhibit and Visitor Center, for helpful historical information and tips for planning your trip. Make one of your stops the National Museum of Civil War Medicine in Frederick, with its fascinating focus on Civil War medical innovation.
---
More about Antietam National Battlefield
---
Type:
Attraction
---
Location:
5831 Dunker Church Rd
Sharpsburg, MD 21782
301-432-5124
---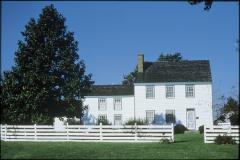 Dr. Samuel A. Mudd House and Museum
John Wilkes Booth stopped here on his flight from justice after assassinating The Great Emancipator, and Dr. Mudd treated the villain, setting his broken leg. History continues to debate Dr. Mudd's role in the plot to kill Lincoln: some say he was part of the conspiracy, others claim he was an innocent caught up in Booth's folly. Visit the museum and decide for yourself. Many of the costumed tour leaders are direct descendants of the doctor still fighting to clear the once proud name, Mudd. 
---
More about The Dr. Mudd House Museum
---
Type:
Attraction
---
Location:
3725 Dr. Samuel Mudd Rd
Waldorf, MD 20601
301-645-6870
---
Surratt House Museum
Home of John Wilkes Booth's co-conspirators Mary Surratt and her son John, Booth stopped here to pick up weapons as he fled Washington after killing President Lincoln. Mary was tried and hanged for her role in the plot, but some still believe she was innocent. Tour the museum built in this immaculately preserved 1852 farm house that was the site of one of the most important moments in American history.
---
More about Surratt House Museum
---
Type:
Attraction
---
Location:
9118 Brandywine Rd
Clinton, MD 20735
301-868-1121
---
Image Credit: Visit Frederick
Monocacy National Battlefield
Long considered the northern-most Confederate victory in the war, the Battle of Monocacy is now credited with saving Washington, D.C. Also explore Hagerstown: its strategic location near the Mason-Dixon Line made it an important site for both the Union and Confederacy. 
---
More about Monocacy National Battlefield
---
Type:
Attraction
---
Location:
5201 Urbana Pike
Frederick, MD 21704
301-662-3515
---
Image Credit: VisitBaltimore.org
Baltimore Civil War Museum at President Street Station
Site of the Pratt Street Riots where Confederate sympathizers attacked Union troops changing trains, the skirmish was the first bloodshed of the War Between the States. A short water-taxi ride will take you to Fort McHenry which was utilized as a Union prison camp. Make sure to visit the nearby B&O Railroad Museum with its "The War Came By Train" exhibit, a fascinating look at how rail shaped the Civil War, the world's first modern war.  
---
More about Baltimore Civil War Museum President Street Station
---
Type:
Attraction
---
Location:
601 S President St
Baltimore, MD 21202
443-220-0290
---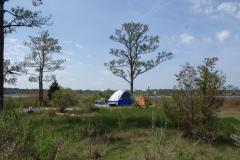 Point Lookout State Park
More than 50,000 Southern prisoners were held at Point Lookout prison camp, many of whom died due to the harsh conditions, or drowned in futile attempts to escape by swimming the mouth of the Potomac River to Virginia. A daring 1864 raid by Confederate General Bradley T. Johnson attempted to reach Point Lookout to free and arm the prisoners. This was also the site of the Union's Hammond Hospital. Point Lookout is now considered by many to be one of the most haunted places in America.
---
More about Point Lookout State Park
---
Type:
Attraction
---
Location:
11175 Point Lookout Rd
Scotland, MD 20687
301-872-5688
---
Image Credit: Visit Frederick
National Museum of Civil War Medicine
This fascinating museum in Frederick offers a unique glimpse into the world of Civil War medicine. The war marked a turning point in medicine as modern science began to revolutionize the field. From there, walk to the nearby Barbara Fritchie House. Legend has it that Fritchie refused to lower her American flag as the rebel army passed by, inspiring the famous poet John Greenlief Whittier to write, "Shoot if you must, this old gray head, but spare your country's flag, she said." 
---
More about National Museum of Civil War Medicine
---
Type:
Attraction
---
Location:
48 E Patrick St
Frederick, MD 21701
301-695-1864
---