Maryland is a foodie's paradise, with a variety of local specialties. From our farms and dairies to the Chesapeake and the sea, there's a bounty of fresh ingredients to be found. Maryland may be most famous for its crabs and oysters, but don't miss our craft breweries, world-class restaurants, eclectic food trucks, unique food festivals and family-owned farms. Come to these food events, restaurants and food trucks for a fantastic foodie adventure in Maryland.
Photo By: Volt Restaurant in Frederick
1

Table 21 at Volt, Frederick

Celebrity chef and James Beard Award Finalist Bryan Voltaggio's Volt restaurant in Frederick is a fine dining experience beyond any other. You need to reserve this exclusive table months in advance, but planning ahead pays off. Indulge in a 21-course tasting menu and sit inside the kitchen to watch world-class chefs prepare your seasonal, specially-curated meal.
---
More about VOLT
---
Type:
American
---
Location:
228 N. Market St.
Frederick, MD 21701
301-696-8658
---
Photo By: Clark Vandergrift
2

Beer, Bourbon, & BBQ Festival, Timonium

Get your fill of the three "B's" at this event where you can enjoy all-you-can-sample beer and bourbon, plus barbecue on sale from a variety of food vendors. Seminars, games and live music are also on tap at this event held at the Maryland State Fairgrounds Cow Palace. Choose from a one- or two-day ticket, with designated driver tickets available at a discount. More info...
Photo By: Old Stein Inn
3

Old Stein Inn, Edgewater

Savor hearty German cooking at this inn which has been featured on Food Network's "The Best Of" show. Enjoy brats in the beer garden or freshly baked pretzels with bier cheese in the dining room. If you're lucky, the restaurant's German accordion player will serenade you. 
---
More about Old Stein Inn & Bier Bar
---
Type:
American
---
Location:
1143 Central Ave
Edgewater, MD 21037
410-798-6807
---
4

Gypsy Queen Café, Baltimore

The Gypsy Queen Café travels through the streets of Baltimore offering award-winning meals from its food truck. Favorites include the bacon-topped mac 'n cheese served in a waffle cone and sliders topped with bacon relish. Consider yourself fortunate if you cross its path.
---
More about Gypsy Queen Cafe
---
Type:
Food Trucks
---
Location:
Mobile Locations
Baltimore, MD 21201
410-905-9954
---
Photo By: Savage River Lodge
5

Savage River Lodge, Frostburg

Sign up to be "Chef for a Day" and learn culinary basics, tips and tricks alongside the lodge's chef. Cook a four-course meal, bring home recipes to try later, and receive a personalized chef's coat as a memento.
Photo By: 45th Street Taphouse
6

45th Street Taphouse, Ocean City

With 36 specialty beers on tap, and its renowned pretzels served with Guinness mustard and "Natty Boh" cheese, this Ocean City restaurant's bayside dining experience makes it a standout among the many great restaurants found along Coastal Highway. 
---
More about 45th Street Taphouse
---
Type:
American
---
Location:
4507 Coastal Highway
Ocean City, MD 21842
443-664-2201
---
Photo By: Charm City Food Tours
7

Charm City Food Tours, Baltimore

See the city's major landmarks while sampling Baltimore's food staples at one of four food tours showcasing Baltimore's eclectic neighborhoods. The group also offers tours of two of Baltimore's popular food markets, featuring local favorites such as Berger cookies and Faidley's crab cakes. More info...
8

The Kitchen Studio Cooking School, Frederick

Novices and seasoned cooks alike will enjoy the classes offered at this school, which have themes like Date Night: Bacon, Sushi 101, Cupcakes, Soups & Stews, and Thanksgiving Sides. 
---
More about The Kitchen Studio Cooking School-Frederick
---
Type:
Attraction
---
Location:
5301 Buckeystown Pike, Suite 125
Frederick, MD 21704
301-663-6442
---
Photo By: The Elephant Restaurant
9

The Elephant on North Charles, Baltimore

The Elephant enjoys a long history in Baltimore lore and as the venue for fabulous cuisine.  Built as an elegant residence in the 1850's, it was home to well-off public figures into the early 20th Century.  In the 1970's, the property became the stunning restaurant known as The Brass Elephant.  Most recently, the completely renovated Mansion re-opened to be called simply "The Elephant" offering a globally inspired menu. Dine in the Salon or visit the Bar on the First Floor, or repair directly to the European Bar with Fresh Oysters on the Second Level. More info...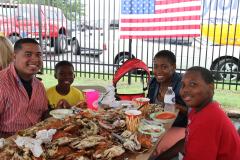 Photo By: Somerset County Tourism
10

J. Millard Tawes Crab and Clam Bake, Crisfield

You might want to wear pants with an adjustable waistline to this annual event held in July at Somers Cove Marina. The feast features an all-you-can-eat menu of locally-grown and sourced favorites including crabs, fish, clams, corn on the cob and sweet potato fries. More info...
Photo By: Worcester County Tourism
11

Drummer's Café, Berlin

Located in the Atlantic Hotel, this restaurant has been serving the community for more than 100 years, offering a truly historic taste of Maryland. The cozy setting features velvet Victorian sofas, crystal chandeliers and an open fireplace. Indulge in baked brie and a spiked "Arnold Palmer."  
---
More about Atlantic Hotel-Ocean City
---
Type:
Hotels & Motels
---
Location:
Wicomico St. and Boardwalk
Ocean City, MD 21842
410-289-9111
---
Photo By: Richardson Farms
12

Richardson Farms, White Marsh

Visit this family farm for its home-grown produce, baked goods and local meats. With its freshly made ice cream and cheese, ethically-raised poultry and well-stocked deli case, there's something delicious here for everyone.
---
More about Richardson Farms-White Marsh
---
Type:
Agriculture & Farms
---
Location:
5900 Ebenezer Rd
White Marsh, MD 21162
410-335-8837
---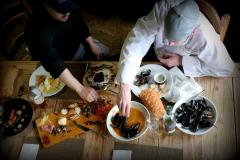 13

Liquid Assets, Ocean City

This high-end restaurant does double-duty as a specialty liquor store. Choose a bottle of wine from the shelf, and treat your palette to local cuisine served with a twist, like Tangier Island oysters stuffed with spinach, anisette liqueur and Gruyère cheese.
---
More about Liquid Assets
---
Type:
American
---
Location:
9213 Coastal Hwy
Ocean City, MD 21842
410-524-7037
---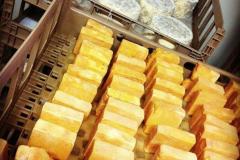 Photo By: Talbot County Tourism
14

Chapel's Country Creamery, Easton

Take a cheese-making class and tour the aging room, then sample cheeses or feast on a catered lunch. For the intrepid cheese aficionado, the creamery offers a more intensive class where you get to milk the cows yourself.
---
More about Chapel's Country Creamery-Easton
---
Type:
Attraction
---
Location:
10380 Chapel Rd
Easton, MD 21601
410-820-6647
---
Photo By: Two if by Sea Restaurant
15

Two If By Sea, Tilghman

This Diner and Cafe is a traveler's dream, especially for breakfast.  Note the hours before you go, but do go.  Chef Henry is also the owner and he has a passion for fresh baking and only the freshest ingredients, including some grown on site.  In addition to extraordinary breakfasts, lunch and dinner at the Cafe offer accessible menus with carefully curated offerings.  More information...
Photo By: Growler's Restaurant
16

Growler's Restaurant, Gaithersburg

Montgomery County's first brewpub pairs craft beers perfectly with a satisfying pub menu. Stay late for live music or stop by early for an eclectic twist on the classic brunch menu, which includes creations like breakfast pizza topped with chorizo and a burrito stuffed with house-smoked, beer-braised pork.
Photo By: Kevin Moore Photo
17

St. Mary's County Crab Festival, Leonardtown

Get ready to indulge in Maryland's famous crabs at this day-long feast held at the St. Mary's County Fairgrounds. There are steamed crabs, crab cakes, crab soups, and soft crabs—and did we mention crab? There are plenty of other food options, too, along with live music and a classic car show.
Photo By: Antietam Brewery & Benny's Pub
18

Antietam Brewery & Benny's Pub, Hagerstown

Pop in to this pub located along Antietam Creek—only 10 minutes away from the historic Antietam Battlefield—and order from an extensive and creative menu which includes a fishtail BLT with basil mayo. Don't forget to try the house-brewed beers, too.
---
More about Antietam Brewery
---
Type:
Breweries, Wineries & Distilleries
---
Location:
49 Eastern Blvd. N
Hagerstown, MD 21740
301-791-5915
---
Photo By: Boordy Vineyards
19

Boordy Vineyards, Hydes

In the rolling hills of Baltimore County, Boordy draws in crowds with guided wine tastings, tours of its historic barn, food truck vendors and Shakespearean performances. Visit in the winter for the food and wine pairings, or stop by any time of the year for the live music.
---
More about Boordy Vineyards
---
Type:
Attraction
---
Location:
12820 Long Green Pike
Hydes, MD 21082
410-592-5015
---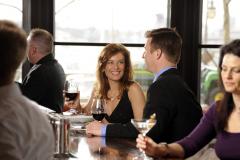 Photo By: Visit Baltimore
20

Charleston Restaurant, Baltimore

For any discerning foodie, the Charleston's prix fixe tasting menu is a must. Choose between three and six course meals carefully created by James Beard Award nominee Chef Cindy Wolf which use only the best ingredients.
---
More about Charleston
---
Type:
American
---
Location:
1000 Lancaster St
Baltimore, MD 21202
410-332-7373
---
21

Reynold's Tavern, Annapolis

Sitting in the heart of downtown Annapolis, it doesn't get more authentic than Reynold's Tavern. Soak in the history with a traditional English afternoon tea or get a drink in the basement's 1747 Pub, which—like the name implies—makes you feel like you've traveled back to the 18th century.
---
More about Reynolds Tavern
---
Type:
American
---
Location:
7 Church Circle
Annapolis, MD 21401
410-295-9555
---
Photo By: Illustration Yao Li 2011
22

Farm to Chef Maryland, Baltimore

Held at the American Visionary Art Museum, this unique culinary competition pairs 30 chefs with 30 local farms to create unforgettable dishes for over 300 attendees. Proceeds support Days of Taste, a Baltimore program educating elementary school children on the importance of farm-to-table cuisine.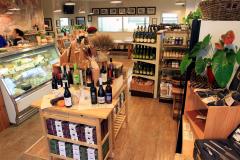 Photo By: Garrett County Chamber of Commerce
23

FireFly Farms Creamery & Market, Accident

This award-winning Garrett County creamery curates seasonal tastings and pairings of homemade cheeses with beer or wine, and an array of accompaniments ranging from nuts and olives to charcuterie and breads. The goat cheeses are free of additives and preservatives, and made of fresh goat milk from six local family farms.
---
More about Firefly Farms
---
Type:
American
---
Location:
107 South Main St
Accident, MD 21520
301-746-8188
---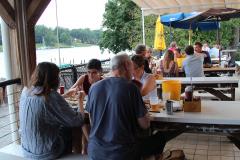 Photo By: Visit Annapolis
24

Jimmy Cantler's Riverside Inn, Annapolis

For a true Maryland crab-filled meal, try this waterfront restaurant in Maryland's capital, complete with paper-covered tables and wooden mallets. Order crabs and a couple of pitchers of beer, and you've got an authentic Maryland dining experience like no other.
---
More about Cantler's Riverside Inn
---
Type:
Seafood
---
Location:
458 Forest Beach Rd
Annapolis, MD 21401
410-757-1311
---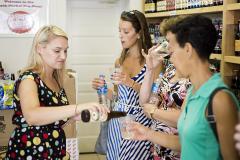 Photo By: Travis S. Pratt
25

Taste Frederick Food Tours, Frederick

On weekends from March through November, you can take a three-hour walking (and eating) tour of Market Street's local restaurants and specialty food shops, all while learning about the town's history and architecture. Sample crab mac 'n cheese on-a-stick or Mediterranean-influenced artisan chocolates, and taste local brews inspired by colonial Maryland.  More Info....