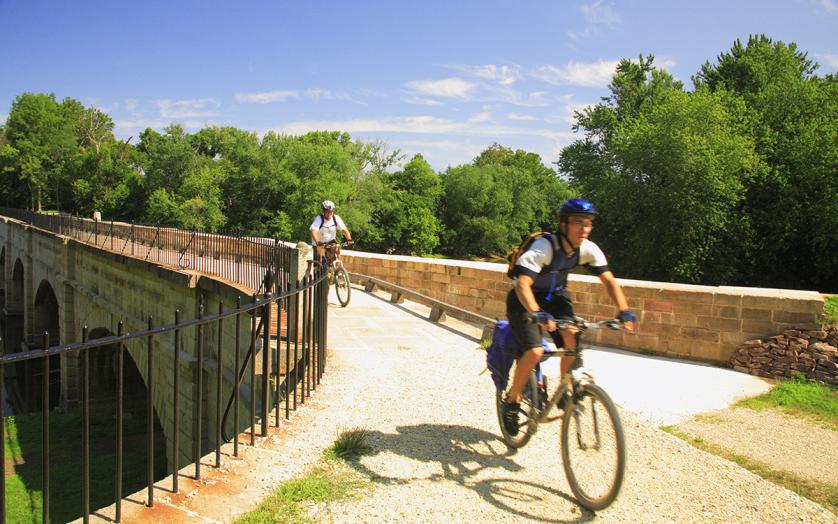 Plaid Photo Justin Tsucalas/Visit Frederick
Biking Trips in Maryland
Hop on your bike and see Maryland from a more intimate perspective.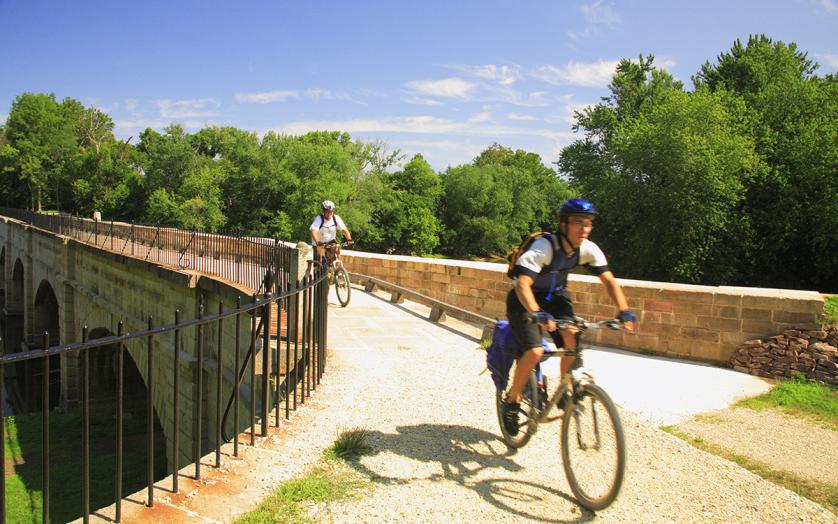 Plaid Photo Justin Tsucalas/Visit Frederick
Learn of Maryland's history, nature, culture and more while enjoying one of these biking trips. Imagine riding through a picturesque town on main streets lined with shops, or pedaling on a trail beneath a canopy of towering maple and oak trees. No matter your interest or skill level, Maryland has a bike route for you.
Bike Tours for History Buffs
Head to Washington County for a hilly 21-mile ride on the Antietam Battlefield tour. Begin at the Antietam National Battlefield Visitor Center and make a weekend of it and reserve a room at the Antietam Overlook Farm Bed & Breakfast, a cozy inn nestled atop a 95-acre mountain ridge. For a different history tour, follow Bike Washington's suggested route on the C&O Canal. 
Biking The chesapeake's eastern shore
The flat, coastal roads of Maryland's Eastern Shore make the Chesapeake Bike Tour an easy, enjoyable ride for sightseeing and relaxation. Tour rides range from 20 to 45 miles, or longer if you feel ambitious! Register for an organized tour with a group like Wilderness Voyageurs, or Discovery Bike Tours, or tour at your own pace. With so much to do, consider an extended stay (at least four days). Tour St. Michaels, a quiet historic town on the Chesapeake Bay. From there, ride through inland farms and woodlands, eventually arriving in Oxford. Conclude the day by returning to St. Michaels aboard the Oxford-Bellevue Ferry or settle in on the porch overlooking the Chesapeake Bay at the Robert Morris Inn.
Five Frederick Bike Tours for Nature Lovers
Choose from one of five themed Frederick County Heritage bicycle tours through the mountains. Take in downtown Frederick and Civil War sites on the Campaign Ride, see three of Maryland's six authentic covered bridges on the Northern County Bridge Sampler, or enjoy a mostly flat ride along the C&O Canal on the Transportation Heritage Trail. Or, try the 50-mile Catoctin Mountain Challenge. Lodging options along the way include The Inn at Springfield Manor in Thurmont, and the Frederick B&Bs 10 Clarke Place or Hollerstown Hill.
Cycling Along Roads and Canals
The ideal trail for a family bike excursion, the paved 13-mile Baltimore & Annapolis trail stretches from the state capital to Glen Burnie and offers plenty of snack and water stops along the way to replenish energy levels. For a longer excursion complete with camping and long stretches of trail, look no further than the C&O Canal Towpath. The full length of the mainly dirt trail is 184.5 miles and spans from Washington, D.C. to Cumberland, but you can enjoy any of the three sections of the trail which are open year round.  In Southern Maryland, an abandoned railroad corridor is now a 13-mile bike trail connecting the Town of Indian Head to Route 301 in White Plains.  The Indian Head Rail Trail traverses approximately halfway across Charles County.
Great Allegheny Passage
Bike the Great Allegheny Passage and find out why National Geographic called this bike trail one of the "Top Ten 2012 Fall Trips in the World." Stretching 150 miles from Cumberland, through Frostburg and West on to Pittsburgh, this stunningly beautiful trail uses historic tunnels, viaducts and bridges for a smooth, mostly flat journey through the rugged terrain and friendly small towns of Western Maryland. 
Urban Adventures Close to our Nation's Capital
Take a trail adventure along the Anacostia Tributary Trail System, a more than 60 mile trail network connecting northern Prince George's County to the nation's capital. Riders can start at Lake Artemesia in College Park near loads of great restaurants, and ride the 5.2 miles to Bladensburg Waterfront Park to rent a kayak or take a boat tour on the Anacostia River. Here you can rent a kayak or take a boat tour on the Anacostia River. Bike riders can continue another 7 miles to downtown Washington, D.C. on the Anacostia River Trail. Stay the night at The Hotel at UMD (one block from the trail), Cambria Hotel College Park (two blocks from the trail), or camp the night at Greenbelt Park.