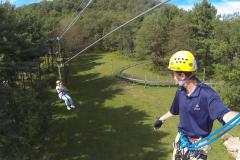 Photo By: Flying Squirrel Canopy Tour at Wisp
1

Flying Squirrel Canopy Tours at Deep Creek

Traditional zip line meets obstacle course at Wisp Resort. Make that reoccurring flying dream come true with Wisp's Flying Squirrel Canopy Tours. Offering three courses, from small to large, the trained guides will help you every step of the way, or see how far you can make it on your own!
---
More about Flying Squirrel Canopy Tour
---
Type:
Attraction
---
Location:
296 Marsh Hill Rd
McHenry, MD 21541
855-238-0192
---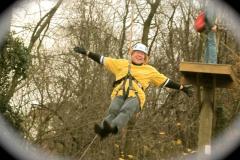 Photo By: Terrapin Adventures
2

Terrapin Adventures, Savage

 Launch your adventure by scaling one of the 12 routes of Terrapin Tower. Conquer all 25 of the Terrapin High and Low Challenge Course Elements. The new Terrapin Explorer kids ropes course for ages 5-9 includes a few zips as well as challenging traverses. Experience 2 G's of force on the Giant Swing or enjoy the thrill of gliding through the forest canopy on the Zip Line. 
---
More about Terrapin Adventures
---
Type:
Outdoor Recreation
---
Location:
8600 Foundry St
Savage, MD 20763
301-725-1313
---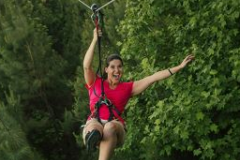 Photo By: GoApe.com
3

Go Ape! Rockville

The Go Ape Rock Creek Treetop Adventure course is fully immersive outdoor experience. The course features six sections of treetop obstacles and six zip lines - including a rad skateboard zip line, 44 unique crossings like the Stirrups, Twister and two Tarzan swings, guests are guaranteed a one of a kind forest adventure with incredible views.  The Go Ape experience gets the adrenalin pumping, gets people out of their comfort zones and above all, it's just great fun.
---
More about Go Ape Treetop Adventure
---
Type:
Attraction
---
Location:
6129 Needwood Lake Dr
Derwood, MD 20855

---
Photo By: Adventure Park Sandy Spring
4

The Adventure Park at Sandy Spring

13 separate courses rated from easy to extreme.  Check out The Labyrinth and Monkey Grove, offering totally new ways to climb! There is a picnic area with tables under a tent that's a great spot for birthday parties, family celebrations, and corporate and group outings. The park is built to meet the standards of the Association of Challenge Course Technology (ACCT).
---
More about The Adventure Park at Sandy Spring Friends School
---
Type:
Attraction
---
Location:
16701 Norwood Rd
Sandy Spring, MD 20860
240-389-4386
---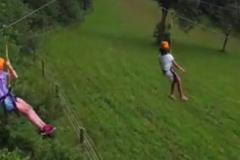 Photo By: River Valley Ranch
5

River Valley Ranch (RVR), Manchester

Located in the scenic rolling hills of northern Carroll County, in Central Maryland, and an easy drive from Baltimore, Frederick, and other surrounding cities - River Valley Ranch offers an assortment of  exciting group experiences including  Maryland's longest zipline - coming in at 1500 feet.
---
More about River Valley Ranch
---
Type:
Attraction
---
Location:
4443 Grave Run Rd
Manchester, MD 21102
443-712-1010 ext. 124
---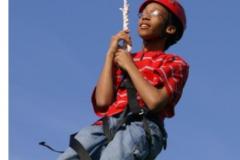 Photo By: Upward Enterprises
6

Upward Enterprises, Adamstown

Upward Enterprises, on Buckeystown pike in Adamstown, offers state-of-the-art ropes challenge course which includes both low and high elements, a team obstacle course, a climbing and repelling tower and, everyone's favorite, a zip line. With over 80 different elements, groups can experience a different ropes challenge course on every visit.
---
More about Upward Enterprises
---
Type:
Attraction
---
Location:
10230 Harmony Rd
Adamstown, MD 21710
301-834-6140
---
Photo By: Frontier Town High Ropes Adventure Park
7

High Ropes Adventure Park and Zip Lines, Frontier Town Campground in Berlin

Zip through the forest as you power through obstacles in the High Ropes Adventure Park. And while you're at  Frontier Town, you can relax on the Lazy River winding through the Water Park or race down the waterslides. There is also Miniature Golf at the Western Theme Park.
---
More about Frontier Town Campground, Western Theme Park, Water Park and High Ropes Adventure Park
---
Type:
Attraction
---
Location:
Rt. 611, Stephen Decatur Hwy
Berlin, MD 21811
410-641-0880
---
Photo By: Monkey Business Adventure Park
8

Monkey Business Adventure Park

This is the largest aerial Adventure Park in the tri-state area wIth about 80 elements and ziplines for kids from 4 to 74 to enjoy!
---
More about Monkey Business Adventure Park
---
Type:
Attraction
---
Location:
970 Deep Creek Dr
McHenry, MD 21541

---