1

Adventure Park USA, Monrovia

The Wild West Express Roller Coaster soars higher than Adventure Park USA's other coaster, the Wildcat, at 53 feet tall, featuring tight turns and heart-pounding drops.  This coaster is only for the bravest of cowboys and cowgirls who like high-action thrills and fun! 
---
More about Adventure Park, USA
---
Type:
Attraction
---
Location:
11113 West Baldwin Rd
Monrovia, MD 21770
301-865-6800
---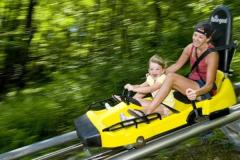 2

Mountain Coaster at Wisp Resort, McHenry

The Mountain Coaster at Wisp Resort is a gravitational hybrid of an Alpine Slide and a Roller Coaster boasting a 1,300-foot uphill track while twisting, turning, dipping and rolling for 3,500 feet downhill over 350 vertical feet on the eastern side of Wisp Mountain. Guests ride in 'coaster carts' that hold up to two riders and regulate their own speed with a set of handbrakes on the side of each cart.
---
More about Mountain Coaster at Wisp Resort
---
Type:
Attraction
---
Location:
296 Marsh Hill Rd
McHenry, MD 21541
800-462-9477
---
Image Credit: Jolly Roger at the Pier
3

Jolly Roger, Ocean City Pier

Amusement  Pier is home to Jolly Roger's® Pier Rides which includes the two-level Carousel, the adrenaline pumping Slingshot, the iconic Ferris Wheel, and more! Millions of beachgoers have made lasting memories at the pier over the last century, memories that have helped to secure Ocean City as the premier East Coast vacation destination for families.
---
More about Ocean City Pier Rides & Amusements
---
Type:
General Attractions
---
Location:
At the Boardwalk and Wicomico St Pier
Ocean City, MD 21842
410-289-3031
---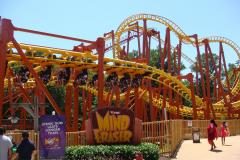 4

Six Flags America, Upper Marlboro

With so many choices, where do you begin? Take a look at all the amazing things to do while at Six Flags America — from pulse-pounding roller coasters to gentler options for tots. Thrill Rides include Apocalypse: The Last Stand, BATWING Coaster, Wonder Woman's Lasso of Truth, Mind Eraser, and more including FIREBIRD which opened in spring 2019.
---
More about Six Flags America
---
Type:
Attraction
---
Location:
13710 Central Ave
Upper Marlboro, MD 20774
301-249-1500
---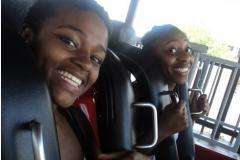 Image Credit: Trimper's Rides
5

Trimper's Rides, Ocean City

Trimper's has been an Ocean City staple for nearly a century.  Thrill rides include Endeavor, the free-falling Freakout, and the Tidal Wave - an OC landmark. 
---
More about Trimper's Rides of Ocean City
---
Type:
Attraction
---
Location:
Boardwalk and S 1st St
Ocean City, MD 21842
410-289-8617
---