Five-star luxury in the heart of Baltimore Harbor, quiet retreats nestled in Maryland's nearby horse country, historic B&Bs by the Annapolis City Dock—in Maryland's iconic Central Region, your home away from home, and the getaway of your dreams are right next door.
Photo By: Columbia Inn at Peralynna
1

The Columbia Inn at Peralynna, Columbia

Named one of Forbes' "Top 25 Places to Live Well," this boutique estate is the destination for the discerning traveler. Offering family-friendly economy accommodations on up to tension-melting Grand Spa Suites that will give pampering a new meaning, the Inn at Peralynna welcomes you with memories that will last a lifetime.
---
More about The Columbia Inn at Peralynna
---
Type:
Bed & Breakfasts and Inns
---
Location:
10605 Rt. 108
Columbia, MD 21044
410-715-4600
---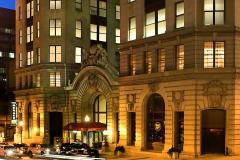 2

Monaco Hotel Baltimore

Experience one-of-a-kind luxury at this fabulous boutique hotel. Located in the historic former headquarters of the B&O Railroad, the architecture is exquisite and the grand lobby will take your breath away. Service is personalized and top notch, and the onsite B&O American Brasserie is a dining experience not to be missed—it's a rare, five-star foodie experience right in your hotel. 
---
More about Hotel Monaco Baltimore, A Kimpton Hotel
---
Type:
Hotels & Motels
---
Location:
2 N. Charles St
Baltimore, MD 21202
443-692-6731
---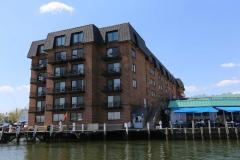 3

Annapolis Marriott Waterfront Hotel, Annapolis

This is the perfect spot to take in Annapolis's world-renowned United States Boat Show. Built right on the brick-lined waterfront of this charming, historic town, the Waterfront offers expected Marriott luxury with unequaled beauty and convenience. It's a great wedding destination, and just the place to take in the Blue Angels at Naval Academy graduation. 
Photo By: Royal Sonesta
4

Royal Sonesta Harbor Court Baltimore

Five-star accommodations on downtown Light Street puts you a block from Camden Yards and right on the famous harbor. Don't leave without visiting the Explorer's Lounge. Rich dark woods, luxurious fabric wall-coverings, leather and brass give this legendary Baltimore club an exotic, old world feeling. Brass telescopes let you check out the city before setting out on your adventure.
---
More about Royal Sonesta Harbor Court Baltimore
---
Type:
Hotels & Motels
---
Location:
550 Light St
Baltimore, MD 21202
410-234-0550
---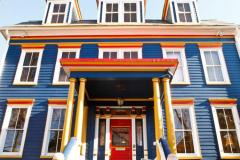 Photo By: Academy Bed and Breakfast
5

Academy Bed & Breakfast, Annapolis

Stroll to the Naval Academy, saunter to the famous City Dock, or just luxuriate in your sumptuous room and revel in its sweeping view of downtown Annapolis. Whether it's your first time in this beautiful town, or you're a local just looking for that perfect night of luxury, the Academy Bed & Breakfast delivers. Try one of the Annapolis Wine Packages, a perfect pairing for the perfect getaway. 
---
More about Academy Bed and Breakfast
---
Type:
Bed & Breakfasts and Inns
---
Location:
134 Prince George St
Annapolis, MD 21401
410-990-1234
---
Photo By: Germercy Mansion
6

Gramercy Mansion, Greenspring

This classic B&B in Stevenson's Greenspring Valley envelops you in luxury and country charm. The beautiful old mansion of former railroad tycoon Alexander J. Cassatt is surrounded by seemingly endless acres of forest, field and garden. Perfect for a big wedding, cozy elopement or a romantic getaway to recharge and fall in love all over again, Gramercy is a remote retreat just minutes from downtown Baltimore.
---
More about Gramercy Mansion
---
Type:
Bed & Breakfasts and Inns
---
Location:
1400 Greenspring Valley Rd
Stevenson, MD 21153
410-486-2405
---
Photo By: Baltimore Marriot Waterfront
7

Baltimore Marriott Waterfront

Anchoring the vibrant Harbor East neighborhood, the Marriott Waterfront provides spectacular views of the city and harbor stretching all the way to the Chesapeake. Centrally located on the President Street Circle, dining choices are limitless; first-rate Landmark Harbor East Cinema and its welcoming lounge are right across the street; nearby shopping is world class; and the water taxi is practically at your door to make exploring easy. 
---
More about Baltimore Marriott Waterfront
---
Type:
Hotels & Motels
---
Location:
700 Aliceanna St
Baltimore, MD 21202
410-385-3000
---
Photo By: Yellow Turtle Inn
8

Seasons at Magnolia Manor, New Windsor

Located in the heart of the beautiful Carroll Wine Trail, surrounded by amazing bike trails and country roads, and minutes from McDaniel College, the suites of the charming Seasons at Magnolia Manor will bring new meaning to luxury. Recently renovated, many original features are preserved.  Rooms are named after famous writers:  The Shakespeare, The Austin, The Poe, The Hemingway and the Lewis.
Photo By: Wayside Inn
9

The Wayside Inn, Ellicott City

The charming main street of Historic Ellicott City with its dining, brew pubs and shopping is one of Maryland's secret treasures, and there's no better way to experience it than with a stay at the Wayside Inn. Built around 1780, this gloriously and reverentially updated retreat will be your home away from it all. For that special getaway, let the Wayside welcome you with a bed of rose pedals, fresh fruit and a candlelit couples massage. 
---
More about The Wayside Inn B&B
---
Type:
Bed & Breakfasts and Inns
---
Location:
4344 Columbia Rd
Ellicott City, MD 21042
410-461-4636
---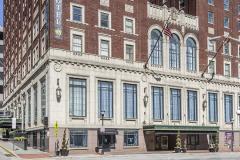 Photo By: Lord Baltimore Hotel
10

Lord Baltimore Hotel, Baltimore City

The Lord Baltimore was originally built in 1928 by architect William Lee Stoddart. It is listed on the National Register of Historic Places and was visited by Martin Luther King, Jr. among a host of other historic luminaries. The hotel is a 23-story, 440-room property in the heart of downtown Baltimore with 20,000 square-feet of ballroom and meeting space and the historic Calvert Ballroom, which has hosted over 80 years of Baltimore society events.
---
More about Lord Baltimore Hotel
---
Type:
Hotels & Motels
---
Location:
20 W Baltimore St
Baltimore, MD 21201
410-539-8400
---