Ski your face off in the winter, swim, boat and hike all summer, and explore Western Maryland's rich Civil War history all year long. There's so much to do on The Mountain Side of Maryland, and these great respites are just a few of the amazing places to stay while you're here. 
Photo By: The Inn at Antietam
1

Inn at Antietam, Sharpsburg

A delightful bed and breakfast located adjacent to the Antietam National Cemetery in Historic Sharpsburg welcoming families, couples, and dogs! They also have a super charger available for guests who drive a Tesla or other electric vehicle.
---
More about Inn at Antietam
---
Type:
Bed & Breakfasts and Inns
---
Location:
220 E Main St
Sharpsburg, MD 21782
301-432-6601
---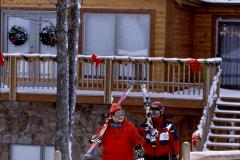 2

Wisp Resort Hotel and Conference Center, McHenry

Does your ideal vacation mean getting as much time on the skis as possible? Then Wisp Resort is the ultimate ski-in, ski-out lodge for you. With beautiful rooms just moments from the slopes, Wisp is the quintessential ski lodge in the winter and conveniently located near all of Deep Creek's summer amenities when the snow melts. 
---
More about The Lodge at Wisp
---
Type:
Conference Centers
---
Location:
296 Marsh Hill Rd
McHenry, MD 21541
855-238-0192
---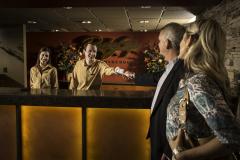 Photo By: Rocky Gap Casino Resort
3

Rocky Gap Casino Resort, Flintstone

Live the life of a high roller at this beautiful full-service casino, or while away a day on tranquil Lake Habeeb, then come home to one of the resorts elegant rooms with impressive views of the surrounding mountains and tranquil shores. 
---
More about Rocky Gap Casino Resort
---
Type:
Attraction
---
Location:
16701 Lakeview Rd
Flintstone, MD 21530
301-784-8400
---
Photo By: The Casselman Inn
4

The Casselman Inn, Grantsville

Enjoy the finest that country living has to offer at this tranquil, historic B&B nestled in the hills of Garret County. Built as one of the original inns along The National Road, it's a short walk to the famous Casselman Bridge and the Spruce Forest Artisan Village. The on-site restaurant is not to be missed!
---
More about Casselman Inn
---
Type:
Hotels & Motels
---
Location:
113 Main Street
Grantsville, MD 21536
301-895-5055
---
Photo By: Savage River Lodge
5

Savage River Lodge, Frostburg

This idyllic destination features 18 sumptuous luxury cabins tucked into more than 700 acres of the Savage River State Forest. The restaurant, which has been featured in Conde Nast Johansens, Wine Spectator, Southern Living, the Washington Post and Fodor's travel guides, features elegant takes on American classics and is a must for foodies and wine connoisseurs alike. 
---
More about Savage River Lodge
---
Type:
Bed & Breakfasts and Inns
---
Location:
1600 Mt. Aetna Rd
Frostburg, MD 21532
301-689-3200
---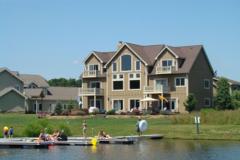 Photo By: Deep Creek Lake
6

Rent a Lake House in Deep Creek

If you're looking for a lakeside retreat, or a unique ski getaway, you'll find a perfect rental house in Deep Creek. Whether you prefer the comforts of a colonial cottage, the amenities of a chic and sophisticated estate, or a log lodge big enough for the extended family, it's out there waiting.
Photo By: Yogi Bear's Jellystone Park
7

Yogi Bear's Jellystone Park, Williamsport

Be it tent, RV or one of Yogi's fully furnished cabins, Jellystone has you covered, and at Jellystone, the fun never stops! 18-hole minigolf, waterslides, the heated Ranger Pool, lots of events and a visit from Yogi Bear himself are just par for the course at Jellystone.
Photo By: Jacob Rorbach Inn
8

Historic Jacob Rorbach Inn, Sharpsburg

Built in 1884, the Jacob Rorbach Inn weathered the storm of the Civil War and remains a perfect base to explore Western Maryland's Civil War heritage. Located in the heart of walkable Sharpsburg, the inn is within 12 miles of four national parks including Antietam and Harpers Ferry as well as the South Mountain Battlefield. 
---
More about Antietam's Jacob Rohrbach Inn B&B
---
Type:
Bed & Breakfasts and Inns
---
Location:
138 W. Main St
Sharpsburg, MD 21782
301-432-5079
---
Photo By: Streams & Dreams B&B
9

Streams & Dreams B&B

When contemplating your ideal getaway, does a river run through it? If so, Streams & Dreams Retreat is the perfect getaway. Their expert guides have tips for the seasoned fly-caster and comprehensive lessons for beginners on the banks of the Youghiogheny. Lose yourself to the sound of rippling waters, the swish of line and the splash of a monster trout.
---
More about Streams & Dreams B&B, Cottage & Flyfishing Lessons
---
Type:
Bed & Breakfasts and Inns
---
Location:
8214 Oakland-Sang Run Road
Oakland, MD 21550
301-387-6881
---
10

Cabins in New Germany State Park

With cabins nestled along the shore of New Germany's peaceful 13-acre lake, this jewel of a state park is one of Western Maryland's hidden treasures. From your cabin, it's an easy hike around the lake or, if you're feeling intrepid, hike up Big Savage Mountain to the East, or head up Meadow Mountain on the Continental Divide. 
---
More about New Germany State Park
---
Type:
Attraction
---
Location:
349 Headquarters Ln
Grantsville, MD 21536
301-895-5453
---