We Marylanders are modest folk, except when it comes to one thing. We have hands-down the best seafood in the world, and there's no better way to celebrate that than by attending a Maryland seafood festival. Check out these amazing seafood festivals that bring together great people, amazing music, big-time family fun, and did we mention the best seafood in the world?
Also, make sure to check out the Maryland Crab & Oyster Trail
Image Credit: http://www.mdcrabfest.com/baltimore-md/show-info
1

Chesapeake Crab, Wine & Beer Festival, Baltimore

September 12, 2020
This 7th Annual Maryland Festival is an all-you-care-to-taste extravaganza complete with over 30,000 crabs, lots of beer, arts & crafts, live music, family fun and so much more. Find out what over 35,000 people have come to enjoy every year.
More info...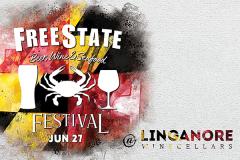 2

FreeState Beer, Wine & Seafood Festival at Linganore Winecellars, Mount Airy

June 27, 2020
The FreeState Beer, Wine and Seafood Festival combines the area's best seafood, Maryland craft brewers, live music, Linganore wines, and artisan vendors. Admission includes a souvenir glass for tastings of all breweries, wine, and tours.
3

Tilghman Island Seafood Festival

July, 2020
Held at Tilghman's Vol Fire Co. & adjacent Kronsburg Park. Steamed crabs, clams, chicken bbq, hot dogs, corn on the cob,  fries, beer & sodas for purchase. Children's activities include games. Live music starts at noon. Crab race is at 3pm.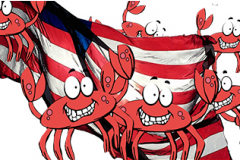 Image Credit: Courtesy of Friends of Fort McHenry
4

Fort McHenry Crab Feast, Baltimore

August, 2020
Annual Crab Feast on the grounds of Fort McHenry includes delicious BBQ and libations and the tunes of the Eastport Oyster Boys. 6th year.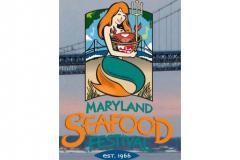 5

Maryland Seafood Festival at Sandy Point State Park, Annapolis

September 26-27, 2020
The festival puts the real meaning into the phrase "endless summer."  The location at Sandy Point State Park makes it easy to enjoy a beach environment and beach fun.  The 52nd Annual Maryland Seafood Festival offers eclectic music, exciting contests & the most flavorful foods. Fun includes sand soccer, paddle-boarding, and of course the famous crab soup cook-off rounds. 
More info...
---
More about Maryland Seafood Festival
---
Type:
Events
---
Location:
1100 E College Pkwy
Annapolis, MD 21409
410-353-9237
---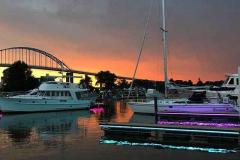 Image Credit: sailemt-Instagram
6

A Taste of Chesapeake, Chesapeake City

October 2020
Come by Chesapeake City for a taste of the local businesses! There will be live music, food from local restaurants, local craft beer, local wine, and other local vendors/shops! The Chesapeake City Volunteer Fire Department will be hosting a special housing ceremony and a fire company parade! This is a kid friendly event. Vendors will be set up behind the firehouse.
7

J. Millard Tawes Crab and Clam Bake, Crisfield

2020 Date - TBA
The J. Millard Tawes Crab and Clam Bake is a Maryland must-attend, see-and-be-seen political institution, equal parts seafood and schmooze. The annual celebration is named in honor of Crisfield native, J. Millard Tawes, Maryland's 54th Governor.
---
More about J. Millard Tawes Crab and Clam Bake - New Date!
---
Type:
Events
---
Location:
715 Broadway
Crisfield, MD 21817
410-968-2500
---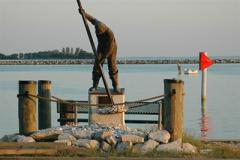 8

Rock Hall Fall Fest - Celebrate the Oyster

October 10, 2020
FallFest showcases the quaint hamlet of Rock Hall and celebrates their heritage as a waterman's town. At his unique event, where musicians hold forth throughout the day, oysters are local and plentiful and children can participate in free activities. Approximately 40 artisans show and sell their wares at the festival and a large selection of food purveyors serve up Chesapeake Bay favorites.
---
More about Rock Hall Fall Fest - Celebrate the Oyster
---
Type:
Events
---
Location:
Main St
Rock Hall, MD 21661
410-639-7611
---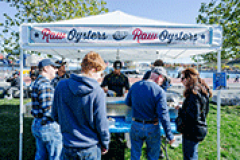 9

Oysterfest 13 by Ryleigh's Oyster - Baltimore

October 2020
Get ready to slurp, sip, and support a great cause as Ryleigh's Oyster celebrates the opening of prime Chesapeake Bay Oystering season for the 13th year in a row at this all-day food-and-entertainment festival. Having outgrown our beloved Cross Street in the Heart of Federal Hill, we have taken Oysterfest to the water - to South Point in Port Convington!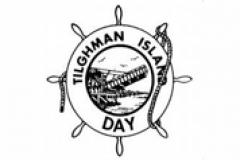 Image Credit: Tilghman Island
10

Tilghman Island Day

October 2020
Arts and nautical crafts, boat building demonstrations, oyster shucking, crab picking and a look at the life of a waterman.
---
More about Tilghman Island Day
---
Type:
Events
---
Location:
US 322 to Rt 33
Tilghman, MD 21671
410-886-2101
---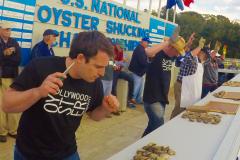 Image Credit: St Mary's County
11

U.S. Oyster Festival, St. Mary's County

October 17-18,  2020
Celebrate the 55th anniversary of the U.S. Oyster Festival & the opening of the Chesapeake Bay's oyster season. U.S. National Oyster Shucking Championships & National Oyster Cook-Off.
---
More about U.S. Oyster Festival in St. Mary's County
---
Type:
Events
---
Location:
42455 Fairgrounds Road
Leonardtown, MD 20650
301-863-5015
---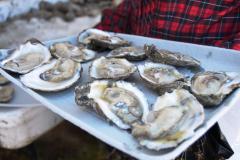 Image Credit: Chesapeake Bay Maritime Museum
12

OysterFest at Chesapeake Bay Maritime Museum, St. Michaels

October 2020
A celebration of the Chesapeake Bay's oysters featuring live music on two stages, boat rides, retriever demonstrations, oysters and local fare, an oyster stew competition, cooking demos, and children's activities.
St. Michaels
Image Credit: Oyster Recovery Partnership
13

Flying Dog Sprint For Spat, Frederick

October 10, 2020
Love running? Love brew? Flying Dog's Sprint for Spat— a running extravaganza unlike any other – is perfect for you! Race proceeds will go to Oyster Recovery Project (ORP) to continue their amazing oyster restoration efforts in the Chesapeake Bay. Hang around after you finish the run for live music, fresh oysters, well-crafted beers, and post-race fun. More info and tickets
---
More about Flying Dog Brewery
---
Type:
Attraction
---
Location:
4607 Wedgewood Blvd
Frederick, MD 21703
301-694-7899
---
Image Credit: Phillips Wharf Environmental Center
14

Oyster Jam & Brew Fest at Phillips Wharf, Tilghman Island

November 7, 2020
Celebrate Oysters Phillips Wharf Style by exploring the bounty from at least eight aquaculture companies.  Then savor the taste of fourteen different brews. Enjoy live music, oysters, a cool auction and great location. More Information...
15

The Great Havre de Grace Oyster Feast

November 2020 
Attend an Oyster Feast with lots of twists.  Sample oysters on the half shell, fried oysters and oyster stew.  You can also enjoy crab soup, Old Bay wings, pit beef, turkey, ham, kielbasa cheeses, fruit, salads, sides, beer and wine, soda and dessert.
Image Credit: Leonardtown Lions Club
16

The Saint Mary's County Crab Festival, Leonardtown

June, 2021
Watch or join in for a crab-picking contest, enjoy the classic car show and be entertained by the live music.  Most of all, enjoy the steamed and hard crabs, crab soups, crab cakes and other seafood concoctions that are available for purchase.  Vendors will have plenty of homemade items on hand and you are sure to find "crabby-themed" items at this fun festival.