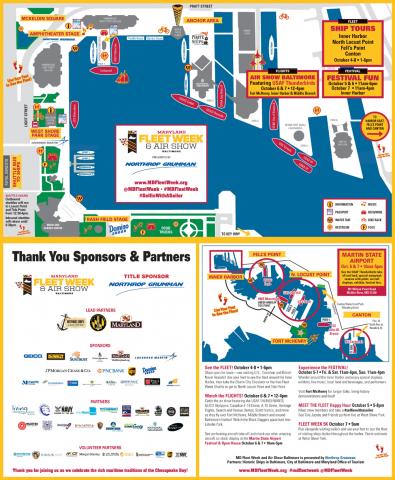 U.S., Canadian, and British Navy vessels along with U.S. Coast Guard and others are docked around the Inner Harbor, Fells Point, Tide Point, and North Locust Point.
Take a special tour of the vessels through Monday Oct. 8 from 1:00 – 6:00 PM and experience the life of a modern sailor!
View map PDF
*The USS Oak Hill at North Locust Point will be shutting down for tours at 4 pm on Monday in order to prepare for departure Tuesday.
Note: U.S. Navy ships are not wheelchair accessible and will require security screening to go aboard. Read more in our FAQ's...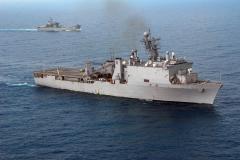 1

Dock Landing Ship – USS Oak Hill

Dock Landing Ships (LSD) support amphibious operations including landings via Landing Craft, Air Cushion (LCAC), conventional landing craft and helicopters, onto hostile shores. These ships transport and launch amphibious craft and vehicles with their crews and embarked personnel in amphibious assault operations. Note: The USS Oak Hill will be shutting down for tours at 4 pm on Monday in order to prepare for departure Tuesday. 
2

Littoral Combat Ship Class – USS Milwaukee

The Littoral Combat Ship Class (LCS) is a fast, agile, mission-focused- platform designed for operation in near-shore environments yet capable of open-ocean operation. It is designed to defeat asymmetric "anti-access" threats such as mines, quiet diesel submarines and fast surface craft.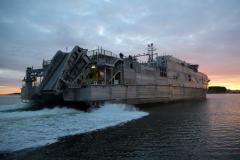 3

Expeditionary Fast Transport – USNS City of Bismarck

The Expeditionary Fast Transport (EPF) bridges the gap between low-speed sealift and high-speed airlift. EPFs transport personnel, equipment and supplies in support of the Global War on Terrorism (GWOT)/Theater Security Cooperation Program (TSCP), Intra-theater Operational/Littoral Maneuver and Sustainment and Seabasing. EPFs enable the rapid projection, agile maneuver and sustainment of modular, tailored forces in response to a wide range of military and civilian contingencies such as Non-Combatant Evacuation Operations (NEO), Humanitarian Assistance and Disaster Relief (HADR).
4

Patrol Coastal Ship – USS Tornado

The primary mission of Patrol Coastal ships (PC) is coastal patrol and interdiction surveillance, an important aspect of littoral operations outlined in the Navy's maritime strategy. Cyclone class PCs are particularly suited for the maritime homeland security mission and have been employed jointly with the U.S. Coast Guard to help protect our nation's coastline, ports and waterways from terrorist attack. In addition, the ships have been forward deployed to the Gulf region in support of the war on terrorism.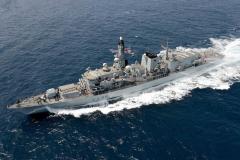 5

Frigate – HMS MONMOUTH

HMS Monmouth, a Type 23 Frigate, is known as the 'Black Duke' and has more battle honors than any other serving warship. HMS Monmouth is unique in the Royal Navy as in reference to the heritage of the name "The Black Duke" the frigate flies a black flag and has black, rather than the traditional red, name plates.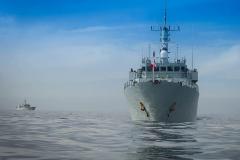 6

Coastal Defense Vessel – HMCS MONCTON

HMCS MONCTON is one of twelve Maritime Coastal Defence Vessels (MCDV) of the Royal Canadian Navy. With a home port of Halifax, Nova Scotia, she crews thirty-seven officers and enlisted. 51 meters in length, and steered by a pair of azipods, four diesel alternators can propel the ship at speeds of up to 15 knots. Though technically classified as a minesweeper, MONCTON can be employed in a variety of different mission sets. In recent months, this has included route survey tasks in the high Arctic, capacity-building operations with a number of partner navies off the coast of West Africa, counter-narcotics operations in support of the U.S. Coast Guard in the waters of the Caribbean, and outreach activities in the waters of the Great Lakes/St. Lawrence Seaway.
7

Barque/Cutter – USCGC EAGLE

The USCG uses the barque cutter Eagle as a training cutter for future officers, deploying with cadets for periods ranging from weeks to months. She is one of only two active commissioned sailing vessels in the United States military.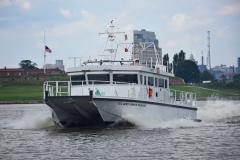 8

Survey Vessel – USACE CATLETT

Survey Vessel CATLETT is Baltimore District's newest working vessel, having been built in 2017. It operates out of Baltimore District's Fort McHenry Yard and is the largest survey vessel in the District's Hydrographic Survey Section. It regularly surveys navigation channels in and around the Upper and lower Chesapeake Bay, including shipping lanes associated with the Port of Baltimore, as part of the Corps' mission to ensure safe navigation in the region's channels.
9

Debris Removal – USACE Reynolds

DV REYNOLDS is the newest and largest of Baltimore District's three debris vessels, having been on patrol since 1992. It operates out of Baltimore District's Fort McHenry Yard and is the primary vessel of the District's Baltimore Harbor Debris Unit. It regularly patrols the Patapsco River and its tributaries, covering 24 square miles, removing debris and obstructions to provide clear and safe channels for general navigation.
10

Research Vessel – NOAA BAY HYDRO II

NOAA's vessel Bay Hydro II plays a critical role identifying hazards to navigation in the waterways and collecting data needed to keep NOAA charts accurate and up-to-date.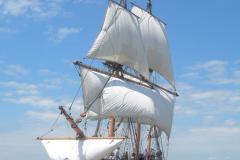 11

Square-Rigger Replica – GODSPEED

Jamestown Settlement's Godspeed is a re-creation of one of the three vessels that sailed from England in 1607 and landed at Jamestown, Virginia. The ship bears striking similarities to the original vessel but also features some modern ship technologies. The voyage is to raise awareness of the 2019 Commemoration, American Evolution.
12

Yard Patrol Craft – US Naval Academy YP's

YPs are used to teach familiarization with water craft, basic damage control and instruction of basic to advanced seamanship and navigation. Yard Patrol craft provide realistic, at-sea training in navigation and seamanship for midshipmen at the U.S. Naval Academy in Annapolis, Maryland, and candidates at Officer Candidate School, Newport, Rhode Island. These craft can cruise for 1,800 nautical miles (3,300 km) at 12 knots (22 km/h) for five days without refueling.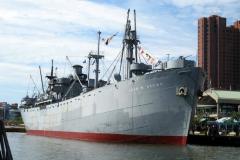 Photo By: S.S. John W. Brown
13

Project Liberty Ship – S.S. John W. Brown

One of two surviving fully operational Liberty ships preserved in the United States, S.S. JOHN W. BROWN is the product of an emergency ship building program in World War II that resulted in the construction of more than 2,700 Liberty ships.

Project Liberty Ship is a dynamic, all-volunteer organization with the sole purpose of preserving the Liberty ship S.S. JOHN W. BROWN as an operating museum ship, with the primary focus of educating people of all ages about the nation's maritime history during World War II and the vital role played by our merchant marine and military veterans.
14

Nuclear Ship – NS Savannah

The N.S. Savannah Association's mission is to take whatever action is necessary to preserve and protect the N.S. Savannah, a non-functional one-of-a-kind nuclear cargo-liner ship. Activities include educating the public about the importance and historical significance of the Savannah and undertaking specific limited scope restoration and preservation tasks with the full concurrence of the vessel owner (MARAD). Under no circumstances will this effort involve radioactive materials or locations in the vessel where such radioactive materials exist or are stored. The Savannah has undergone substantial internal and external maintenance and repair, been inspected and painted, and her internal house areas made suitable for office and project support space. This was made by the ship´s owner, the Maritime Administration of the U.S. Department of Transportation (MARAD) as part of its decommissioning activities. MARAD has also made a substantial investment in its USNRC licensee technical staff capabilities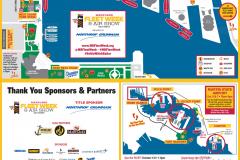 15

Take a Tour - Fleet Week Vessel Map

Take a special tour of the vessels (through Monday Oct. 8 from 1:00 – 6:00 PM) and experience the life of a modern sailor! U.S., Canadian, and British Navy vessels along with U.S. Coast Guard and others are docked around the Inner Harbor, Fells Point, Tide Point, and North Locust Point. View the locations of where each vessel is anchored throughout Baltimore.