Knights, pirates, vikings, superheroes and more! Set sail for seasonal high seas hijinks like Rock Hall's annual Pirates & Wenches Fantasy Weekend (August 10-12) and Baltimore's Urban Pirates. Mount up for classic Maryland activities like Medieval Times in Arundel Mills or the Maryland Renaissance Festival. Or take flight with Superman on Six Flags America's hypercoaster.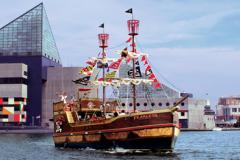 1

Set Sail With Baltimore's Urban Pirates

Avast ye scurvy dogs, set sail for adventures fit for pirates of all ages, from baby buccaneers to senior sea-raiders. Urban Pirates offers traditional cruises around Baltimore's harbor where kids get to man the water cannons and fight off the dastardly Mad Dog Mike, and BYOB booze cruises for grownups looking to shake their booty. Find out more at our Urban Pirates page.
---
More about Urban Pirates-Baltimore
---
Type:
General Attractions
---
Location:
911 South Ann St
Baltimore, MD 21231
410-327-8378
---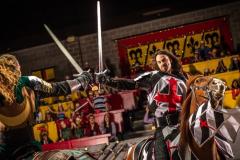 2

Rock to the Rink of Clashing Steel at Medieval Times

Root on your favorite knight and boo the bad guys at one of the most thrilling live stunt shows anywhere. Revel in the spectacle of charging horses, high-flying falcons, and skilled warriors at this Arundel Mills fantasy institution.
---
More about Medieval Times Dinner and Tournament
---
Type:
Attraction
---
Location:
7000 Arundel Mills Cir
Hanover, MD 21076
443-755-0011
---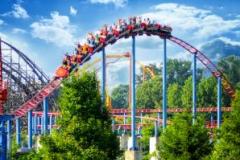 Photo By: Six Flag America
3

Superman: Ride of Steel

Make sure you bring your cape because at 73 miles per hour, you will zoom through 5,400 feet of twisting track, on a wide-open layout that will give you a taste of being a superhero. 
---
More about Six Flags America
---
Type:
Attraction
---
Location:
13710 Central Ave
Upper Marlboro, MD 20774
301-249-1500
---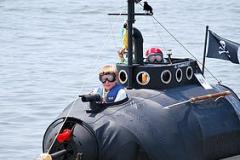 4

Drop Anchor in Rock Hall for Pirates & Wenches Fantasy Weekend

Aug. 10, 2018 – Aug. 12, 2018
It's three days of swashbuckling fun as the town of Rock Hall hoists the Jolly Roger. Live music, grub and grog, treasure hunts, a dinghy parade and the Buccaneer's Ball will have you hooked. So what aaaaargh you waiting for?
---
More about Pirates & Wenches Fantasy Weekend
---
Type:
Events
---
Location:
Chesapeake Bay
Rock Hall, MD 21661
410-935-3491
---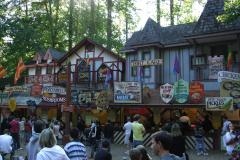 5

Time for Turkey Legs at the Maryland Renaissance Festival

Aug. 25, 2018 – Oct. 21, 2018

Jugglers and jousting, axe throwing and lots and lots of eating, it's a ye olde good time at the annual Maryland Renaissance Festival in Crownsville. Get a season pass and become a regular in this magical destination.
---
More about Maryland Renaissance Festival
---
Type:
Events
---
Location:
1821 Crownsville Road
Annapolis, MD 21401
800-296-7304
---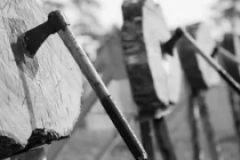 Photo By: vikingscon.com
6

VikingsCon - LaPlata, MD

October 20-21, 2018

A fan convention/festival in LaPlata, MD for fans of the History Channel's show Vikings, to celebrate Viking history and culture featuring: interactive displays, panels, workshops, demos, cosplay contests, and things to do for all ages.