Deemed the "big city" of Talbot County, Easton is as sophisticated as it is lively. Featuring a world-class theater, renowned art galleries and impeccably curated museums, it's the heart of the Shore's arts and culture scene. This mini metropolis draws international artists, musicians and cultural connoisseurs to a series of acclaimed festivals each year. And it's a foodie town to boot, chock-full of hidden culinary gems. Come for a show, stay for a week.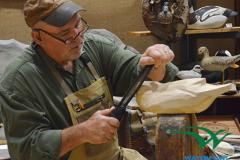 Photo By: Waterfowl Festival
1

Waterfowl Festival

November 9-11, 2018
Easton hosts the Waterfowl Festival, the granddaddy of all waterfowl festivals, attracting artists, collectors, and hunters from around the world for exhibits, workshops, music, and Chesapeake Bay cusine. Come for an autumn weekend trip to Easton to find a new decoy, view the latest wildlife art, see retrievers in action, listen to the maestros of duck and goose calling. The annual Waterfowl Festival is a wonderful celebration of Maryland's Eastern Shore sporting tradition and conservation.
---
More about Waterfowl Festival
---
Type:
Events
---
Location:
40 South Harrison Street
Easton, MD 21601
410-822-4567
---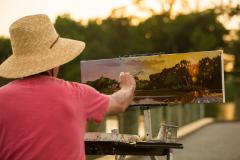 Photo By: Talbot County Ofice of Tourism
2

Plein Air Easton Art Festival

July 15-22, 2018
Plein Air Easton is at the center of the modern plein air movement; it is the largest and most prestigious juried plein air painting competition in the United States. Many of the world's most accomplished artists have Easton at the top of their wish list of competitions. There will be 58 competing artists painting throughout Talbot County. Experience the vibrancy and artistic excellence of Plein Air Easton and purchase you favorite painting for daily joy of seeing original artwork that you love in your home.

 
---
More about Plein Air Easton
---
Type:
Events
---
Location:
Historic Downtown Easton
Easton, MD 21601
410-822-0345
---
Photo By: Clark Vandergrift
3

Scenic Bike Trails

Open spaces, historic sites, and stunning waterfront vistas make Easton a magnet for cyclists. Several bike routes have been designed to showcase the best of Talbot County, including the popular 38.2-mile Chesapeake Views loop, which leads to unobstructed views of the water. Pick up a brochure at any of the half-dozen bike rental centers in the county or download a bike trail map from TourTalbot.org. Local biking events that support great causes include the Ride for Clean Rivers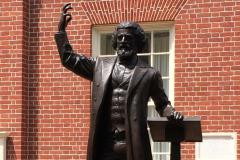 4

Frederick Douglass

African American history threads all corners of Easton. Frederick Douglass, a great American hero, abolitionist and native son is commemorated in a bronze statue in front of the county's majestic brick courthouse. There's also a self-guided trail that weaves through side streets, highlighting those who made an the impact on the town's history.
More info...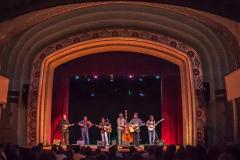 Photo By: Avalon Foundation
5

See A Show at the Avalon Theatre

The Avalon Theatre, an Art Deco gem, is the go-to place to catch live music and theater. There are also free outdoor performances in downtown Easton and musical events like the Chamber Music Festival and the Monty Alexander Jazz Festival throughout the summer.
---
More about Avalon Theatre
---
Type:
Music Venues
---
Location:
40 E Dover St
Easton, MD 21601
410-822-7299
---
Photo By: Clark Vandergrift
6

Tidewater Inn

If you love historic stays, you'll love Easton's Tidewater Inn which is steeped in history and charm with roots tracing back to 1712 and the other vintage properties in Easton that have been converted into B&Bs. 
---
More about Tidewater Inn
---
Type:
Hotels & Motels
---
Location:
101 E Dover St
Easton, MD 21601
410-822-1300
---
Photo By: Talbot County Tourism
7

Academy Art Museum

Easton is home to many galleries and art studios and one of the Mid-Atlantic's premier art centers, the Academy Art Museum, which has a stellar permanent collection (including artists such as Pierre Bonnard, Robert Rauschenberg, and Martin Puryear). The Museum welcomes more than 50,000 visitors annually to experience exhibitions, concerts, lectures, programs, and classes for all.
---
More about Academy Art Museum
---
Type:
Visual Arts
---
Location:
106 South St
Easton, MD 21601
410-822-2787
---