Camping in Maryland is now more popular than ever. From the mountains around Deep Creek Lake to the shores of Assateague, Maryland offers boundless wide open spaces to enjoy nature.
Image Credit: Mike Giddings
1

Little Orleans Campground

Choose from tent and RV sites as well as cabins for rent at this campground located on 222 acres of land in the upper Potomac River valley. It's the perfect home base for a day of hiking, horseback riding, or boating. There's even a fishing pond on the property. 
---
More about Little Orleans Campground & Park Area
---
Type:
Cabins & Lodges
---
Location:
31661 Green Forest Dr, SE
Little Orleans, MD 21766
301-478-2325
---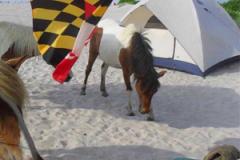 Image Credit: Frank Forgoine
2

Camping at Assateague

Let the sounds of surf and sea carry you to sleep. Let the unforgettable vistas dotted with the island's famed wild horses inspire you to a day's adventure. And check nearby NASA Wallops Island's rocket launch schedule for a truly out of this world experience.
---
More about Assateague Island National Seashore
---
Type:
Attraction
---
Location:
7206 National Seashore Ln
Berlin, MD 21811
410-641-1441
---
3

Yogi Bear's Jellystone Park, Hagerstown

Conveniently located just up the road from Hagerstown and Antietam Battlefield, Jellystone offers great cabin amenities the whole family will appreciate, plus waterslides, laser tag, mini golf, and the thrilling Boo Boo's Bootcamp Ninja Course. Just make sure to keep an eye on your picnic baskets.
4

Goose Bay Marina and Campground

For an avid camper, it doesn't get better than camping right on the edge of the water. This site has 90 RV-ready spots available, plus three bath houses and other amenities. To accommodate boaters, there are three ramps and 250 wet slips available.
---
More about Goose Bay Marina & Campground
---
Type:
Campgrounds
---
Location:
9365 Goose Bay Ln
Welcome, MD 20693
301-934-3812
---
5

Frontier Town

From primitive camping to glamping, Frontier Town offers an award-winning vacation experience along the beautiful Sinepuxent Bay just 5 miles from Ocean City. Family fun includes a water park with lazy river, miniature golf, zip line, ropes course and a  Western theme park.
Image Credit: Maryland Department of Natural Resources
6

Maryland State Parks Camping Options

Maryland State Parks offer a world of camping opportunities from cabins (with beds!), yurts, rustic campsites and camps in-between.  There are 2,000 campsites, 120 full-service and camper cabins available for your next summer adventure.  Reservations required.