Spend a day in Baltimore and you'll understand how its beautiful waterfront views, people and experiences earned it the name "Charm City." Get in touch with your inner Jacques Cousteau at the National Aquarium. Open your mind with out-of-this-world art at the American Visionary Arts Museum. Experience art, history and culture at the Reginald F. Lewis Museum of African American History & Culture. Get pampered at the Four Seasons. In Baltimore, charm abounds and adventures await. Find out  "How Baltimore Quietly Became the Coolest City on the East Coast"  according to Travel + Leisure.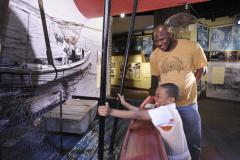 Image Credit: Visit Baltimore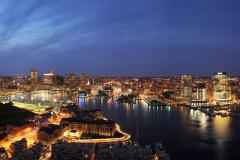 Image Credit: Dean Ray and Visit Baltimore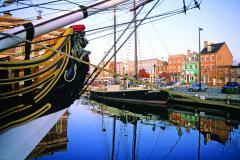 3

Party Like a Pirate at Fells Point's Privateer Festival

The British Navy called Baltimore a "Nest of Pirates," and the Fells Point neighborhood still likes to let its pirate flag fly. The annual Privateer Festival in Fell's Point Visit historic ships, reenactors, comedic skits, live music, maritime merchant booths & a bounty of food and drink.  A kids' area features craft activities and the popular parrot display. Throughout the year, set sail with Urban Pirates Family and Adult Cruises for a swashbuckling harbor adventure.
---
More about Urban Pirates-Baltimore
---
Type:
General Attractions
---
Location:
911 South Ann St
Baltimore, MD 21231
410-327-8378
---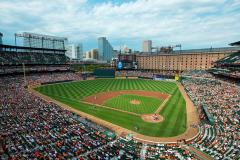 Image Credit: Englishgroup2016
4

Catch an O's Game at Oriole Park at Camden Yards

Whatever the time of year, Maryland sports fans show up to support their ball-playing birds in and around Baltimore. In the fall and winter, the M&T Bank Stadium parking lot packs with tailgate parties for Ravens games, while in the spring and summer, Camden Yards fills with friends and families for a quintessential evening with hot dogs, peanuts and cold beers as the Orioles rule the roost.  The stadium offers family-friendly experiences. Throughout the summer, kids can run the bases, play catch on the field, watch fireworks displays and even meet members of each team—some of whom might one day become Os.
---
More about Oriole Park at Camden Yards
---
Type:
Attraction
---
Location:
333 W Camden St
Baltimore, MD 21201

---
5

Marvel at the American Visionary Art Museum's Kinetic Sculpture Race

The first museum of its kind in the country, the AVAM celebrates the artist in everyone. Once a year they get that art out on the street—and the water—for the Kinetic Sculpture Race, a day-long adventure where racers pilot home-built, human-powered dragons, chariots, crabs, and even an enormous pink poodle across the city and through the harbor.
---
More about American Visionary Art Museum
---
Type:
Visual Arts
---
Location:
800 Key Hwy
Baltimore, MD 21230
410-244-1900
---
Image Credit: Kevin Moore
6

Hang Out with a Hon, VIRTUALLY

This year, the Hons prove that nothing can bring them down as their event goes Virtual!  Coming from one of the top 15 Hipster Neighborhoods in America according to Forbes magazine, funky Hampden (home to unique boutiques, daring restaurants and pubs, and a vibrant arts and music scene). demonstrates that the show must go on.  Watch and see how Hampden does its part to keep Baltimore weird.
---
More about The Avenue in Hampden
---
Type:
Art Galleries
---
Location:
W 36th St.
Baltimore, MD 21211

---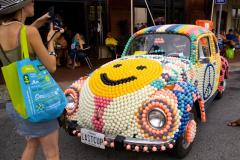 7

Take a Pilgrimage to Artscape, America's Largest Free Arts Festival

Artscape, the country's largest free arts festival just so happens to hail from Baltimore, as every July, thousands of attendees gather in the Station North Arts & Entertainment District of Baltimore for one full weekend of music, dance, theater and more. During this quirky annual tradition, browse or buy local artworks, hear headlining musicians across multiple stages and snap a selfie with one of the decked-out "art cars" that line North Charles Street.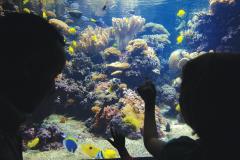 Image Credit: Visit Baltimore
8

Experience Fintastic Fun at the National Aquarium

With its revolutionary architecture and dedication to conservation, the giant National Aquarium is one of the most influential aquariums in the world. With stunningly beautiful exhibits like the Animal Planet Australia, Blacktip Reef, Shark Alley, the Amazon River Forest, plus the immersive 4-D theater, the National Aquarium makes exploring our ocean planet fun.
---
More about National Aquarium in Baltimore
---
Type:
Attraction
---
Location:
501 E Pratt St
Baltimore, MD 21202
410-576-3800
---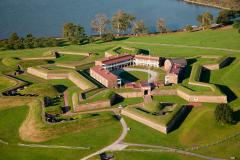 Image Credit: Ken Stanek Photography
9

Picnic at Fort McHenry, Home of the Star-Spangled Banner

Now a National Monument & Historic Shrine, during the War of 1812, Fort McHenry repelled the British, saving the city and inspiring Francis Scott Key to write our National Anthem. A picnic on the fort's sprawling, waterfront lawns is a great way to get in touch with history and to see the skyline of Baltimore.  
---
More about Fort McHenry National Monument & Historic Shrine
---
Type:
Attraction
---
Location:
2400 E Fort Ave
Baltimore, MD 21230
410-962-4290
---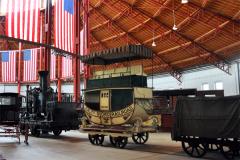 Image Credit: VisitBaltimore
10

Ride the Rails at the B&O Railroad Museum

Stand under the soaring cupola of the B&O roundhouse then board one of the museum's historic trains for a ride down the rails. With working trains, model gardens and rides for the kids, the next stop is fun at the B&O Railroad Museum and, as a bonus, you get to cross off a spot on your Monopoly board bucket list. 
---
More about Baltimore and Ohio Railroad Museum
---
Type:
Attraction
---
Location:
901 W Pratt St
Baltimore, MD 21223
410-752-2490
---