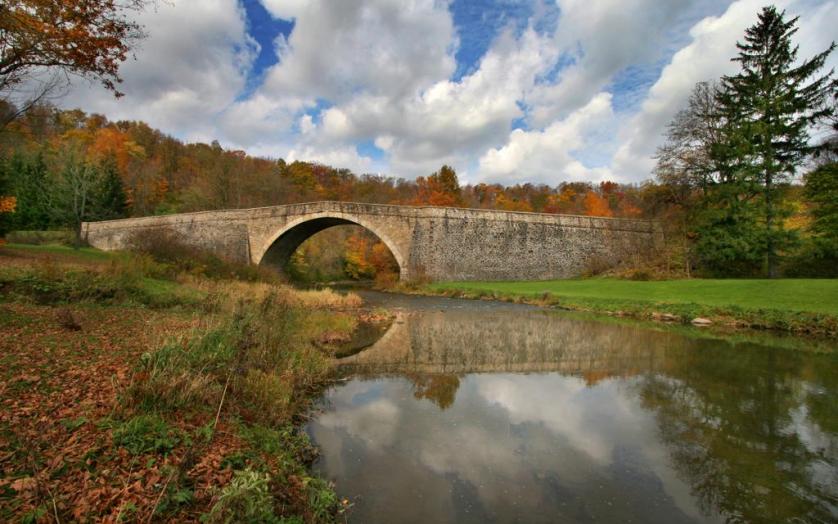 Kevin Moore
Don't Miss These Picturesque Bridge Views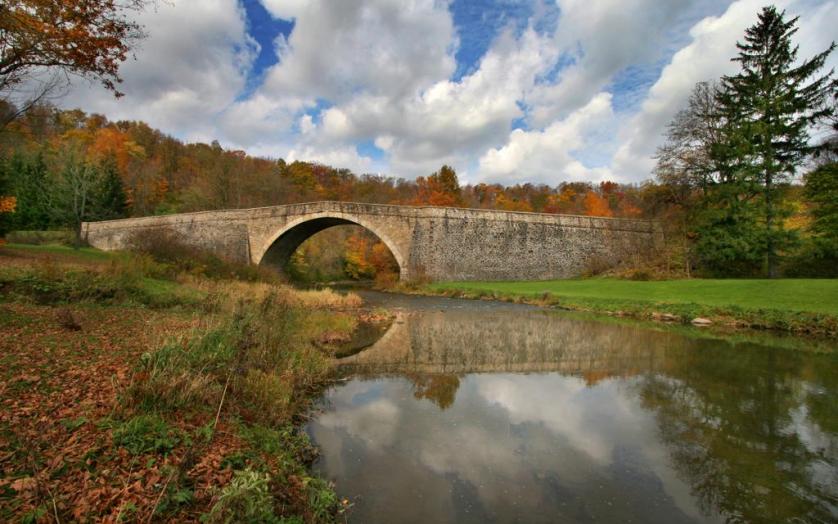 Kevin Moore
See Maryland's waterways from bridges as beautiful as the land and waterscapes they cross
Historic stone archways, picturesque covered bridges, and stunning Chesapeake vistas are just some of what you'll experience on a tour of Maryland's unique bridges.
Explore Maryland's Historic Covered Bridges
Sometimes called "romantic shelters" or "kissing bridges," covered bridges gave courting couples a place to sneak a kiss. Maryland is still home to six beautiful and unforgettable covered bridges.
Built in 1865, Jericho Covered Bridge spans Little Gunpowder Falls to connect Baltimore and Harford counties. Now restored, the bridge is nestled in the lush woods of Gunpowder Falls State Park. It's a perfect stop while driving through the park.
Three more covered bridges are close to each other northeast of Frederick, making them an easy outing from the bustling city. Roddy Road, near Thurmont, is the smallest covered bridge in Maryland. Modified and rebuilt after arson, the original timbers remain at Loys Station north of Creagerstown and finally, the Utica Mills bridge incorporates a span of the original Devilbiss Road Covered Bridge that washed away during flooding in 1889.
Two covered bridges, both built in 1860, are in Cecil County. Near the waterfront town of North East, the 119-foot Gilpin's Falls is the longest covered bridge in Maryland. The Foxcatcher Farm bridge is over Big Elk Creek in the Fair Hill Natural Resource Management Area, a popular place for horse races and festivals.
Can't-Miss Views Over Chesapeake Bay
While covered bridges offer a quaint beauty, there's no denying the impact of large open-air bridges like the William Preston Lane Jr. Memorial Bay Bridge. It's Maryland's most famous bridge—which is actually two bridges—and at just over four miles, they are the longest bridges in the state. Crossing either one feels like a helicopter ride across Chesapeake Bay—offering visitors the chance to take in scenic views of Sandy Point State Park, Kent Island and Sandy Point Shoal Lighthouse.
Railroad Viaducts and Historic Bridges
Rail fans will appreciate another type of bridge—two impressive Baltimore & Ohio Railroad viaducts. Completed in 1835, the stone-arched Thomas Viaduct was one of the earliest large bridges in the United States and still carries passenger and freight trains daily over the Patapsco River between Relay and the western entrance of Patapsco State Park in Elkridge.
And the world's oldest railroad bridge still in use, the Carrollton Viaduct, is a soaring 80-foot stone arch crossing the Gwynns Falls stream in southwest Baltimore.
For more stone arch bridges, check out the oldest known bridge in Maryland—the Parkton Stone Arch Bridge. It's a 37-foot-long structure in the tiny and tranquil Parkton town center in Baltimore County. Double the size of the Parton Stone Arch Bridge is the Casselman River Bridge, which featured the longest single-span stone arch in the country when it was built in 1813. Used until 1933, the bridge is now preserved in Garrett County at its own four-acre roadside state park, a great place for a scenic respite while driving.
Another historic bridge in Maryland is the Burnside Bridge at Antietam Battlefield National Park, which played an important role in the Civil War. Confederate riflemen held Gen. Ambrose Burnside's entire Union Army Corps at bay here, allowing reinforcements time to reach Gen. Robert E. Lee.