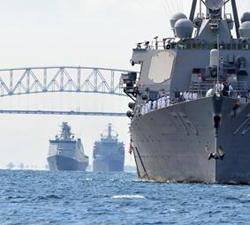 Navy ships will be docked and available for tours
October 4-8
This is a secure area that will require a security screening before entering the Port
Fort McHenry Park Experience 
October 5-7
Enjoy living history demonstrations, ranger talks, food and entertainment!
Air Show Baltimore 
October 6-7
Fort McHenry is the prime viewing location for the most exceptional and expansive air show to occur in the skies over Fort McHenry and the Middle Branch! The USAF Thunderbirds will headline the event with flying demonstrations from the F-16 Fighting Falcon. Other feature performances include the Canadian F-18 Demo, the GEICO Skytypers, the USAF A-10 Demo, Scott Francis, and more!
Salute to Schooners 
October 9
Schooners from the Great Chesapeake Bay Schooner Race fire cannon salute toward Fort McHenry while students sing patriotic songs.