NEWS IN BRIEF

Outreach and hosting journalists to benefit Maryland tourism
Recently, the Maryland Office of Tourism hosted journalists from the United Kingdom and visited with travel editors at few of the nation's best media outlets.
In conjunction with the Capital Region USA, Maryland hosted blogger Helen Ochrya with Our Man on the Ground. As the crew recorded their travels along the Star-Spangled Banner National Historic Trail, they spent a night in a lighthouse in Southern Maryland, cruised by Fort McHenry and were treated to amazing food along the way. The public relations team from Maryland also travelled to New York to meet with representatives from: Family Circle, Food and Wine; Ladies Home Journal, Men's Journal; Wine Spectator and The Rachel Ray Show.
"Both bringing journalists to Maryland and meeting them at their place of business is a strategic investment that pays off in media mentions of Maryland as a travel destination and helps contribute to the more than $13 million in travel publicity that has been generated annually," said Margot Amelia, executive director, Maryland Office of Tourism. "As a matter of fact, one of the journalists the team visited last week has already reached out to a county tourism office for more information about a tourism business in that jurisdiction."


Gov. O'Malley calls for arts education task force
Gov. Martin O'Malley's P-20 (Pre-K through postgraduate) Leadership Council voted unanimously to create a statewide task force on arts education in Maryland schools, according to a September 16 announcement from the Arts Education in Maryland Schools Alliance (AEMS).
Dr. William E. (Brit) Kirwan, Chancellor of the University System of Maryland, made the initial motion to endorse, commenting on the power of the arts in his life and the importance of the arts for all students. Sculptor and AEMS Founder Mary Ann Mears and Maryland State Department of Education Deputy Superintendent Dr. Jack Smith will co-chair the P-20 Task Force on Arts Education.
P-20 Leadership Council members emphasized the critical importance of creativity and innovation in the workforce and the need for students to have a creative edge in order to be globally competitive. The task force will present a final report to the Governor and the Council in June 2014.


October is the Perfect Time for Horse Play in Maryland
Horses have played an important role in Maryland since the first settlers arrived at St. Mary's City in the mid-17th century. In those early days, the horse was essential for farming and as a mode of transportation. Although tractors and cars have taken much of the burden off horses, Maryland's fascination with these beautiful animals has not diminished. When it comes to horse play, Maryland offers a little bit of everything.
"From the wild ponies of Assateague Island to Fair Hill International Festival in Cecil County, Maryland is well-known for its equine roots," said Margot Amelia, executive direction, Maryland Office of Tourism. "And, with fall colors at their peak, it is a great time to horse around in Maryland!"
"There is nothing quite like the bonds that people forge with horses. It is almost magical," said Ross Peddicord, executive director, Maryland Horse Industry Board. "Horses bring Marylanders closer to nature and promote a healthy, active lifestyle. This October, visit one of Maryland's many licensed stables for some equine fun."
For a sampling of equine-related attractions and events during October, click here.

Expo brings together Reunion Planning Resources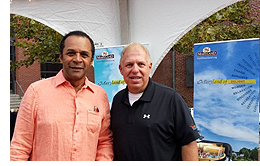 On Saturday, September 28, the first annual Baltimore Family Reunion Expo was held at the Frederick Douglass-Isaac Myers Maritime Park. The event was designed for consumers so that they could find the people, placesand other resources necessary for planning the perfect family reunion – all in one place. The Maryland Office of Tourism was an inaugural sponsor. Clifton Davis, who played Reverend Gregory on the TV show Amen, served as the expo's host is pictured with Rich Gilbert, tourism sales manager. To view more reunion photos, click here.

DBED Professionals Visit Crisfield to discuss Tourism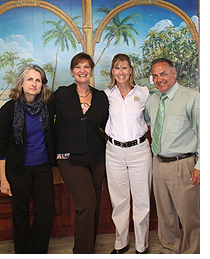 The Maryland Office of Tourism's Margot Amelia, executive director; Marci Ross, assistant director, tourism development, and DBED senior business development representative Lower Shore, Renee Stephens, traveled to Crisfield to hear stakeholder plans to generate economic activity for a post-Hurricane Sandy tour.The team toured restaurants, shops, and recreational facilities including Somers Cove Marina and later convened stakeholder discussions.
Pictured From left to right: Julie Widdowson, tourism director, Somerset County; Margot Amelia; executive director, Maryland Office of Tourism; Marci Ross, assistant director, tourism development, Maryland Office of Tourism, and Daniel K. Thompson, executive director, Somerset County Economic Development Commission
Four Local Tourism Professionals Earn Certified Tourism Ambassador Designation
Training Completed in Hagerstown through the Journey Through Hallowed Ground Partnership
Four employees of the Hagerstown-Washington County Convention and Visitors Bureau recently completed the Certified Tourism Ambassador (CTA) Program offered through The Journey Through Hallowed Ground Partnership (JTHG Partnership), a nonprofit organization dedicated to raising awareness of the unparalleled natural, cultural and historic resources within a four-state, 15 county region stretching from Gettysburg, PA, to Thomas Jefferson's Monticello in Charlottesville, VA.

The CTA Program, with 10,000 designees nationwide, serves to increase tourism by training and inspiring front-line hospitality employees and volunteers to work together to turn every visitor encounter into a positive experience.
Calvert Marine Museum Receives Institute of Museum & Library Services Grant
The Calvert Marine Museum (CMM) has been selected to receive a fiscal year 2013 Museums for America award from the Institute of Museum and Library Services (IMLS), a Federal granting agency. This grant of $142,500 will support the renovations project River to Bay: Reflections and Connections. This grant is being matched with a $25,000 grant from the Maryland Heritage Area Program, $25,000 in private contributions, and more than $250,000 in labor.
The project, due to open in fall 2014, will include five new aquarium tanks; six interactive stations including touch screens, sounds and tactile models; new graphic and text panels; and new species and diversities will be exhibited.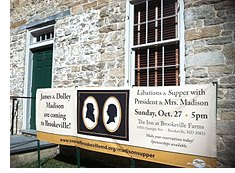 Brookeville Event Benefits its Bicentennial Commemorations
Enjoy a classic 19th-century supper with "President and Mrs. Madison" on Sunday, October 27, at 5 pm at the Inn at Brookeville Farms in Montgomery County, which features a multi-course supper based on menus by Dolley and a discussion of current events of October 1813 by "President Madison" . For more information, visit: www.townofbrookevillemd.org. The event benefits the upcoming Brookeville War of 1812 Bicentennial Commemorations taking place throughout 2013 and 2014.
Bay-getaway contest includes stay at Island Inn and Resort
Visit the Maryland Office of Tourism's web site and enter to win a fall getaway that features a two-night stay at Island Inn and Resort, Piney Point. The package also includes a Port of Leonardtown Winery tasting for six; tickets to Historic St. Mary's City Living History Museum and lunch at the Inn at Brome Howard; a dining certificate to the Ruddy Duck Seafood and Ale House; and an excursion on the Chesapeake Bay for up to six guests from Fish the Bay Charters and Lighthouse Tours.
FREE State Signage Update Immediately Following the Maryland Travel and Tourism Summit
The State Highway Administration (SHA) will be providing an update on various state signage programs such as Tourist Attractions Signs; Tourist Area Corridor Signs; and Ag Tourism and Winery Signs programs on Friday, November 8, from 10:30 am to 12 noon immediately following the conclusion of the Maryland Tourism and Travel Summit at the Hotel at Arundel Preserve. Register now as space is limited.
Maryland Performing Artist Touring Roster: Those interested in applying to be on the Performing Artist Touring Roster must submit an application via eGrant by 5:00, October 17, 2013. Roster Guidelines, sample application, general information and updates are available online.
FY15 Grants for Organizations
Full application deadline is October 24, 2013. The Request for Funding (RFF) for those on a multi-year cycle is December 12, 2013. New applicants must submit Intent to Apply by October 2, 2013. Remember, application assistance is available through a series of MSAC workshops, webinars and sessions.
Free Fall Baltimore includes return of Literary Arts Week
The Maryland State Arts Council, along with the Greater Baltimore Cultural Alliance and the CityLit Project, plans a second annual Literary Arts Week in Baltimore, continues through Oct. 13, as part of the month-long Free Fall Baltimore. Now in its eighth year, Free Fall Baltimore is a city-wide celebration of National Arts and Humanities Month (coordinated by the Baltimore Office of Promotion & the Arts) that offers 300 free arts and cultural events, programs and activities during October. Literary Arts Week includes author readings, workshops, spoken-word performances and presentations. The Maryland Humanities Council also hosts literary-history walking tours of the city's Mt. Vernon neighborhood.
Ocean City brings back fall restaurant week
Ocean City Restaurant Week, actually a two-week event, runs Oct. 13-27. Seventeen participating restaurants feature prix-fixe menus ($10, $20, $30 or $40). The Ocean City Hotel-Motel-Restaurant Association coordinates the event.
Eastern Shore museum hosts wildfowl exposition
Ward Museum of Wildfowl Art presents its 15th annual Chesapeake Wildfowl Expo, Oct. 12-13 in Salisbury. Admission to the event and the museum is free. The weekend event is a tribute to old, working decoys and also encourages the carving of new decoys through a competition. More than 30 vendors set up on the museum's front parking lot for buying, selling and trading antique decoys, folk art and collectibles related to waterfowling and hunting. The museum was named for the Ward brothers (Stephen and Lemuel) – two Marylanders who operated a shop in Crisfield as pioneers in the decoy-carving industry.
Western Maryland artists open studios for yearly tour
Allegany Arts Council presents its annual Mountain Maryland Art Sale and Tour on two successive weekends, Oct. 19-20 and Oct. 26-27. This year's event features 39 artists in Allegany and Garrett counties. Enter a drawing to win $100 in cash following each weekend of the tour. The Maryland State Arts Council is one of the sponsors of this event. For more information, call 301-777-ARTS (2787).
Learn about Network to Freedom Nomination Process
The Maryland Office of Tourism will be designing and printing a new Maryland Network to Freedom map and guide in 2014. Now is a good time to prepare and submit nominations to the Network to Freedom program, so visitors will know about the Underground Railroad sites and programs when the new map guide is released. In preparation, we are holding a Network to Freedom Nomination Training at the Maryland State Archives on Monday, October 21 from 9 a.m. until noon.
Maryland Historical Trust Requests Input on Five-Year Plan
The Maryland Historical Trust has just released a draft of PreserveMaryland, a statewide plan to address historic preservation concerns in the state and is inviting comments prior to releasing the plan to the National Park Service in November.