Governor Announces Star-Spangled Spectacular Line-up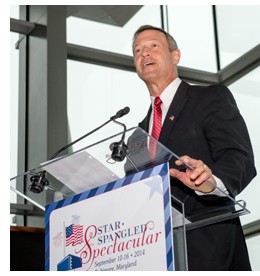 Yesterday, Gov. O'Malley and Baltimore Mayor Stephanie Rawlings-Blake were joined by Rear Admiral Vic Mercado, U.S. Navy and Tina Cappetta, superintendent, Fort McHenry National Monument and Historic Shrine to announce the details of Star-Spangled Spectacular. The free festival that celebrates the 200th anniversary of our National Anthem will take place September 10–16 at Baltimore's Inner Harbor, Fort McHenry, Martin State Airport in Baltimore County and beyond.
The festival will include visiting ships from the United States, Canada, Germany, Norway, Spain and Turkey and the return of the U.S. Navy Blue Angels to fly in the Star-Spangled Air Show, Sept. 13-14. Additional elements of the festival will include a 90-foot Ferris wheel that is lit in red, white and blue, a family-fun zone and Chesapeake Bay food and beverage. The celebration will come to a crescendo on Saturday, Sept. 13 with two concerts at Fort McHenry and Pier Six Pavilion, and extraordinary fireworks by Grucci. The events of this evening will be televised live on PBS' Great Performances.
"The nation's eyes will be on Baltimore on the Spectacular evening of September 13 — 200 years to the day our City and State endured one of the most violent attacks in our nation's history and prevailed over the strongest military in the world," said Gov. O'Malley. "Audiences from Fort McHenry to the Pier Six Pavilion, along with spectators on recreational boats and national television audiences are in for a once-in-a-lifetime experience that includes amazing concert-stage performances and the largest fireworks display in the Chesapeake since 1814!"


Spectacular TV ad airing across mid-Atlantic region
An old-time phonograph begins playing the first notes of the National Anthem, which then brings to life a tapestry of Star-Spangled Spectacular events in a new animated TV commercial that is now running in regional markets. The 30-second TV spot announces the upcoming Star-Spangled Spectacular (Sept. 10-16) and highlights the celebration's many events, including U.S. Navy Blue Angels, tall ships and naval vessels, musical performances and fireworks.
Margot Amelia, executive director of the Maryland Office of Tourism, said the commercial and its airing is a partnership between her office and Visit Baltimore, the city's tourism-marketing office. "It is a perfect example of our mission to 'link and leverage' our marketing efforts to achieve the highest return on our investment.
The state bought TV time in its top feeder markets: Baltimore, Philadelphia and Washington, D.C. Visit Baltimore purchased time in Harrisburg/Lancaster/Lebanon/York, PA and northern New Jersey.


Selling Maryland in Canada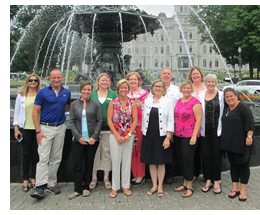 Rich Gilbert, travel trade sales manager, Maryland Office of Tourism, recently led 10 industry partners on a Maryland on the Road Enterprise (MORE) sales blitz of Canada. The group, traveling aboard an executive motorcoach, met with 32 representatives from 16 tour operators in Montreal, Ottawa and Quebec.
Partners included: Rosie Trout, Baltimore Water Taxi; Priscilla Timken, Chesapeake Promotion & Tours; Debbie Morroni, Entertainment Cruises; Jean Carbaugh, Hagerstown/Washington County CVB; Jamie Moore, Hard Rock Café; Jill Logsdon, National Aquarium; Norma Dobrowolski, Ocean City CVB; Fazi Mack, Sandalwood Management; Eric Masterton, Visit Baltimore; and Becky Bickerton, Visit Frederick.


Governor O'Malley Announces $13.4 Million in Arts Awards
Gov. Martin O'Malley recently announced nearly $13.4 million in Maryland State Arts Council (MSAC) grant awards to 287 local arts organizations and arts councils, reaffirming the importance of Maryland's vibrant nonprofit arts sector as a resource to residents and visitors statewide.
"The arts are at the very center of community life for so many Marylanders, whether it be in our schools, museums, churches, or at festivals, concerts and exhibits," said Gov. O'Malley. "The livelihood of our arts organizations is critical to the quality of life we enjoy, and an economy strengthened by 12,700 jobs and an impact of $1 billion annually."
Advisory panels of arts professionals thoroughly evaluate each grant application before recommending awards to the Council. Grants to organizations are awarded on the basis of artistic merit, organizational effectiveness and service to the community.
The grants will be used to support the general operations of 263 arts organizations and programs, as well as Maryland's 24 local arts councils. The Governor approved the matching grants based on the recommendations of the Maryland State Arts Council, an agency of the Maryland Department of Business and Economic Development.


Third Maryland Horse Forum Held
A trio of nationally-known speakers, brainstorming sessions concerning industry issues, and the presentation of several awards were among the highlights of the 2014 Maryland Horse Forum that was held on Aug. 7 at the Prince George's Equestrian Center in Upper Marlboro.
Hannah Byron, assistant secretary, Division of Tourism, Film and the Arts, and Marci Ross, assistant director, Maryland Office of Tourism attended the forum to learn how the horse industry would put into practice the forum's theme of "Celebrating Our Successes, Planning for the Future."
"Maryland's horse industry, the Horses and Hounds Byway and horse trails provides another reason for visitors to come to Maryland, which is good for the state's economy and residents," said Byron. "I was glad to be a part of the day's activities to interact with the industry leaders during the forum."
The forum topics included marketing and promoting the industry; business and regulatory issues; land, greenways and going green; and managing the Maryland horse population.
The forum is co-sponsored by the Maryland Horse Industry Board and the Maryland Horse Council. Awards will be presented throughout the program to horsemen and women for outstanding service to the industry.
Vote for the National Aquarium Today
The National Aquarium has been nominated for USA Today's 10Best Readers' Choice award for Best North American Aquarium. Now it's up to you to make us No. 1! Go online to see the 20 nominees and vote for the National Aquarium before Monday, August 18. You can vote once a day, so feel free to show your support with multiple votes!
Maryland Minute
On CBS radio stations in Baltimore and Washington, D.C. plus WBAL-AM, Margot Amelia is featured in the weekly Maryland Minute. This week's version highlights events for this upcoming weekend.
Civil War comes to life at Folck's Mill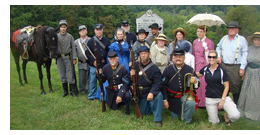 August 1st marked the 150th Anniversary of the Battle of Folck's Mill, "The Battle that Saved Cumberland." The commemoration event, held on August 2nd on the hill overlooking the mill, brought together living historians, lecturers and 150 spectators. On display were artifacts from the battle and tours were given of both the mill site and a nearby tavern where charcoal drawings were made by wounded soldiers as they recuperated after the battle. The event also signified the grand opening of four new Maryland Civil War Trails sites at Old Town, Folck's Mill, Kelley's Island and Bevansville. Each site, open to the public for the very first time, features an interpretive marker sponsored by the Allegany County Office of Tourism and written by members of the Allegany County Civil War Roundtable. Pictured: Marci Ross, Office of Tourism (far right kneeling) and living historians gather at Folck's Mill.
Chesapeake Campaign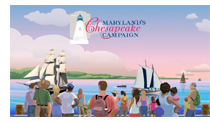 Television spots promote the final events of the Chesapeake Campaign: Battle of Bladensburg (Aug. 23-23); the Labor Day events of Brookeville: Capital for a Day and Battle of Caulk's Field; and Battle of North Point (Sept. 6-8).
Capital Region USA Goes Global



The 2015 International Marketing Summit is a great opportunity to learn about international marketing trends and opportunities, emerging markets and grant programs that can extend your budget. The summit will be at National Harbor on August 20. Registration is open and the fee includes program handouts, lunch, networking opportunities, a prize drawing and a coupon booklet for Tanger Outlets to enjoy after the summit is over!
Now accepting ad reservations for Destination Maryland - Official 2015 Visitors Guide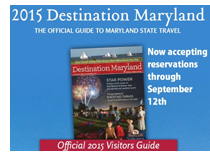 The all-new official Destination Maryland Guide presents our tourism partners with a unique, powerful platform. There is no comparable opportunity available that is 100% focused on visitation to Maryland—and there is no better time to speak to its large audience than when they are actively planning their visit to the state. The Destination Maryland Visitors Guide is sent by request directly to highly qualified travelers who are actively planning a Maryland vacation—most often a long one. In addition to 250,000 printed copies distributed, the Visitors Guide will also be available in both an interactive E-book and I-pad versions which click through to advertiser landing pages.
Contact Carly Stedman for rates and details: carly.stedman@milespartnership.com / 202-681-8169. Deadline to reserve space is September 12, 2014
Submit nominations for Maryland Tourism Awards
Nominations for the 2014 Maryland Tourism Awards — as selected by the Office of Tourism and the Maryland Tourism Development Board — will be accepted until September 15, 2014 at 5:00 p.m. Award categories are: Green/Sustainable Tourism; Visit Maryland (promotion of the state as a travel destination); Cultural/Heritage Tourism; and Economic Engine. A program overview and a nomination form are available online.
The awards pay tribute to individuals, organizations, businesses or governmental agencies that have significantly contributed to the efforts of the tourism office and board to boost jobs and economic impact in Maryland's tourism industry, and enhance the state's image to travelers. Winners will be announced at the Maryland Tourism and Travel Summit, November 13, 2014. For more information, call or e-mail Jennifer Jones, 410-767-6296.