Gov. Celebrates Maryland Day with Star-Spangled Grant Awards
Gov. Martin O'Malley presented $765,000 in matching grants to 14 Maryland non-profit and government entities in support of 15 War of 1812 bicentennial projects as part of a Maryland Day celebration on March 25.
"The War of 1812 in the Chesapeake and the writing of The Star-Spangled Banner are important chapters in our history as a State and as a Nation," said Gov. O'Malley. "I want to thank the grant recipient organizations for their commitment to telling this story and using these funds to invest in community revitalization, tourism development and job growth in Maryland."
The grants, supplemented by more than $2.5 million in matching funds, will support capital improvement, visitor experience, programming and education projects that expand economic development and tourism-related job creation throughout the State. (The full list of grants awarded is available here.)
The last of six grant application rounds is currently open and will close on May 1, 2014. Eligible organizations can learn more at www.StarSpangled200.org.


A&E Districts Attract Visitors, Support Jobs study shows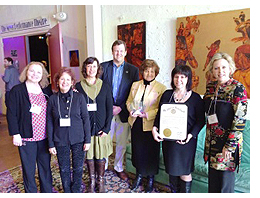 A study commissioned by the Maryland State Arts Council (MSAC) showcases the positive impact of Arts and Entertainment (A&E) Districts on the local economy. Released figures for Fiscal Year 2013, detail that the districts collectively supported an estimated 5,144 new jobs that paid $149 million in wages. New jobs, along with A&E District festivals and events, supported more than $458 million in state Gross Domestic Product and $36 million in state and local tax revenue.
"Maryland is a state with strong communities, a wealth of creative assets and a thriving tourism industry," said Dominick Murray, secretary, Maryland Department of Business and Economic Development. "We capitalize on those distinctive qualities through A&E Districts, which advance our local economies and support cultural experiences that residents and visitors can enjoy."
Established in 2001 as one of the first programs of its kind, the MSAC's A&E District Program has grown to include 22 districts in rural, suburban and urban areas in 15 Maryland counties. A&E Districts attract artists, arts organizations and businesses through various tax benefits, including property tax credits for developers, abatement of admissions and amusement tax for venues and income tax benefits for artists that create and sell in a district.
"A&E Districts will continue to create significant new business opportunities for Maryland artists, and by doing so, incentivize further investment in the revitalization of the A&E Districts," said Hannah Byron, assistant secretary, Tourism, Film and the Arts (TFA) at the Department of Business and Economic Development.
The study was conducted by Regional Economic Studies Institute (RESI).
Pictured: Theresa Colvin, executive director, MSAC; Barbara Bershon, chair, MSAC; Pamela Dunne, program director, MSAC; Andrew Sargent, downtown manager, City of Hagerstown; Mary Anne Burke, executive director, Washington County Arts Council; Karen Giffin, community affairs manager, City of Hagerstown; and Hannah Byron.
UK Journalists Tour Maryland
Maryland will be receiving press coverage in the United Kingdom from two recent press visits. One group of journalists consisting of the Sunday Independent, Star Magazine, and Irish Daily Star toured Frederick and Baltimore to sample a taste of Maryland during a Foodie Fam sponsored by the Capital Region USA. Additionally, a reporter from the BBC toured the Harriet Tubman Underground Railroad Byway through Caroline and Dorchester counties.

Pictured: Journalists and Chef Jerry Pellegrino at the Waterfront Kitchen's greenhouse during the Foodie Fam.
Gov. O'Malley Invites Chefs to Submit Recipes for "Buy Local" Cookout
Gov. O'Malley is hosting the 7th Annual "Buy Local Cookout," and is inviting local chefs to submit their own recipes that feature food from at least one Maryland farmer, waterman or other producers. The recipes also have to showcase ways an average Maryland family can prepare delicious and nutritious meals with locally sourced food.
The recipes and chefs will be featured at Government House in Annapolis on Thursday, July 24, from 7 p.m. to 9 p.m. during the Buy Local Cookout. The cookout promotes the statewide Buy Local Challenge Week (July 19-27, 2014), which encourages all Marylanders to eat at least one local product each day of the week.
"The Buy Local Cookout and Buy Local Challenge have become an annual celebration of Maryland agriculture and Maryland cuisine," said Governor O'Malley. "Again this year, we look forward to encouraging Marylanders to buy local products from Maryland farmers as we highlight the benefits of preserving our family farms and open space, protecting the environment and supporting local economies."
Click here for rules and entry information. Recipes should be submitted online at: https://mdamarketing.wufoo.com/forms/2014-governor-omalleys-buy-local-cookout/
Annapolis Film Festival begins
After a successful debut, the Annapolis Film Festival will return with more than 80 films. One of the films that will be screened is Jamesy Boy, a story of redemption directed and co-written by Annapolis native Trevor White, which was also filmed in Maryland. Information about the festival is available here.
Tourism Tax Codes grow 1 percent in first half of Fiscal 2014
The latest issue of the Maryland Tourism Monitor – the Office of Tourism's monthly report on metrics for marketing, tourism-related sales taxes, lodging and transportation trends, and leisure and hospitality jobs – is now available online. Among its findings: sales tax revenue from tourism tax codes grew 1 percent the first six months of the fiscal year; the addition of table games led to an increase in gaming revenue of 53.2 percent; and Amtrak and BWI Airport both saw gains in travelers – up 6 percent and 4 percent, respectively.
Workshops about Hurricane Sandy Disaster Relief Grants
Maryland Minute
Every Wednesday, radio stations in Baltimore and Washington, D.C. air the Maryland Minute, which features Margot Amelia of the Maryland Office of Tourism. Listen as she tells about the events that are happening this weekend.
Profit by Joining a Capital Region USA Sales Mission
CRUSA's upcoming sales missions to Brazil (April 20-25), Germany (May 18-22) and China (July – TBD) will give you the opportunity to sell your destination or product directly to our most important tour operator, travel agent and media clients in three of the region's top producing markets. Mission formats vary but typically include personal sales calls, private client events and training opportunities. All missions are organized and led by CRUSA's representatives in each market. Contact Matt Gaffney at 443.994.1862 for more information or to see a sample mission itinerary, or click here to register.