Image Credit: Chef Bryan Voltaggio Restaurants
Volt, Frederick
Chef (and TV "Top Chef" season six runner-up) Bryan Voltaggio delivers modern American cuisine and creates a menu that focuses on classic flavor combinations in sophisticated dishes that emphasize purity and seasonal flavors. Local suppliers are individually sourced to provide a range of kitchen ingredients— unique cheeses, dry-aged beef and free-range poultry. Fish, game and aged cuts of beef and lamb are procured from only top-notch purveyors.
---
More about VOLT
---
Type:
American
---
Location:
228 N. Market St.
Frederick, MD 21701
301-696-8658
---
Image Credit: Woodberry Kitchen
Woodberry Kitchen, Baltimore
Woodberry Kitchen was a pioneer in the city's farm-to-table movement when it opened in 2008. The restaurant relies on longstanding relationships with the growers of the Chesapeake region to provide the ingredients that nourish and delight our guests. Chef Spike Gjerde, a 2016 James Beard Award-winner, is committed to supporting sustainable agriculture that respects the abundance and traditions of the region. Also try Woodberry's spin-offs—Parts & Labor, which features an on-site butcher shop; and Artifact, for locally sourced coffees and light fare for breakfast and lunch.
---
More about Woodberry Kitchen
---
Type:
American
---
Location:
2010 Clipper Park Rd, #126
Baltimore, MD 21211
410-464-8000
---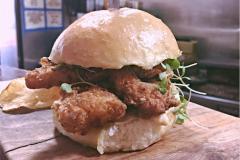 Image Credit: Maggie's Farm
Maggie's Farm, Baltimore
Located in the Hamilton neighborhood of the city, Maggie's Farm is an intimate restaurant and bar that showcases thoughtfully sourced, globally inspired provisions and cocktails. They rely on local providers for sourcing coffees, cheeses, eggs, poultry, beef and vegetables. The restaurant has been featured on Food Network, and other accolades include 'Best Farm-to-Table Restaurant in Maryland' by Travel & Leisure, 'Best Farm-to-Table Restaurant' by City Paper, and 'Best Locavore Restaurant' by Baltimore magazine.
---
More about Maggie's Farm
---
Type:
American
---
Location:
4341 Harford Road
Baltimore, MD 21214
410-254-2376
---
Image Credit: Havre de Grace Tourism
Lagom, Havre de Grace
Lagom is a neighborhood restaurant serving seasonally inspired cuisine with a commitment to using local and sustainable food. Located in historic downtown Havre de Grace, the contemporary American cuisine showcases dishes that reflect the true flavor of the food and honors the bounty of Maryland and the Chesapeake Bay region using fresh, local ingredients at their peak.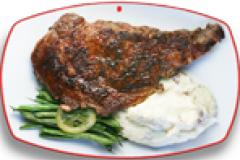 Image Credit: Founding Farmers
Founding Farmers, Potomac
In Montgomery County, Founding Farmers-- a Certified Green Restaurant™-- is part of a small chain committed to locally sourced menus, and has been featured on  Food Network and was also named one of the top restaurants in the Washington, D.C. area by  City Paper.
---
More about Founding Farmers in Potomac
---
Type:
American
---
Location:
12505 Park Potomac Avenue
Potomac, MD 20854
301-340-8783
---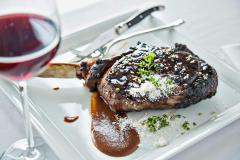 Image Credit: Cunningham's
Cunningham's, Towson
This big, sleek restaurant sources many ingredients used in its kitchen from its own 80-acre Cunningham Farm in Cockeysville, where they raise free-range chickens, heritage-breed pigs, Kathadin sheep, 15 varieties of tomatoes, 13 kinds of herbs, three species of edible flowers, dozens of greens, herbs, and vegetables. All produce is grown from seeds and tended by hand using traditional and sustainable methods. More info...
Image Credit: Richardson Farms
Richardson Farms, White Marsh
Richardson Farms is a fifth-generation family farm located in White Marsh, Maryland. They are committed to fresh, locally grown produce, poultry, dairy items and food products. They also operate the largest farm stand in the Northeast Market in Baltimore. Inside the main farm stand, a small kitchen features true farm-to-table Southern cuisine, fresh seasonal soups and gourmet sandwiches.
---
More about Richardson Farms-White Marsh
---
Type:
Agriculture & Farms
---
Location:
5900 Ebenezer Rd
White Marsh, MD 21162
410-335-8837
---
Image Credit: Atwater's Restaurants
Atwater's, various locations
Ned Atwater started his food empire with fresh-baked breads and has now expanded that to soups, sandwiches, pastries and other baked goods at six locations and 10 farmers' markets. At Atwater's, the focus is always on buying from small family farms and producers. Everything is crafted by hand with fresh, and, whenever possible, organic ingredients. Their homemade Red Berry Rose Jam and Green Goddess Salad Dressing have both won in their categories at the Good Food Awards competition, honoring taste, authenticity, and sustainability.
---
More about Atwater's
---
Type:
American
---
Location:
798 Kenilworth Dr
Towson, MD 21204
410-938-8775
---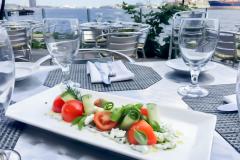 Ampersea, Baltimore
This dockside restaurant in the Fells Point neighborhood features New American fare in a sophisticated setting. It adjoins the campus of Living Classrooms, where much of its produce is grown and cultivated by local at-risk youth as part of a training program.
---
More about Ampersea Restaurant
---
Type:
American
---
Location:
1417 Thames St
Baltimore, MD 21231
443-681-5310
---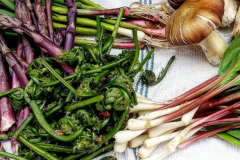 Image Credit: foragedeatery.com
Foraged, Baltimore
This cozy, brick-walled bistro in the Hampden neighborhood features a varying hyper-local, hyper-seasonal, menu of farm-to-table and field-to-table New American fare, all sourced locally and prepared by chef/owner Chris Amendola.