Southern Maryland on the Western Shore offers the charm of the Chesapeake and good old-fashioned Southern hospitality, just around the corner from Baltimore and D.C. Get away for a weekend to one of these charming retreats and you'll want to lose yourself for a lifetime.
Image Credit: Woodlawn Farm B&B
1

Woodlawn Farm B&B

Home of Trinity Manor c.1634. Enjoy the beauty, magic and flavor of regional wineries along the Patuxent Wine Trail.
---
More about Woodlawn Bed & Breakfast
---
Type:
Bed & Breakfasts and Inns
---
Location:
16040 Woodlawn Ln
Ridge, MD 20680
301-872-0555
---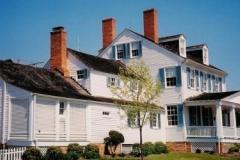 2

The Inn at Brome Howard, St. Mary's City

Stroll the formal gardens of this elegantly restored 1840s plantation house on the high banks of the St. Mary's River, then explore the forest, fields and colonial village of Historic St. Mary's City. The inn is nestled right in St. Mary's City, the state's original capital and now a National Historic Landmark District.
---
More about The Inn at Brome Howard
---
Type:
Bed & Breakfasts and Inns
---
Location:
18281 Rosecroft Rd.
St. Mary's City, MD 20686
240-434-3209
---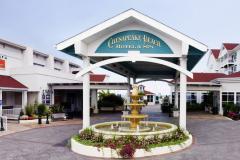 3

Chesapeake Beach Spa & Resort, Chesapeake Beach

You'll go for the picturesque views out over the bay of Calvert Cliffs, but you'll stay for the three restaurants and spa. Bring a group out to go fishing on a large charter fleet. There's also gaming—via video tab pull machines and bingo—as well as an array of other outdoor activities.
---
More about Rod N' Reel Resort
---
Type:
Hotels & Motels
---
Location:
4165 Mears Ave
Chesapeake Beach, MD 20732
410-257-5596
---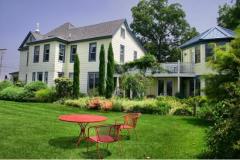 4

Solomons Victorian Inn Bed & Breakfast, Solomons Island

Located on the southern tip of Solomons Island, this charming inn offers commanding views of the surrounding Potomac River. Rooms strike an ideal balance between luxury and comfort, and the airy porch is the perfect place to enjoy one of the Victorian Inn's legendary breakfasts as sailboats breeze by.
---
More about Solomons Victorian Inn
---
Type:
Bed & Breakfasts and Inns
---
Location:
125 Charles St
Solomons, MD 20688
410-326-4811
---
5

Camp Merryelande, St. George Island

Snuggled into the pine trees on the sandy shore of the Potomac River, Camp Merryelande (yes, with three "e"s) is an island escape just a short drive from Baltimore and D.C. Located on St. George's Island in St. Mary's County, you can choose a campsite on the beach, or one of the fantastic cabins, the largest of which can accommodate up to 24 guests. At Camp Merryelande, the extra "e"s are for excellent!
---
More about Camp Merryelande Vacation Cottages
---
Type:
Campgrounds
---
Location:
15914 Camp Merrylande Rd
Piney Point, MD 20674
301-994-1722
---
6

Rosewood Manor, Port Tobacco

This 1930's-style French mansion, located on three acres, has been lovingly restored to reflect period details. Start your day off right with a complimentary breakfast (the blueberry muffins get rave reviews from guests), and take advantage of the three multi-purpose rooms and peaceful gardens surrounding the property that make for a quiet retreat.
---
More about Rosewood Manor
---
Type:
Bed & Breakfasts and Inns
---
Location:
7825 Locust Pl
Port Tobacco, MD 20677
240-640-3556
---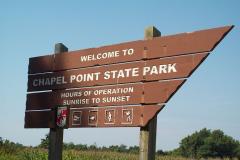 7

Chapel Point State Park, Port Tobacco

Serenity is at your fingertips at this undeveloped wildland just minutes from D.C. Chapel Point is famous for its excellent fishing and hunting, but reserve one of the park's paddle-up campsites for a one-of-a-kind stay. Campsites are primitive and only accessible by boat, so pack your "yak" wisely and spend your nights counting the stars.
---
More about Chapel Point State Park
---
Type:
Attraction
---
Location:
8950 Chapel Point Rd
Port Tobacco, MD 20677
301-743-7613
---
8

Spring Cove Marina, Solomons Island

Dock here and slip into island living. Welcoming Spring Cove is in the heart of Solomons, but it's tempting to while away the day at Spring Cove's riverside pool and Wheelhouse Bar & Grill. Get an annual slip and make Solomons your harbor-home away from home.
---
More about Spring Cove Marina-Solomons
---
Type:
Boating & Sailing
---
Location:
455 Lore Rd
Solomons, MD 20688
410-326-2161
---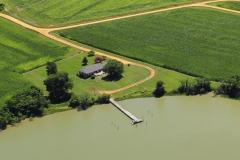 9

Chesapeake Charm, Point Lookout

Sleeping up to nine people, this house sits on a 15-acre crop farm on St. Jerome's Creek, and provides crab pots, fishing rods and two kayaks for renters. You can stroll out onto your private dock to sip morning coffee, go crabbing, or jump in a boat (if you brought one).
---
More about Chesapeake Charm
---
Type:
Vacation Rental Properties
---
Location:
50176 Dove Cove Rd
Dameron, MD 20628
301-904-0935
---
10

Cove Point Lighthouse

For a unique place to rest your head, stay in a refurbished lighthouse keeper's house. Located at one of the narrowest points of the Chesapeake Bay, the views here are breathtaking. Though the functioning lighthouse still welcomes guests, there's a private beach for renters. Best of all, revenue from the rental supports the Calvert Marine Museum.
---
More about Cove Point Lighthouse & Keeper's Cottage
---
Type:
Vacation Rental Properties
---
Location:
3500 Lighthouse Blvd
Lusby, MD 20657
410-326-2042, ext. 17
---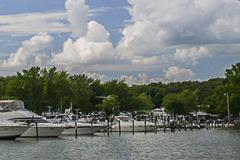 11

Goose Bay Marina and Campground

For an avid camper, it doesn't get better than camping right on the edge of the water. This site has 90 RV-ready spots available, plus three bath houses and other amenities. To accommodate boaters, there are three ramps and 250 wet slips available.
---
More about Goose Bay Marina & Campground
---
Type:
Campgrounds
---
Location:
9365 Goose Bay Ln
Welcome, MD 20693
301-934-3812
---
12

Westlawn Inn

The Guest Quarters at the Westlawn Inn is a five-unit 1930s boutique-style hotel. This family-owned and operated hotel features two self-contained, condo-style apartments available for short or long-term stays as well as a whole list of amenities, from casually upscale dining to live entertainment.
---
More about Westlawn Inn
---
Type:
American
---
Location:
5018, 9200 Chesapeake Ave
North Beach, MD 20714
410-257-0001
---