Whether you're planning a romantic retreat, a shopping safari, a camping trip with the kids or even an old west adventure, Maryland's Eastern Shore can put you up for your perfect getaway.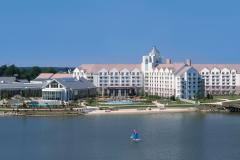 1

Pamper Yourself at Hyatt Regency Chesapeake Bay Golf Resort, Spa and Marina in Cambridge

Home of the River Marsh Golf Club, one of the top ten courses in the North East according to Conde Nast, this beautiful resort along the banks of the Choptank River has it all. Use the resort as a home base for exploring the nearby Blackwater National Wildlife Refuge. Or, you don't even have to leave the Hyatt's 400 luxurious waterfront acres—with tennis pros, world class dining, watersports and all-inclusive packages available, it's paradise on the shore.
---
More about Hyatt Regency Chesapeake Bay Golf Resort, Spa and Marina
---
Type:
Conference Centers
---
Location:
100 Heron Blvd
Cambridge, MD 21613
410-901-1234
---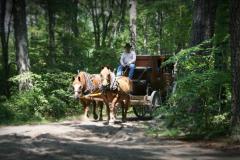 2

Cowboy Up at Frontier Town Campground

Pitch your tent or park your motorhome at this Woodall's 5W-rated campground on the shore of the Sinepuxent Bay. With a high ropes course, miniature golf, a waterpark and the legendary Old West show, Frontier Town has been a Maryland Tradition since 1959. And best of all, it's city-close and country-quiet, smack dab in the middle between Assateague and Ocean City.
---
More about Frontier Town Campground
---
Type:
Campgrounds
---
Location:
Rt 611, Stephen Decatur Hwy
Berlin, MD 21811
410-641-0880
---
3

Take a Break from the Bay at Knapps Narrows Inn & Marina in Tilghman

Visiting by boat? Grab a slip at Knapps Narrows' 1,000 foot floating dock in Tilghman, or come by car and get a room at the inn. Go for a lighthouse tour, a fishing charter, or take a sunset cruise on a historic ketch and watch the skipjacks bring the bay's harvest home.
---
More about Knapp's Narrows Marina & Inn
---
Type:
Bed & Breakfasts and Inns
---
Location:
6176 Tilghman Island Rd
Tilghman, MD 21671
410-886-2720
---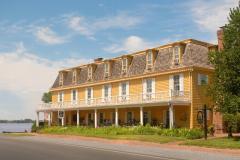 4

Dine and Delight at Oxford's Robert Morris, America's Oldest Inn

Built in 1710 when Maryland was still a British colony, the Robert Morris Inn is older than the nation around it! The waterfront grounds are perfect for enjoying a summer's breeze, and the charming rooms with their roaring fires make ideal respites from winter's chill. Take the ferry for a day in St. Michaels, then dine at the inn and experience the culinary wonders of celebrity chef Mark Salter.
---
More about Robert Morris Inn
---
Type:
Bed & Breakfasts and Inns
---
Location:
314 North Morris St
Oxford, MD 21654
410-226-5111
---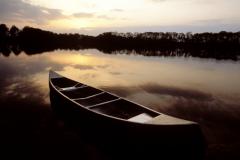 Photo By: VisitMaryland.org
5

Camp Out at Tuckahoe State Park

Camp and canoe under the forested canopy of the upper Tuckahoe River, venture into the Choptank, or paddle with the family in Tuckahoe Park's 60-acre lake and enjoy a wilderness getaway. Tuckahoe State Park offers fantastic wildlife viewing and the convenient campground even has a tire park for the kids.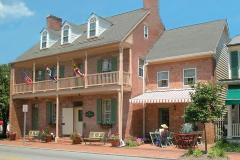 6

Explore St. Michael's From the Old Brick Inn

If you want to explore the shops, restaurants and easy living of St. Michaels, put yourself into the heart of it all at the Old Brick Inn. The Old Brick Inn offers luxurious rooms and modern amenities in an historic setting. Plus, since it's located downtown, the boutiques are just a stroll away.
---
More about Old Brick Inn
---
Type:
Bed & Breakfasts and Inns
---
Location:
401 S Talbot St
St. Michaels, MD 21663
410-745-3323
---
7

Get Away to the Atlantic Hotel in Berlin, the "Coolest Small Town in America"

This Victorian retreat is an absolute gem in the middle of downtown Berlin. Wander the charming, walkable streets and let the locals show you why Berlin was named "Coolest Small Town in America" by Budget Travel. Make sure to hit the hotel restaurant with its modern takes on classic shore cooking (the rockfish is not to be missed).
---
More about Atlantic Hotel
---
Type:
Hotels & Motels
---
Location:
2 N Main St
Berlin, MD 21811
410-641-3589
---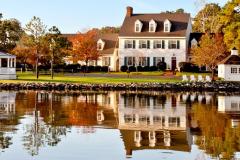 8

Experience Elegance at Rock Hall's Osprey Point

Luxuriate on the shores of Swann Creek at this beautiful inn and full service marina. Just a stone's throw from Rock Hall and its legendary seafood, the manicured grounds of Osprey Point are an idyllic getaway spot just a short drive from Baltimore, Washington, D.C. and Philadelphia.
---
More about Inn at Osprey Point
---
Type:
Bed & Breakfasts and Inns
---
Location:
20786 Rock Hall Ave
Rock Hall, MD 21661
410-639-2194
---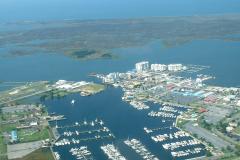 9

Drop Anchor in Crisfield Harbor at Somers Cove Marina

Looking for the perfect place to stay for the legendary Hard Crab Derby, or just want to live the islander life for a spell? Somers Cove Marina is the perfect port. This full service marina is right in the heart of downtown Crisfield, so it's easy to see the town as well as explore Tangier Sound with its amazing saltwater fishing.
---
More about Somers Cove Marina
---
Type:
Outdoor Recreation
---
Location:
715 Broadway
Crisfield, MD 21817
410-968-0925
---