For most of us, the trip down 50 is just that last task on the way to Ocean City, but why wait until you hit the water to start your vacation? There's a whole world waiting just off the highway. Plan a stop in downtown Chestertown, the Easton Town Center, Main Street in Cambridge or Berlin and you'll wonder why you waited so long. Or, try one of these unusual excursions just minutes off the beaten trail.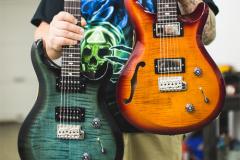 Image Credit: Paul Reed Smith Guitars
1

Paul Reed Smith Guitars Tour

Tour the factory floor where some of the best guitars on the planet are born. See the state-of-the-art facility where cutting-edge technology meets Maryland-made craftsmanship, and keep an eye out for legendary PRS devotees like Carlos Santana, Dave Navaro and Joe Walsh whose guitars are handcrafted on site. You can even try playing a genuine PRS guitar— no guarantee you'll sound like Santana, though.
---
More about Paul Reed Smith Guitars' Factory
---
Type:
Attraction
---
Location:
380 Log Canoe Cir
Stevensville, MD 21666
410-643-9970
---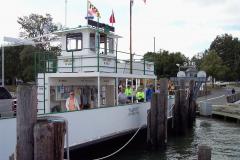 Image Credit: Talbot County (MD) Office of Tourism
2

Drive Aboard an Historic Ferry

Once powered by sail and oar, the Oxford-Bellevue Ferry has been carrying passengers across the Tred Avon River since 1683. Just down the road, the Whitehaven & Upper ferries are relative newcomers (they've only been around since 1688). Drive or bike aboard and let your imagination drift back as the ferry carries you and the family along your way.
---
More about Oxford-Bellevue Ferry
---
Type:
Attraction
---
Location:
101 East Strand (end of MD Rt 333)
Oxford, MD 21654
410-745-9023
---
3

Blackwater National Wildlife Refuge

With nearly 50 square miles of forests, fields, marshes and open water, "The Everglades of the North" offers breathtaking vistas and a rare glimpse of untouched America. You'll quickly lose count of the bald eagles soaring overhead in this birder's paradise along the Atlantic Flyway. Bring or rent a kayak and paddle one of the park's unforgettable water trails.
---
More about Blackwater National Wildlife Refuge
---
Type:
Attraction
---
Location:
2145 Key Wallace Dr
Cambridge, MD 21613
410-228-2677
---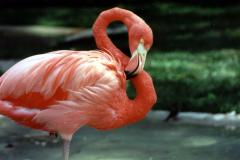 Image Credit: Salisbury Zoo
4

Salisbury Zoo

Home of Scout, the endangered red wolf, bison, jaguars, sloths and the zoo's beloved spectacled bear, the Salisbury Zoo focuses on North, Central and South American species in beautiful, naturalistic environments. It's the perfect break on the way to the beach, and if you don't stop in for a visit, Scout will miss you.
---
More about Salisbury Zoo and Park
---
Type:
Attraction
---
Location:
755 South Park Dr
Salisbury, MD 21804
410-548-3188
---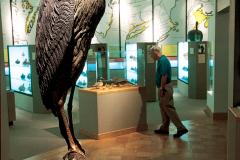 5

Ward Museum of Wildfowl Art

Experience nature's remarkable splendor as captured by the craftsman's eye in this one-of-a-kind museum, chronicling the history of decoy carving from the practical splendor of centuries old Native-American carvings to the intricate masterpieces of today's top artists. It's a must-stop for bird lovers, hunters and anyone who simply appreciates beauty.
---
More about Ward Museum of Wildfowl Art, Salisbury University
---
Type:
Arts & Culture
---
Location:
909 S Schumaker Dr
Salisbury, MD 21804
410-742-4988
---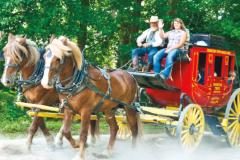 Image Credit: Frontier Town
6

Frontier Town

Frontier Town serves up a heaping helping of fun, with a new ropes course, camping, a water park and Wild West show, all in a—what else?— Wild West setting. Looking for historical accuracy? There's cowboy mini-golf!
---
More about Frontier Town Campground
---
Type:
Campgrounds
---
Location:
Rt 611, Stephen Decatur Hwy
Berlin, MD 21811
410-641-0880
---
7

Chesapeake Bay Maritime Museum

The Eastern Shore is rich in maritime history, and the Chesapeake Bay Maritime Museum is dedicated to preserving and showcasing the vessels and people who made it.  Skipjacks, bugeyes, and log canoes, maintained by a dedicated staff of skilled workers and historians, provide a window into the working past of the Chesapeake. 
---
More about Chesapeake Bay Maritime Museum
---
Type:
Attraction
---
Location:
213 N. Talbot St
St. Michaels, MD 21663
410-745-2916
---
8

Dueling Creek Natural Area at Mt. Rainier Nature/Recreation Center

Family vacations can be tough when the kids get older.  But they'll put down the cell phone when they see "The Dark and Bloody Grounds" of Dueling Creek, where notables such as war hero Stephen Decatur met their end just outside the dueling-unfriendly nation's capital.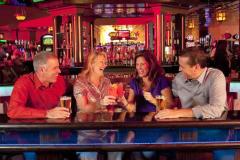 9

Casino at Ocean Downs

Ocean City is great, but if you want to get off the boardwalk, or just need a break on the way there, Ocean Downs is a little more of an adult destination than, say, mini-golf.  Kids can watch the majestic horses race, but you have to be 18 to wager on the sport of kings - or gamble in general (slots/tables).
---
More about Ocean Downs Casino
---
Type:
Gaming & Casinos
---
Location:
10218 Racetrack Rd
Berlin, MD 21811
410-641-0600
---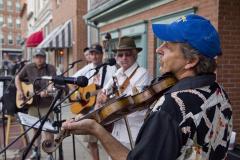 Image Credit: Dave Harp
10

Cambridge Main Street

One of the oldest cities in Maryland, Cambridge, with its newly revitalized downtown, has played a big role in the state's history.  It was a stop on the Underground Railroad, a maritime center and key component of the Maryland oyster industry.  Today, it's a designated arts and entertainment district, so in addition to exploring historic downtown, there are plenty of shops, restaurants, and events to bring you up to date.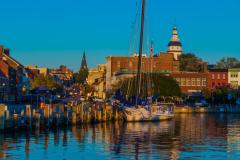 Image Credit: Bob Peterson Photography/Visit Annapolis
11

Annapolis City Dock

The brick-paved streets of the "Sailing Capital of America" all lead to the City Dock, a great place to relax away a sunny afternoon watching the powerboats navigate Ego Alley.  Just blocks from the Naval Academy and the State House - shops, restaurants, and bars fill the Colonial rowhomes.  Get a bagel at Chick & Ruth's (or a six-pound milkshake if you're up for a challenge), then stroll down to the water and take a ride on the Schooner Woodwind.
---
More about Annapolis City Dock
---
Type:
Boating & Sailing
---
Location:
One Dock St
Annapolis, MD 21401
410-263-7973
---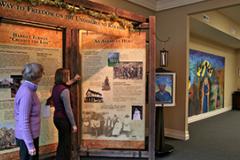 Image Credit: Dorchester County Office of Tourism
12

Harriet Tubman Museum

Dedicated to this most remarkable of American women, this museum near Harriet Tubman's birthplace pays tribute to her service as a Civil War spy, nurse, suffragette and, of course, conductor of the Underground Railroad.  Tubman grew up enslaved in Dorchester County, escaped to freedom and returned numerous times to lead other slaves to freedom.  Looking for more?  The museum is a stop on the Harriet Tubman Underground Railway Scenic Byway, which covers 30 stops across Maryland's Eastern Shore.
---
More about Harriet Tubman Museum and Educational Center
---
Type:
Attraction
---
Location:
424 Race St
Cambridge, MD 21613
410-228-0401
---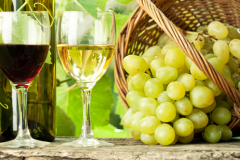 13

Layton's Chance Vineyard & Winery

Nestled between "Are we there yet?" and "Don't make me turn this car around," Layton's Chance is a great place to make a pit stop.  A playset for the kids, and for the adults, well, it's a winery - with outdoor games for all including cornhole and badminton.  Check out the nature trails and picnic area before gritting your teeth and getting back in the car.  
---
More about Layton's Chance Vineyard & Winery
---
Type:
Attraction
---
Location:
4225 New Bridge Rd
Vienna, MD 21869
410-228-1205
---
Image Credit: SpocottWindmill.org
14

Spocott Windmill

Interested in "alternative energy"?  Park the Prius here for a look at the original green technology.  The 1852 mill was rebuilt by master boat-builder Jim Richardson in 1972, but still relies on the same breezes to power the machinery.  
---
More about Spocott Windmill
---
Type:
Attraction
---
Location:
1609 Hudson Rd
Cambridge, MD 21613
410-228-7670
---