Juneteenth, Freedom Day, is a commemoration of the day Texas finally abolished slavery bringing an end to slavery in the U.S. Today, Juneteenth is a celebration of African-American heritage, history, and vibrant culture.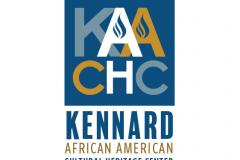 Image Credit: Kennard African American Culture Heritage
1

Juneteenth Celebration & Giving Day, Centreville

June 8, 2019
Travel to charming and historic Centreville to celebrate Juneteenwith with  entertainment and a day filled with activities. 
The annual "Juneteenth" Celebration takes place at the "Kennard African American Cultural Heritage Center and Museum." African American artists not only perform but also display their talents. Vendors offer their wares while lecturers educate. Free.
---
More about Juneteenth Celebration & Giving Day
---
Type:
Events
---
Location:
410 Little Kidwell
Centreville, MD 21617
443-239-2110
---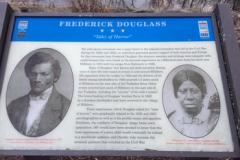 Image Credit: Maryland Office of Tourism
2

Juneteenth Celebration, Lexington Park

June 15, 2019
Celebrate African American Heritage, take an African dance class or participate in workshops.  You can also attend performances, hear storytellers and enjoy the variety of interesting items for sale.
---
More about Juneteenth Celebration in St. Mary's County
---
Type:
Events
---
Location:
21550 Willows Road
Lexington Park, MD 20653
301-862-4868
---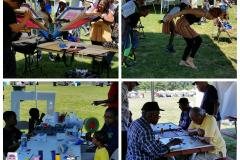 3

Juneteeth at Watkins Regional Park, Upper Marlboro

June 15, 2019
Juneteenth is the oldest nationally celebrated commemoration of the ending of slavery in the United States. This free family event is open to the public, and will be held rain or shine.  This must-attend event offers exciting and unique cultural programming to celebrate this important date.
---
More about Juneteenth at Watkins Regional Park
---
Type:
Events
---
Location:
301 Watkins Park Dr
Upper Marlboro, MD 20774
301-446-3232
---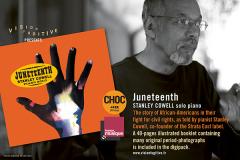 Image Credit: Stanley Cowell
4

Stanley Cowell Performs "Juneteenth Suite" at An die Musik Live!, Baltimore

June 15, 2019
Composer and pianist Stanley Cowell performs his "Juneteenth Suite" with an ensemble of strings, voice, and percussions. 
Juneteenth Suite is "a major piece of work..." from this "...subtle player and thinker.... It is broad, layered, restful, polytonal, bluesy, unselttling, mysterious...."  according to The New York Times, Ben Ratliff.  More info...
---
More about Stanley Cowell's "Juneteenth Suite" Premiere Concert
---
Type:
Events
---
Location:
409 North Charles St, 2nd Floor
Baltimore, MD 21201
301-717-0088
---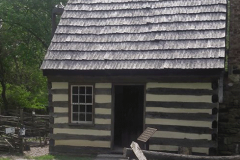 5

Juneteenth at Benjamin Banneker Historical Park & Museum, Oella

June 15, 2019 
Visit the beautiful historic homestead of Benjamin Banneker where a modern museum sits amongst historic buildings and grounds. More info...
Image Credit: wikimedia
6

BFSA Juneteenth Celebration, Johns Hopkins University - Homewood, Baltimore

June 21, 2019
The Black Faculty and Staff Association of Johns Hopkins University gather at the Glass Pavilion to recognize the June 19, 1865 announcement of the abolition of slavery.  Immediately following the Juneteenth celebration, there will be an induction of the 2019 Indispensable Role of Blacks honorees.  Free to members; $5 for non-BFSA. More info...
Image Credit: Donna Lewis
7

Juneteenth Celebration - Historic Hosanna School Museum, Darlington

June 22, 2019
Re-enactors portray Harriet Tubman,  Edmonia Highgate, the first teacher at Hosanna, and Buffalo Soldiers. Experience African dancers and drummers.  Learn the significance of Juneteenth while visiting a fully restored two story rural schoolhouse built for African Americans in 1867 that is listed on the National Register of Historic Places. It is complete with a fully furnished classroom, displays and artifacts.  Enjoy kids' activities, crafters and food vendors during the day. 
---
More about Juneteenth Celebration - Historic Hosanna School Museum
---
Type:
Events
---
Location:
2424 Castleton Road
Darlington, MD 21034
410-457-4161
---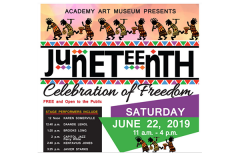 Image Credit: Academy Art Museum
8

Juneteenth Celebration of Freedom, Easton

June 22, 2019
This year's celebration pays special tribute to "A Timeline of Black Music Throughout History."  The stage on South Street in front of the Academy Art Museum will be taken over by gospel artist Karen Somerville, African percussionist Daande Lenol, Delta Blues singer Brooks Long, the Capital Jazz Experience, plus funk and rock songwriter Kentavius Jone and hip-hop artist Javier Starks (who creates 100 percent curse-free music). The program includes family crafts, photo booth and face painting. 
---
More about Juneteenth Celebration of Freedom at Academy Art Museum
---
Type:
Events
---
Location:
106 South St
Easton, MD 21601
410-822-2787
---