These vibrant festivals celebrate fall fun, and if your taste run more to the macabre, you will love these Ghost Tours & Haunted Attractions .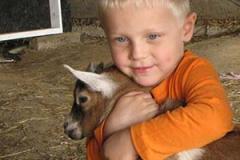 Image Credit: Summers Farm
Fall Harvest Festival at Summers Farm, Frederick
October 
Enjoy a weekend filled with unique, family fun activities including a gourd hunt, pumpkin painting, harvest egg hunt, pumpkin sculpturing demonstration and live entertainment on our Silo Stage! Of course, all of our regular attractions will be available too - pig races, giant slides, jumping pillows, corn maze, wagon rides and much more.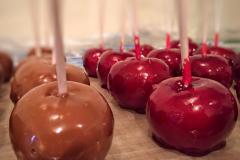 Image Credit: Gavers Farm
Fall Fun Festival at Gavers Farm, Mt. Airy
October -  November
Enjoy fall on the farm by conquering the twists and turns of the corn maze, jumping on the giant pillow, petting and feeding the farm animals and cruising down the giant slides. Enjoy more than 50 attractions appropriate for any age including the Cow Train, mini mazes, playgrounds, duck races, ball games, photo centers and more.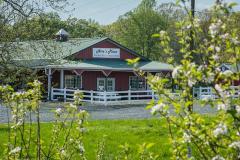 Image Credit: Forrest Hall Farm & Orchard
Forrest Hall Farm Crazy Corn Maze, Mechanicsville
October - November
Get lost in the popular corn maze, take a hayride, see farm animals, or relax at the children's play and picnic area.  Farm shop on site featuring farm-grown produce, flowers, meat, and a variety of baked goods and snacks.
More info..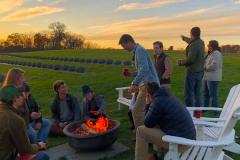 Image Credit: Helen Norman
Star Bright Farm Fall Festival, White Hall
November
Celebrate fall at Star Bright Farm with a day of community gathering to share in food, drinks and entertainment. The farm market will be open for those who would like to shop around for a personal treat to take home or share. Come to Star Bright Farm to shop, eat, drink, listen to live music, and enjoy a fall afternoon at the farm.
More info..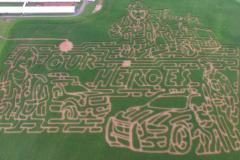 Image Credit: Lawyers Farm
Lawyer's Winterbrook Farm & Moonlight Maze,Thurmont
October - November
There's something about fall that inspires farmers to carve intricate patterns in their crops and invite strangers to wander around. Lawyer's Winterbrook Farm & Moonlight Maze in Thurmont is the state's largest corn maze—five of them, actually—and after you find your way out, you can take a turn at the 75mph pumpkin-shooting air cannon.
Image Credit: MDCornMaze.com
Maryland Corn Maze, Gambrills
October - November Weekends
People have been getting lost these 8 acres since 2006. Harry Potter is the 2019  theme, and folks are brewing up  good old fashioned fun in the maze this year with the world's most beloved wizard!  After corn-mazing, stay and play in the farm yard all day
More info...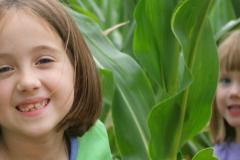 Image Credit: Greenstreet Gardens
Greenstreet Gardens Fall Festival & Corn Maze, Lothian
October - Weekends 
Enjoy Greenstreet Gardens Fall Festival every weekend with hayrides, jumping pillow, tire tower, corn maze, underground slide, corn box, face painting and so much more.
More info...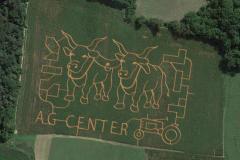 Image Credit: Carroll County Agriculture Center
Carroll County Corn Maze, Westminster
October -  November, Weekends
Have fun on the farm with pick-your-own pumpkins, hayrides, a giant pumpkin pillow, corn maze and even pig races!
More info...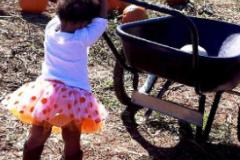 Image Credit: Butler's Orchard
Butler's Orchard Pumpkin Festival, Germantown
October
Celebrate the history of farming past and present when you bring your friends to Butler's to enjoy a crisp autumn afternoon full of fun. From learning about the pumpkin life-cycle to picking their own pumpkin, children will learn about how food is grown and harvested. be sure to explore the amazing corn maze and take home some fresh local produce. 
Image Credit: Brian O'Dohert
Garden Glow at Ladew, Monkton
October
This unique fall celebration features illuminated sculptures, hundreds of glowing jack o' lanterns, music, and food & spirits. Special exhibits will give new insights into creepy-crawly-critters. Local artists will create fabulous glowing art works that will be on display.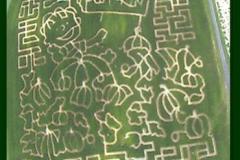 Image Credit: Bowles Farms
Bowles Farms Corn Maze & Pumpkin Farm, Clements
October - Weekends 
Pick your pumpkins at the giant pumpkin patch and navigate the largest corn maze in Southern Maryland!  Kids will love the petting zoo, barrel rides and the chance for a picture with Sponge Bob! 
More info...
Green Meadows Petting Farm, Ijamsville
October
Come out to the farm and make new friends; 200 farm animals at Green Meadows can't wait to meet you. You may feed the resident sheep and goats. Also available are wagon rides, pig races and pumpkins.
Image Credit: Homestead Gardens
Homestead Gardens Fall Fest, Davidsonville
October - Saturdays & Sundays
Celebrate Autumn at Homestead Gardens' 36th Annual Fall Festival. With a wide array of attractions and entertainment for kids of all ages, your experience is sure to be a memorable one. From the country store to the barnyard, through the corn maze and pumpkin patch, Homestead Gardens is alive with the vibrant colors of fall. 
Image Credit: Celebration Farm
Hagerstown Corn Maze
October - Weekends 
Enjoy the 8-Acre corn maze and pick-your-own pumpkin patch at Celebration Farm.