In Maryland, a night out can mean anything from sipping cocktails at a casino to swing dancing to catching a drive-in movie. Whatever your pleasure, you're sure to find a fun-filled night at these cafés, clubs and casinos.
Image Credit: Maryland Tourism Office
1

Power Plant Live, Baltimore

If you're looking for action-packed fun—we're talking everything from dueling piano shows to gourmet pizza to hip nightclubs—look no further than this marketplace across from the Inner Harbor that just may be the epicenter of Baltimore's nightlife. On the weekends, live music surrounds the square's outdoor bars. Go indoors for a varied selection of clubs, bars, live music venues and restaurants.
---
More about Power Plant Live
---
Type:
Live Music
---
Location:
34 Market Pl.
Baltimore, MD 21202
410-727-5483
---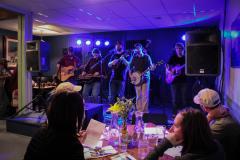 2

MoonShadow Café, Garrett County

MoonShadow Café, newly relocated to Deep Creek, not only serves farm fresh food, but also carries locally crafted beers you can savor while perusing the art on display in the gallery. Also on tap: frequent live music, with local bluegrass, jazz, blues and acoustic rock performances plus open jam nights.
---
More about Moon Shadow Cafe
---
Type:
American
---
Location:
110 South Main St
Accident, MD 21520
301-750-5094
---
3

Breakaway II Sports Lounge, Hagerstown

This full service bar, restaurant and liquor store has some truly unique events like Zombie Prom and the "Day Before the Day Before Christmas Party."  You can also take in a concert by rockers like Slaughter and Bo Bice. From late night happy hours to DJ nights (complete with drinking games and prizes), the Breakaway II Sports Lounge  is way more than a sports bar.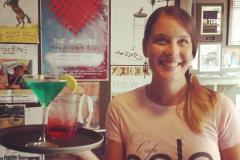 4

Café Nola, Frederick

For tasty food and eclectic late-night live music, visit this trendy hangout, which serves gourmet coffee and espresso so you can stay up late enjoying the nightlife. Come back often to see the latest decor which changes monthly to showcase local art. 
---
More about Cafe Nola
---
Type:
American
---
Location:
4 East Patrick St.
Frederick, MD 21701
301-694–6652
---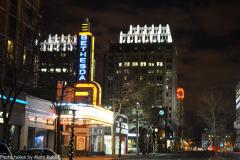 5

Bethesda Blues & Jazz Supper Club

Listed on the National Historic Register, this 1938 concert hall hosts performances of live music that, in addition to blues and jazz, include orchestral, rock and even burlesque. The chic setting and high-end menu make this a perfect spot for a leisurely, romantic date night.
---
More about Bethesda Blues and Jazz Supper Club
---
Type:
Music Venues
---
Location:
7719 Wisconsin Ave
Bethesda, MD 20814
240-330-4500
---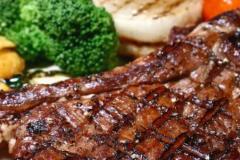 Image Credit: Martinis Restaurant and Lounge
6

Martini's Restaurant and Lounge, Fort Washington

Take in a Monday night football game, hit Comedy Tuesday or dance to DJs and live music at Martini's Restaurant and Lounge, a modern bistro in Fort Washington with entertainment that goes until 2am every night of the week.  Arrange for VIP service with designated high-top tables, leather couches and personalized wait and bottle service for a truly unforgettable night out. More info...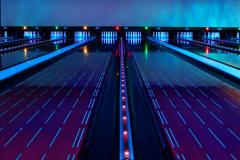 Image Credit: Bowlmor Lanes
7

Bowlmor Lanes, Rockville

Forget everything you think you know about bowling alleys: these lanes take bowling to a new level, with their swanky décor and extensive food and drink menu. Savor the adult fare (you can order from the lane-side servers so you don't have to miss your turn), but also the feeling of being a kid again when you try to beat your buddies at arcade games or bowl on glow-in-the-dark lanes. More info...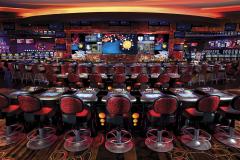 Image Credit: Maryland Live! Casino
8

Live! Casino, Arundel Mills

With all the food and entertainment at your disposal—even at 1am— it doesn't get more "nightlife" than this 24/7 hot spot. Grab a burger and frozen cactus pear margarita at celebrity chef Bobby Flay's Bobby's Burger Palace, try your luck at the slots, and check out the table games. You don't have to go far to enjoy the live music either—acts perform right in the middle of the casino floor.
---
More about Live! Casino & Hotel
---
Type:
Attraction
---
Location:
7002 Arundel Mills Cir
Hanover, MD 21076
443-842-7000
---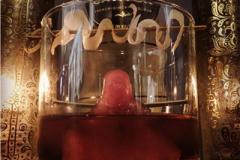 Image Credit: Metropolitan Kitchen & Lounge
9

Metropolitan Kitchen & Lounge, Annapolis

Dine on this trendy restaurant's farm-to-table offerings, then head to the rooftop deck for an after dinner drink or two. Discriminating Annapolitans regularly give the Metropolitan top rankings in categories such as best lounge, best signature cocktails, best live music venue, best martini and best nightspot. More info...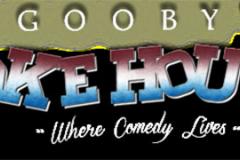 Image Credit: Magooby's Joke House
10

Magooby's Joke House, Timonium

If you're in the mood for a laugh, this club should do the trick, with the likes of well-known comedians such as Kevin Nealon and George Lopez gracing its stage. Multi-tiered seating ensures you'll have a great view, and food and drinks are also on the evening's menu. More info...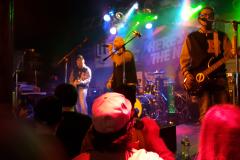 Image Credit: Trevor Leach
11

Looney's Pub, Bel Air

Harford county's premiere entertainment destination which hosts the East Coast's best bands. Looney's North offers the area's top sound system, over 120 HD televisions, and the largest stage around.
---
More about Looney's Pub
---
Type:
Irish
---
Location:
312 S. Main Street
Bel Air, MD 21014
410-803-7080
---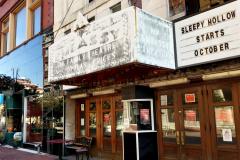 12

New Embassy Theatre, Cumberland

The original Embassy Theatre opened in 1931, and today the New Embassy has been renovated to return it to its classic art deco glory. Since opening as the New Embassy, the theatre has hosted numerous plays, comedies, musicals, films, rock bands, touring acts and symposiums, so you're sure to find something to fit your tastes and mood. More info...
---
More about New Embassy Theatre
---
Type:
Performing Arts
---
Location:
49 Baltimore St
Cumberland, MD 21502
301-722-4692
---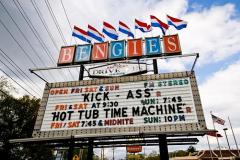 13

Bengies Drive-In Theatre, Middle River

Motor over to Bengies Drive-In for some good old-fashioned family fun. What better way to catch that new movie than as part of a triple feature on what may be the biggest movie theatre screen in the country—all from the comfort of your own car? Feel like you've stepped back in time at the classic snack bar. In-car heaters keep you toasty warm in the cooler months. More info...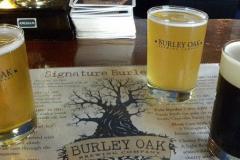 Image Credit: Burley Oak Brewing Company
14

Burley Oak Brewing Company, Berlin

A sustainable brewery that prides itself on using both modern and traditional methods for brewing tasty beers, Burley Oak in Berlin offers brew tours, live music, game nights, and "guest bartender" nights.
---
More about Burley Oak Brewing Company
---
Type:
Attraction
---
Location:
10016 Old Ocean City Blvd
Berlin, MD 21811
443-513-4647
---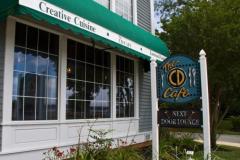 Image Credit: The CD Cafe and Next Door Lounge
15

The CD Café and Next Door Lounge, Solomons

This Southern Maryland restaurant serves up fun, unique cuisine with dishes like savory cheesecake and a southwest catfish salad. But even more exciting is the Next Door Lounge, not actually "next door," but tucked away right behind the café, with its array of live music and its own eclectic menu. More info....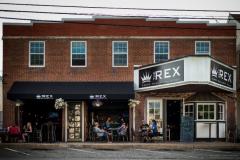 Image Credit: St. Mary's Office of Tourism
16

The Rex, Leonardtown

This trendy, local favorite specializes in high-quality, fresh seasonal fare. In the evening, the former movie house character really asserts itself. Restored Film Posters, original Film-Era mouldings and popcorn machine remind those dining or unwinding that The Rex still has plenty of stories to tell.
---
More about The Rex
---
Type:
American
---
Location:
22695 Washington St
Leonardtown, MD 20650
301-475-1512
---
17

Honi-Honi Bar, Oakland

Home to notable local events including Deep Creek's Got Talent!, the Honi-Honi Bar on the shores of Deep Creek Lake makes the most of its scenic location with lots of outdoor seating and activities. This tiki-themed complex really comes to life at night, even in the cooler months, with skiers, snowboarders, locals and tourists co-mingling to hear live music in genres ranging from acoustic to pop, reggae to classic rock. More info...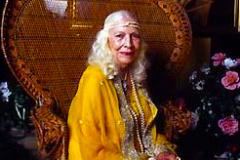 18

Vera's White Sands Beach Club, Lusby

Sit on the dock and take in the water view while you feast and drink to your heart's delight at Vera's Beach Club in Lusby. Don't miss one of the many events—from holiday parties and poker runs to live music and bikini contests—that keep this Saint Leonard Creek hotspot hopping year-round. 
---
More about Vera's White Sands Restaurant
---
Type:
American
---
Location:
1200 White Sands Dr
Lusby, MD 20657
410-586-1182
---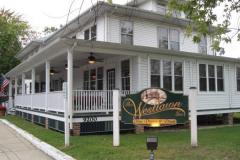 Image Credit: Westlawn Inn
19

The Westlawn Inn, North Beach

The Westlawn Inn has been serving residents and visitors in North Beach a classic American menu since 1926. Each Saturday (and some Fridays), stay after dinner to listen to the sounds of live jazz, rock and folk music that fill the restaurant, or come just to hear the band—no cover required.
---
More about Westlawn Inn
---
Type:
American
---
Location:
5018, 9200 Chesapeake Ave
North Beach, MD 20714
410-257-0001
---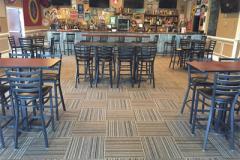 20

Bollywood Masala, California

At this hidden gem in St. Mary's County, enjoy delectable North Indian cuisine (with many gluten free options), then head over to the Tap House 1637 to see what's in store that evening. Depending on the night, you could see anything from free salsa lessons being given to live comedy to karaoke to an up-and-coming band, all while sipping on one of their creative martini concoctions like Peanut Butter Cup and Swedish Fish.
---
More about Bollywood Masala
---
Type:
Asian
---
Location:
23418 Three Notch Rd
California, MD 20619
301-862-7735
---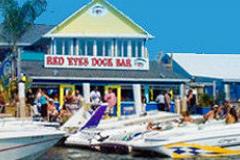 Image Credit: Red Eye's Dock Bar
21

Red Eye's Dock Bar, Kent Narrows/Grasonville

If the weather's warm, pull right up to the seasonal Red Eye's Dock Bar in Kent Narrows for waterfront dining, drinks and entertainment. Watch the boats go by while enjoying the sounds of local country, rock and pop music all summer long.
---
More about Red Eye's Dock Bar
---
Type:
American
---
Location:
428 Kent Narrow Way N
Grasonville, MD 21638
410-827-3937
---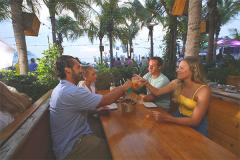 Image Credit: Seacrets, Jamaica, USA
22

Seacrets, Ocean City

Seacrets Jamaica USA is an infamous waterfront bar and restaurant in Ocean City. Float on the bay rafts or enjoy waterfront dining under the palms. Seacrets offers Caribbean-inspired dishes, tropical specialty drinks and live entertainment every night. 
---
More about Seacrets
---
Type:
American
---
Location:
117 W. 49th St
Ocean City, MD 21842
410-524-4900
---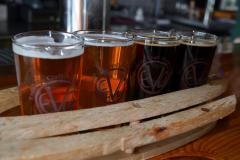 Image Credit: Wicomico Tourism
23

Evolution Craft Brewing Company & Public House, Salisbury

The Evolution Craft Brewing Company and Public House offers much to do all in one spot.  The Public House is a favorite gathering spot, featuring evo mainline beers, seasonal selections and small batch brews released exclusively at the Pub Bar and Taproom & Pizzeria. The menu is creative and fun. The on-site Taproom & Pizzeria adds to the experience.  Check in about the live music (most nights). Dinner pairings and special events are scheduled throughout the year.
---
More about Evolution Craft Brewing Company
---
Type:
Breweries, Wineries & Distilleries
---
Location:
200 Elmwood St
Salisbury, MD 21801
443-260-2337
---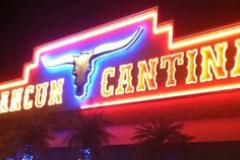 Image Credit: Cancun Cantina
24

Cancun Cantina-Hanover

Maryland's hottest nightclub has multiple bars, a restaurant, pool tables, sand and palm trees, and large dance floors.Come enjoy live music, dance and even take country line dancing lessons.
---
More about Cancun Cantina-Hanover
---
Type:
American
---
Location:
7501 Old Telegraph Rd.
Hanover, MD 21076
410-761-6188
---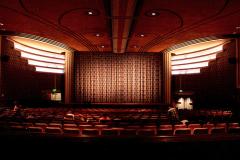 25

AFI Silver Theatre and Cultural Center, Silver Spring

American Film Institute's flagship exhibition space offers the best in American and international cinema, featuring first-run movies, festivals, retrospectives and more. Anchored by the restoration of noted architect John Eberson's historic 1938 Silver Theatre, AFI now features an amazing array of very exciting, nostalgic and sometimes controversial programming and series within its three theatres.
---
More about AFI Silver Theatre and Cultural Center
---
Type:
Performing Arts
---
Location:
8633 Colesville Rd
Silver Spring, MD 20910
301-495-6700
---