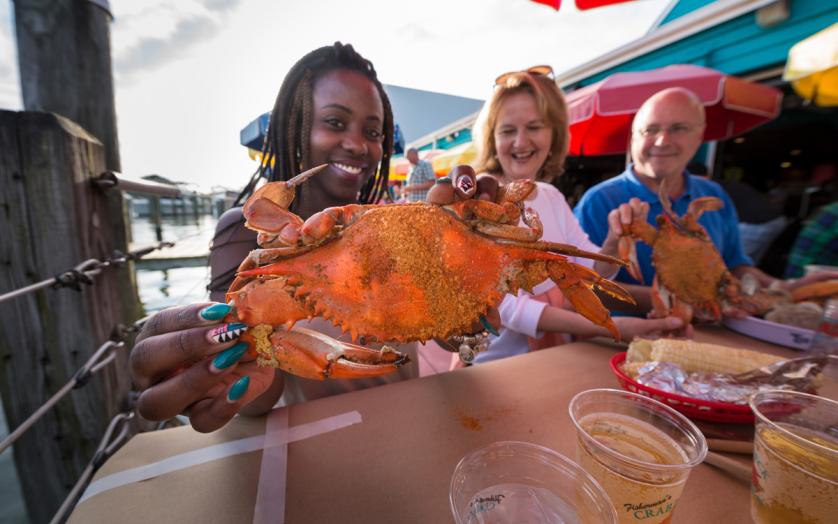 Follow the Blue Crab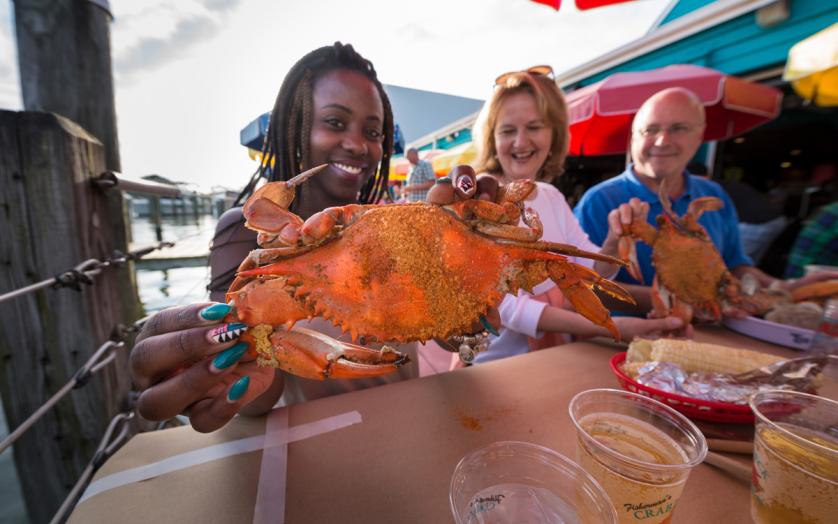 Follow the Blue Crab
Follow the Blue Crab - from the Chesapeake Bay Bridge to Ocean City with stops along the Eastern Shore to enjoy authentic experiences focused on celebrating and savoring Maryland's favorite cuisine.
Caroline County
Blough's Take Out Seafood
9620 New Bridge Road, Denton
Find them on Facebook, Trip Advisor or Yelp! 
A family-run operation outside of Denton, has devotees coming from far and wide for their fatter-than-fat crabs, fresh seafood, down-home, friendly service and fair pricing. Located just off of 404, Blough's is an easy stop going to the beach or on your way home. Arrive with a bushel of #1s and make everyone happy!  Open 7 days a week until 6pm in summer, fewer days in winter.  
Market Street Pub
200 Market Street, Denton
Has the BEST cream of crab soup on its menu and regular crab cake specials. This historic pub on Courthouse Square in Denton can accommodate large groups in the private dining room or individual travelers with ease. 
Not-to-miss attractions:  
Cecil County
The Wellwood & River Shack
121 Frederick St, Charlestown
Voted by USA Today poll as having Best Crabs in Maryland!   Offers awesome group-tour crab feasts, which include the ever popular Wellwood fried chicken.  Located in Charlestown.
Woody's Crab House
29 S Main St, North East
Very accommodating for groups, and surrounded by downtown North East specialty shops including gifts, fashions, accessories, antiques, chocolates, baked goods, local wine tasting room, coffee shops, and homemade doughnuts.  
Not-to-miss attractions:
Chesapeake City on the C&D Canal - Peruse shops, seasonal boat tours, C&D Canal Museum, waterfront restaurants, Bay Heads Brewery, and inns.  A few minutes outside town is Chateau Bu-De Winery and in nearby Earleville is Mt Harmon Plantation.
Town of North East - Browse specialty shops and boutiques, antiques, waterfront park, seasonal Upper Bay Museum, annual events, foodie destinations such as local wine tasting, candy shop, bakery, ice cream, homemade doughnuts, and multiple restaurants. 
Kilby Cream - Indulge in homemade ice cream on the farm; part of Maryland's Ice Cream Trail.
Dorchester County
Old Salty's Restaurant 
2560 Hoopers Island Rd, Fishing Creek
Located in Fishing Creek, Maryland at the very southern end of Dorchester County, this restaurant is full of character and deliciousness!  Located in a historic schoolhouse, this restaurant caters to groups of all sizes.  Menu items include Cream of Crab Soup, Jumbo Lump Broiled Crab Cake Sandwiches, Hot Crab Dip, Crab Balls and the award winning Jumbo Lump Crab Imperial.
Suicide Bridge Restaurant 
6304 Suicide Bridge Rd, Hurlock
Situated on the banks of the Cabin Creek in Secretary, this is the perfect destination for a local food dining experience.  Menu items include crab balls, stuffed flounder, rockfish and hand cut steaks. Suicide Bridge also offers all you can eat crab feasts. 
Choptank Riverboat Company
6304 Suicide Bridge Rd, Hurlock
Riverboats are available for private charters as well as public tours.  The two boats, which are housed at Suicide Bridge Restaurant, leave Cabin Creek and travel up the Choptank River into the Cambridge Creek and then make a return visit.  Sight-seeing cruises are 1 ½ hours, lunch cruise is 2 hours and crab feast is 3 hours.
Not-to-miss attractions:
Harriet Tubman Underground Railroad Visitor Center - Experience Tubman's world through exhibits that provide an understanding of Tubman's early years spent in Maryland's Choptank River region and her legacy as a leader, liberator and humanitarian in the resistance movement of the Underground Railroad. 
Blackwater National Wildlife Refuge - Established in 1933 as a waterfowl sanctuary for birds migrating along the Atlantic Flyway.
Handsell – Visit the site of one of Dorchester Moves interesting and intriguing historic structures located just outside of Vienna in an area known as Indiantown.  Enjoy exhibits about the Native Americans, African Americans and Colonial Americans and their role in this property.
Kent County
Waterman's Crab House and Dock Bar
21055 West Sharp Street, Rock Hall
The proprietary seasoning blend at Waterman's Crab House and Dock Bar includes "rock salt, some hot pepper and Old Bay", but that's all the manager will tell of the secret recipe used on their "Best of the Bay" award-winning steamed crabs. Ideally situated on the Chesapeake Bay, you'll enjoy indoor or outdoor seating, while watching the boats come and go in Rock Hall Harbor. During warm months, you'll be entertained by live music on the weekends. With a history reaching back over 40 years, this picturesque waterfront location has evolved from a local seafood market providing fresh catches of blue crabs, rockfish, oysters and other Chesapeake fare, into the award-winning family restaurant that it is today. 
Ford's Seafood
21459 Rock Hall Avenue, Rock Hall
Specializing in steamed Maryland Blue Crabs (often caught the same day by our local waterman), these local beauties are sprinkled with a savory J.O. #2 Crab Seasoning. Family-owned and operated since 1995, you may dine-in or buy in bulk for takeout. Bring in your own and Ford's Seafood will steam your catch. 
Chester River Seafood
4954 Ashley Road, Rock Hall
Buy steamed or live crabs by the dozen, half-bushel or bushel, but ONLY local, river crabs are sold here. A True Blue Certified purveyor, they specialize in river crabs (which are caught on a trot line and tend to be sweeter). The True Blue Maryland DNR program recognizes restaurants and retail stores that support local watermen and the local economy by using high-quality Maryland crabs and crabmeat. Crab meat and soft crabs are also a specialty of this fresh market. Chester River Seafood also ships anywhere in the U.S. for overnight delivery. Bring your own crabs in and they will steam your catch.
Not-to-miss attractions:
Hop On A Crabbing Charter
Join a crabbing charter with Captain Brant Nordhoff of the family-run Chesapeake Bay Crabbing Charters or aboard Miss Doe II, captained by Clay Larrimore who's been guiding groups in search of these blue beauties since 1970. You'll set out ahead of the rising sun to snag up to two bushels per person. After your midday return, take your bounty to one of Kent County's market purveyors or steam them yourself.
Try Your Own Crabby Luck
If you want to try to catch blue crabs on your own, try your luck with a trotline or trap from shore or skiff (available for rent at Eastern Neck Boat Rentals) at the foot of the bridge to Eastern Neck National Wildlife Refuge, or launch your own boat from one of many Kent County public landings. Be sure to review state crabbing license regulations as well as time-of-day, size and catch limitations.
Eastern Neck National Wildlife Refuge
This 2,285-acre island habitat, located 7 miles from Rock Hall, is host to nature trails, picnic areas, butterfly garden, wildlife, bald eagles, migratory and wintering waterfowl, boating, fishing, crabbing, a welcome center, and a public boat ramp. Open dawn to dusk. Handicapped accessible observation decks.
Ocean City
Phillips Crab House
2004 North Philadelphia Avenue, Ocean City
Welcome to the original Phillips Restaurant! Opened in 1956, Phillips Crab House is one of the most visited restaurants in Ocean City. Complimentary on-site parking with motorcoach access. Open April to October.
Dolle's Candyland
The Boardwalk - 500 S Atlantic Ave, Ocean City
Dolle's Candyland, Inc. is a fourth-generation candy company manufacturing delicious salt water taffy, buttery caramel popcorn, creamy fudge, and other candies since 1910. Don't miss the crab-shaped chocolates. Original location is right on the Ocean City Boardwalk.
Not-to-miss attraction:
The Ocean City Boardwalk - The Travel Channel called Ocean City's classic wooden boardwalk America's best. National Geographic named it one of the top 10 in the U.S. And USA Today named it one of the nation's best boardwalks for food. In short, it's three miles of highly concentrated fun with amusements, shops, eateries and hotels.
Queen Anne's County
Enjoy Kent Narrows Waterfront 
The Kent Narrows Waterfront area is best known for award-winning seafood restaurants, world class marinas, waterfront hotels, and as a place to enjoy live music. Its dock-and-dine facilities are popular with the boating crowd; many restaurants and marinas offer free transient boat slips to those passing through. Enjoy Maryland Crab Cakes, Crab Soup, Oyster Stew and traditional Maryland Crab Feast all year 'round at Kent Narrows Waterfront restaurants including Annie's Paramount Steak & Seafood House, Fisherman's Crab Deck, and Kentmorr Restaurant.
Not-to-miss-attractions:
Go Sportfishing! Some of the most experienced captains manage their fishing businesses from here. Head boats and charters depart daily from the landings and marinas during the boating season.
The Watermen's Way Heritage Trail map connects visitors to the trail systems, interpretative signs and to the Maryland Watermen's Memorial Monument.
Chesapeake Bay Environmental Center (CBEC)
CBEC is a 500 acres wetlands habitat and facility, situated on the Chester River, that provides environmental education and promotes habitat restoration. Visitors can rent kayaks, see raptor exhibits, hike wooded trails, enjoy wildlife sightings from observation towers. 
Somerset County
J. Millard Tawes Museum
3 Ninth Street, Crisfield
Located in the self-proclaimed "Crab Capital," the J. Millard Tawes Museum offers a look at the Crisfield area from the Miocene era to present.  Working crab floats at the back of the museum provide an up-close blue crab learning opportunity.
Cruises to Smith Island
701 West Main Street, Crisfield
Smith Island is situated in the middle of blue crab country and the economy of the island relies heavily on the crustacean's availability.  Enjoy a leisurely hour-long cruise and dine on some of the freshest seafood around.  Extend your stay at a local bed-and-breakfast or house rental, and take advantage of marked kayak and canoe trails.
Not-to-miss-attractions:
Wicomico County
The Country House 
805 E Main St, Salisbury
Explore the offerings of the largest country store in the East, including unique nautical items featuring the Maryland Blue Crab. 
The Red Roost
2670 Clara Rd, Quantico
Learn how to pick Maryland Blue Crabs like a local at this unique AUCE (all you can eat) location, which is housed in a refurbished 1940's chicken house.    
Not-to-miss attractions:
The Ward Museum of Wildfowl Art
Explore the world's largest decoy collection and tour the latest evolving exhibit at this waterfront venue.  
The Salisbury Zoo
Spend the afternoon exploring more than 100 animals native to North and South America at the Association of Zoos & Aquariums accredited Salisbury Zoo.  
Worcester County
Hooper's Crab House
12913 Ocean Gateway, Ocean City
Sample their Backfin Blue Crab Stout in West Ocean City,
Atlantic Hotel 
2 S Main St, Berlin
This very group-friendly spot in Berlin has great crab cakes.
Not-to-miss attraction: