By Boat
Water Taxi
Water is a quick and easy way to get around Maryland Fleet Week & Air Show Baltimore! The Baltimore Water Taxi travels to areas around the Inner Harbor and other areas throughout Baltimore.  More information...
Commercial Vessels
Commercial boaters are encouraged to take advantage of the Fleet Week experience! For safety and regulation, a Commercial Vessel Spectator Zone application will need to be completed. Applications will be available spring of 2020.
Pleasure Craft - 2018 information below. 2020 information available in the spring
There are no designated spectator areas for the general boating public.  For the 2018 air show, boaters were able to view the air show from areas located both inside and outside the Coast Guard's regulated area.  However, the general boating public is restricted from entering and operating within (1) the aerobatics show box, and (2) the spectator area designated for commercial small passenger vessels only.  Additionally, spectator boats should avoid anchoring in the federal navigation channels and within 100 yards of commercial waterfront facilities and piers.
2018 Restricted Area Map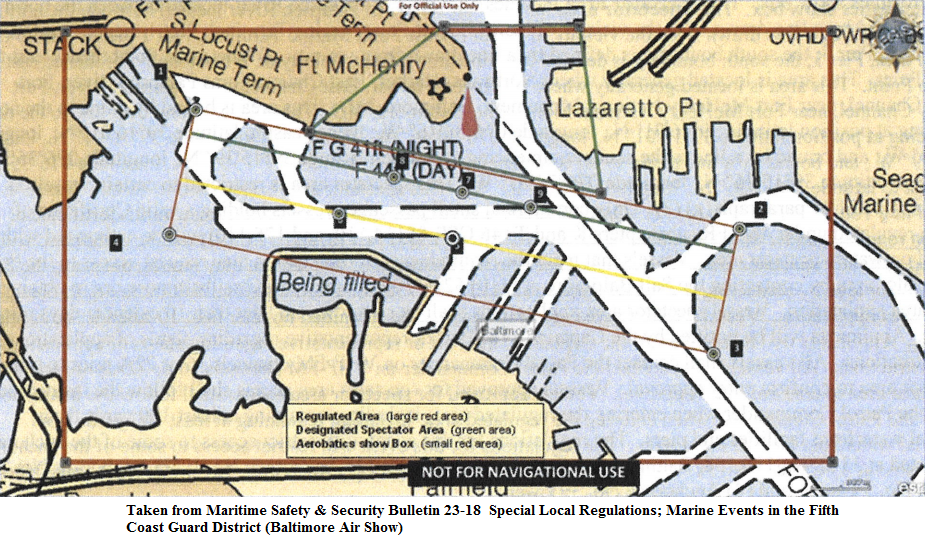 Several Information and Regulatory Marker (white and orange) buoys, labeled "Restricted," will be set and maintained along the perimeter of the aerobatics show box.  Moreover, the Coast Guard Patrol Commander and designated marine event patrol vessels will be present and may forbid or control the movement of vessels in the regulated area.  The Coast Guard Patrol Commander or designated marine event patrol vessels can be contacted on Marine Band Radio, VHF-FM channel 16.
Read more in the Maritime Safety and Security Bulletin.