angel_beil - Instagram
10 Things to do in Maryland When Life is Normal Again
angel_beil - Instagram
If we were to list the best years of the twenty-first century so far, 2020 wouldn't crack the top 100. It's been that bad. And while things did not magically get better on January 1, 2021, things are looking up. And when they do, there are those things we all want to do. Hug everybody. Share a friend's ice-cream cone. After that, what's next? Well, here's our bucket list of things to do once things are normal again!
1. Fill In Our Suntan From Our Nose to Our Chin
Even if you don't tan, how good will it feel to have sun hit that part of your face south of your nose and north of your chin? We bet it will make you smile — and the crazy part? Other people will know you are smiling! So whether it's hiking along the Potomac, sunning yourself at Deep Creek Lake, or walking the Inner Harbor promenade in Baltimore, it'll feel darn good to be outside in Maryland with people.
More info...
 
2. Stand in Line on the Boardwalk for Thrasher's Fries
Sure, Thrasher's has done a great job serving up the best fried potatoes on the planet while making sure that the crowds didn't, well…crowd, but as great as the fries are (did we mention the best in the world?), waiting in line was half the fun. Watching the crowd roll by. Listening in as the grandmother next to you tells her little whipper-snapper about the first time she had Thrashers when she was a little girl. Explaining to the tourists behind you that yes, they are the best fries, and yes, they are worth the wait. We can't wait to wait in that line again.
More info....
3. Celebrate Old Times…REALLY Old Times at the Maryland Renaissance Festival
In 2020, COVID cancelled the Renaissance Festival, and that's just not "faire." Yes, that was a pun. Yes, it was terrible, but not nearly as terrible as a year without jousting, a year without costumes, a year without whole turkey legs and meat sold by the stick. When all this is over, we're going to party like it's 1399.
More info...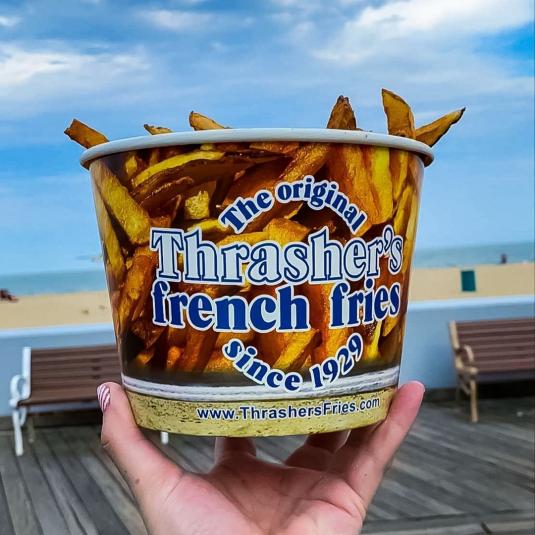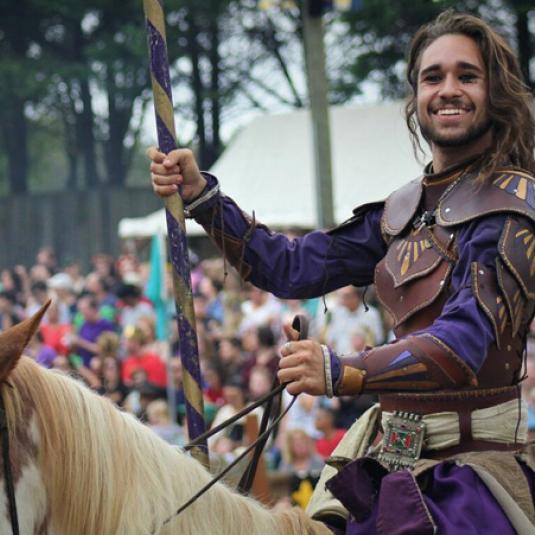 4. Forget Netflix & Chill, How About a Film Festival for Some Thrills!
You've seen everything in your Netflix queue. Disney Plus equals "been there, done that." When this is all over, we want to go to a packed movie house on opening night and eat popcorn out of the same bag as the friend you drove to the theater with IN THE SAME CAR! The Maryland Film Festival in Baltimore? Yes, please. AFI Silver Docs in Silver Spring? Save us a seat in the front row. Annapolis, Hagerstown, Ocean City, Easton, Bethesda, you name it. If they've got a screen bigger than our TV and Raisinets for sale in the lobby, we'll be there.
More info....
5. Dance Among (Hundreds of Thousands) of Friends at an Outdoor Concert
You know how we spend our days eyeballing imaginary measuring sticks to make sure nobody gets too close? How great will it be to say goodbye to all that and hit the crowds at Artscape? It's always the hottest day of the year, which makes sense for the hottest party Baltimore knows how to throw. We want to stand in the middle of the crowd dancing our butts off. Same goes for seeing a show at Merriweather Post Pavilion or being in the crowd at DelFest.
More info....
6. Enjoy "The Great Indoors" Duckpin Bowling
During COVID, we've all been looking for outdoor activities, and we're lucky. In Maryland, we've got great great outdoors. But when all of this is done, we want to enjoy the great indoors, and there's nothing more indoorsy than duckpin bowling. A Maryland tradition, duckpins are to big-ball bowling what baseball is to cricket. Better. And it's sooooo indoorsy! Most duckpin lanes are in basements, and if they're not in basements, they somehow make even the second floor feel like a basement. And what sounds better right now than being in a basement with some great friends, ice-cold beer, and nachos while hurling a smallish bowling ball at innocent inanimate objects? Nothing sounds better, that's what. 
7. Scream Our Unmasked Faces Off on a Roller Coaster
Six Flags America has done a great job during coronavirus making sure people can have socially distant fun. But when all this is over, we want to sit at the front of the SUPERMAN: Ride of Steel, hit that 207-foot drop, and let out a scream so big no mask in the galaxy could contain it. Then we'd do it again on the Mountain Coaster at Wisp Resort and the coasters at Jolly Roger Amusement Park in Ocean City.
More info....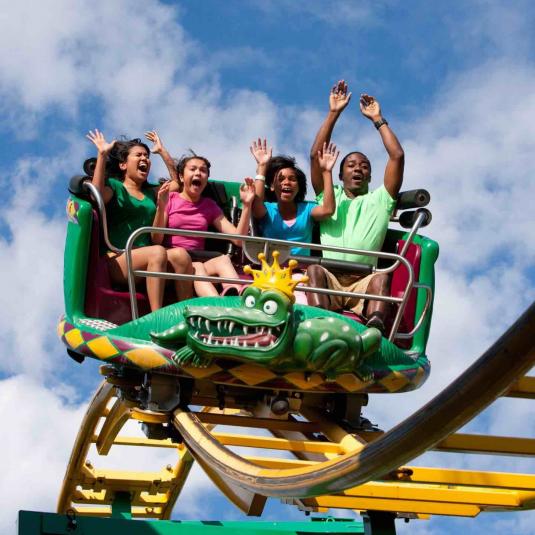 8. Share A Flight of Maryland Beers With Friends… and Strangers
Remember brew pubs? They were these places we used to go to enjoy AMAZING beer made on site with friends and even strangers. Crazy, right? Well we are totally done with it being crazy and can't wait to belly up to the bar at a Maryland brewery and argue with a complete stranger about the merits of artificial turf vs. natural grass. (Can you believe that guy prefers artificial turf? Maybe he'll see the light after a second round…). And while we're at it, let's hit the sampling rooms at some Maryland wineries and distilleries, as well.
More info...
9. Root, Root, Root for the Home Team….IN PERSON!
You ever try to do the wave while maintaining social distance? It barely makes a ripple. And waving our foam Orioles #1 fingers at the TV makes the cats think we're weirdos. Just two of the uncountable reasons we can't wait to get back to the ballgame. The crack of the bat. Boog's BBQ. Heck, even occasional wins! As soon as this craziness is over, we're hitting Camden Yards and every one of Maryland's six minor league stadiums for some major good times.
More info...
10. Eat Inside at a Restaurant Next to Other People
There was a time, long ago, when we would go into restaurants and eat. And there weren't plexiglass dividers that made it feel like visiting the aquarium as an exhibit. Takeout is awesome. It lets us support our favorite local eateries and maintain some normalcy in this most abnormal time, but how great will it be to go into a restaurant, sit down, order some apps, lean over to a friend, and whisper a snarky comment about the next table?
More info...
11. Watch the Donut Drop on Another Year
2020 being all 2020 meant no big New Year's Eve celebrations, and frankly, that stinks. At the end of 2021, we want to gather with a few thousand friends, pop a bottle of bubbly, and watch the town drop something goofy from the sky. In Maryland we've got lots of choices for that. There's a Muskrat Drop in Princess Anne, a Duck Drop in Havre de Grace, and a Crab Drop in Easton, but for 2021, we're feeling the Krumpe's Donut Drop in Hagerstown, because during the lockdown, we didn't get enough carbs…