NEWS IN BRIEF


State receives $1 billion boost from nonprofit arts sector
Maryland's nonprofit arts industry generated $1 billion for the state and supported more than 11,000 jobs during fiscal 2011, according to an economic-impact report recently released by the Maryland State Arts Council.
"By investing in the arts, we support job growth, generate revenue and embrace an economic asset that enriches lives, stabilizes communities and attracts businesses and tourists," said Gov. Martin O'Malley. "Vibrant arts and culture are as much part of Maryland's unique quality of life as they are an economic engine for the state."
The report shows how spending by the 244 arts organizations that receive funding from the Arts Council and their audiences ripples through the state's economy.
Maryland's 11,434 full-time equivalent jobs in the nonprofit arts sector during fiscal 2011 – which provided $399 million in salaries – was a 7.2 percent increase over fiscal 2010. Also, the arts sector produced $37.8 million in tax revenue for Maryland state and local governments.
Of the 7.9 million people who attended arts events and programs during fiscal 2011, about 65 percent attended for free. Overall attendance was up 3.5 percent over the previous year.
Community Legacy awards fund revitalization projects
A total of $5.5 million in Community Legacy awards – a program of the Maryland Department of Housing and Community Development (DHCD) – will benefit 58 projects in 19 counties and Baltimore City.
Lt. Gov. Anthony Brown, who announced the awards on Nov. 27 with DHCD Secretary Raymond A. Skinner, said: "These awards will go a long way to promoting economic growth, community revitalization, affordable housing and tourism."
"These awards help create jobs, move local economic development efforts forward and allow neighborhoods to thrive," said Sec. Skinner. "As these communities prosper, Maryland as a whole does too."
Here are several examples of the tourism-related projects among the awardees:
Brunswick Main Street, $62,000 for Railroad Square Park Welcome Center
City of Cambridge, $75,000 for rehabilitation of a performance hall at Dorchester Center for the Arts
Garrett County Community Action Committee, $25,000 for development of a trail connecting Fort Alice and Glades Town Park
View a complete list of the projects that have been designated for Community Legacy awards.

Join the Journey: Centennial Press Tour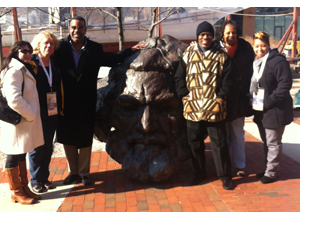 In preparation for the Harriet Tubman Centennial Commemoration marking the 100th anniversary of Harriet Tubman's death – on March 10, 2013 — the Maryland Office of Tourism, Visit Baltimore and the tourism offices of Caroline and Dorchester counties hosted the "Join the Journey" media tour with writers from Huffington Post, Philadelphia Sunday Sun, Port of Harlem, KidsLoveTravel.com, casualgetaways.com, 10Best.com and Mom's Guide to Travel.com.

During a three-day immersive tour, the journalists discovered the stories of Tubman and other 19th-century legends while touring the Hampton National Historic Site, Orchard Street Church, Reginald F. Lewis Museum of Maryland African American History & Culture, The National Great Blacks in Wax Museum and the Frederick Douglass-Isaac Myers Maritime Park. They also visited some of the Eastern Shores' most pristine landscapes and waterways – many of which have remained untouched for nearly a century as well as several sites along the 125-mile Harriet Tubman Underground Railroad Byway including the Harriet Tubman Museum, Bucktown Village Store, Dorchester County Courthouse, Poplar Neck and the Linchester Mill.

Photo: Group poses at the Frederick Douglass-Isaac Myers Maritime Park (shown left to right): Amber Degrace (Huffington Post), Michele Zavatsky (KidsLoveTravel.com and casualgetaways.com), Tom Saunders (Renaissance Tours), Wayne Young (Port of Harlem), Renee Gordon (Philadelphia Sunday Sun), and Camila Clark (OTD)

NEA selects 13 Md. organizations for Art Works grants
Thirteen Maryland arts-related organizations were recently named recipients of a total of $280,000 in grants from the National Endowment for the Arts (NEA). The grants are among 832 awards totaling $23.3 million that NEA recently designated through its Arts Works funding program.
The Maryland grantees are:
Arts and Humanities Council of Montgomery County
Baltimore Choral Arts Society
Baltimore Office of Promotion and the Arts
Center Stage Associates
Class Acts Arts
Episcopal Community Services of Maryland
Imagination Stage
Morgan State University
National Council for the Traditional Arts
National Philharmonic Orchestra & Chorale of Montgomery County
Partners Achieving Success
Wide Angle Youth Media
Young Audiences of Maryland

NCAA championship lacrosse comes to state in spring
Stevenson University will host the 2013 NCAA Division II and III Women's Lacrosse Championships this spring at Mustang Stadium, located at its Owings Mills campus in Baltimore County. The semi-final games for both divisions will be held May 18, with the championship games on May 19.
"Mustang Stadium is virtually brand new so we couldn't ask for a better venue," said Michelle Gober, chair of the Division II Women's Lacrosse Committee and associate athletic director at Kutztown University (Pa.). "We are very excited about the potential for it to be one of our best championships ever."
Montclair State University in New Jersey had been scheduled to host the 2013 championships. However, the NCAA changed the venue because of a new state law in New Jersey that allows betting on professional and collegiate sports. NCAA policy prohibits championship events from taking place in states that have legal single-game betting.
Countdown for 1812 coins merges with gift-giving season
Consider a Star-Spangled Banner Commemorative Coin as a holiday gift. The U.S. Mint is selling the gold and silver coins – but only until Dec. 17 at 5 p.m.
Issued earlier this year by the Mint, the silver coin has "Lady Liberty" waving the 15-star, 15-stripe Star-Spangled Banner flag with Fort McHenry in the background. A contemporary American flag is on the other side. The gold coin depicts a War of 1812 naval battle on one side and the words "O say can you see" in a reproduction of Francis Scott Key's handwriting on the reverse side.
A portion of the proceeds from coin sales benefits War of 1812 bicentennial programs and events, such as July's Star-Spangled Sailabration. Maryland's commemoration period runs through September 2014.
In addition to their value as numismatic collectables, the coins – with a silver or gold chain – make striking pendants. And, Baltimore-based Bosom Buddy Bags has a line of handcrafted day and evening bags that incorporate the coins in their design.
Celebrate New Year's Eve across Maryland
New Year's Eve Ball Drops will take place, Dec. 31, at opposite ends of the state – in Cumberland (Allegany County) and Berlin (Worcester County) – to welcome in 2013. Baltimore's New Year's Eve Spectacular at the Inner Harbor includes live music and fireworks. First Night Talbot in downtown Easton features a celebration of the arts, parades and "crab drops" at midnight. Annapolis New Year's Eve Celebration runs from 3 p.m. through midnight at the town's City Dock. It offers children's activities, "dancing under the stars" and fireworks.
Make good on New Year's resolutions for healthy living
Get some exercise and fresh air on New Year's Day. America's State Parks promotes more than 500 First Day Hikes across the country as opportunities for kids and adults to discover their state parks while pursuing a healthy lifestyle.
"Getting outdoors and connecting to the natural world is one great way to relieve the stress of work and school and relax in the quiet calm of these wonderful natural settings," said Phil McKnelly, executive director, National Association of State Park Directors.
Maryland's Department of Natural Resources offers descriptive listings of 19 hikes at parks throughout the state. The Maryland Park Service, incidentally, received the Visionary Impact Award from the Maryland Tourism Council, Nov. 16 at the Maryland Tourism and Travel Summit in Cambridge.
This award recognizes the Parks Service for its efforts in providing quality experiences for visitors while generating economic impact for local businesses and communities. A 2010 study showed that more than 10 million visitors traveled to Maryland's 66 state parks that year, which led to $650 million in spending at local businesses and supported 10,000 private-sector jobs.
Advocate for tourism at Taste of Maryland
The Maryland Tourism Council and the Restaurant Association of Maryland, in conjunction with the Maryland Association of Destination Marketing Organizations and the Maryland Hotel and Lodging Association, present the 23rd annual Taste of Maryland Legislative Reception, Jan. 21, 5 to 7:30 p.m. at the Loews Annapolis. Event includes complimentary beverages provided by MillerCoors and the Maryland Wineries Association. For more information, call or e-mail Nicole, 410-290-6800. Tickets are also available online. Tickets include admission to three sessions of seminars that begin in the afternoon.