NEWS IN BRIEF


Hurricane rocks Crisfield; Ocean City, Deep Creek Lake rebound
Two popular vacation destinations at opposite ends of the state – Ocean City and Deep Creek Lake – have recovered from Hurricane Sandy, the colossal superstorm that swept up the East Coast. However, the Somerset County town of Crisfield, "crab capital of the world," was battered by the storm. According to the Delmarva Daily Times, damage to the town is estimated to be in excess of $40 million.
"Ocean City rebounded quickly from the storm," says Donna Abbott, director of the Ocean City Department of Tourism. "The most visible damage was to the east end of the iconic fishing pier, but our world-famous boardwalk was not damaged at all." She adds that "our beach-replenishment project did its job and prevented more serious damage from occurring."
And, in Western Maryland, after a blizzard spawned by Sandy dumped 26 inches to three feet of snow in Garrett County, the area was fully open for visitors during Veterans Day weekend. "Garrett County continually demonstrates its resiliency after challenging situations and once again the welcome mat is out for visitors," says Nicole Christian, president and CEO of the Garrett County Chamber of Commerce.
See related story: Assateague Island survives Sandy with 'considerable damage'

Deep Creek Lake visitors get lodging-tax holiday
Visitors to Western Maryland's Deep Creek Lake area can stay overnight and not pay the normal accommodations tax at their place of lodging during November. This tax holiday is in effect for all of Garrett County. It coincides with the county Chamber of Commerce's 3-2-1 lodging and activities promotion, which runs through Dec. 16.
The promotion allows visitors to spend three nights for the price of two, and have access to area activities at a discount. Ten lodging companies – rental properties, bed and breakfasts and log-cabin style hotel suites – are participating in the promotion. Activities include horseback riding, miniature golf, go-carts, laser tag and bumper cars.
Deep Creek Lake is the state's largest freshwater lake. Wisp Resort, a four-season destination, and Adventure Sports Center International (ASCI) are located near the lake. ASCI has a mountaintop, re-circulating whitewater course.


State tourism office announces awards at conference
Maryland's tourism industry convenes on the Eastern Shore for the 32nd annual Maryland Travel and Tourism Summit, Nov. 14-16 at the Hyatt Regency Chesapeake Bay Golf Resort, Spa and Marina in Cambridge.
Keynote speakers include Bruce Turkel, CEO of Turkel, a Miami advertising agency specializing in brand management; Geoff Friedman, executive vice president and COO, U.S. Travel Association; and Anirban Basu, chairman and CEO, Sage Policy Group, an economic and policy consulting firm in Baltimore.
The Maryland Office of Tourism announces the recipients of its annual tourism awards at a luncheon on Thursday, Nov. 15. Christian Johansson, secretary, Maryland Department of Business and Economic Development, will be one of the presenters of the awards. And, that evening is the Maryland Tourism Council and Maryland Destination Marketing Organizations Awards Banquet.
On Friday, Nov. 16, tourism officials will discuss how to leverage business by partnering with scenic byways, heritage areas, Main Streets, arts and entertainment districts, Civil War trails, state and national parks, and agritourism products during the commemoration periods marking anniversaries of the War of 1812, Civil War and Harriet Tubman during a mobile workshop.


Regional forum looks at 'best practices' for welcome centers
Four Maryland welcome center officials attended the fall meeting of the Southeast Travel Counselors Alliance, Oct. 17-18, hosted by the Virginia Tourism Corporation at the Williamsburg Woodlands Hotel in Williamsburg, Va.
The meeting featured presentations and discussions about optimizing operations at welcome centers and visitor information centers. Participants discussed a range of topics that included how to best use technology, attain sustainability and market their centers.
Maryland's contingent included Jennifer M. Jones, tourism development manager; Marti Bank, supervisor, I-95 S Welcome Center; Margie Long, supervisor, I-95 N Welcome Center; and David Yoder, supervisor, Mason Dixon Welcome Center.
The Southeast Traveler Counselors Alliance provides tourism professionals with access to research and visitor surveys, and "best practices" for individual welcome and visitor information centers. It includes members from Florida, Alabama, Georgia, Mississippi, North Carolina, South Carolina, Tennessee, Virginia, Texas and Louisiana.
Mason Dixon Welcome Center in Emmitsburg (U.S. 15), 10 miles south of Gettysburg, Pa., celebrated Veterans Day, Nov. 11, with an open house. Local businesses provided complimentary snacks and beverages for travelers. The center is open Thursday through Sunday, 9 a.m. to 5 p.m.; its rest area is open seven days a week. For more information, call the center at 301-447-3719.

Arts Council annual report wins communications award
The Association of Marketing and Communications Professionals recently named the Maryland State Arts Council's 2012 annual report as one the winners of a gold MarCom Award. Platinum and gold winners were selected from 6,000 domestic and international entrants in 200 categories of awards for outstanding creative achievement.
The Arts Council's report, available online, is a 44-page publication that features photos and artwork from some of Maryland's more than 350 arts organizations, and from individual artists in the state. It also includes artist and arts organization profiles, descriptions of all Arts Council programs, and details of all grants distributed to each county.
Maryland's arts industry, according to the report, generates $36.5 million in state and local taxes, and supports nearly 11,000 full-time jobs.

Tourism office partners with outlets for sweepstakes
Visitors to the Maryland Office of Tourism's web site, VisitMaryland.org, can enter the Arundel Mills and Premium Outlets Holiday Shopping Sweepstakes. Three winners will be selected by a random drawing on Cyber Monday, Nov. 26. Each winner receives a one-night stay and shopping package for one of three destinations: Arundel Mills, Hagerstown Premium Outlets or Queenstown Premium Outlets.
The Arundel Mills package includes accommodations at The Hotel at Arundel Preserve, a $50 gift card for Best Buy, a $100 gift card for Last Call by Neiman Marcus and dinner for two at Medieval Times Dinner and Tournament. The Hagerstown winner gets one night at Sleep Inn Hagerstown, a $100 shopping spree at the outlets and a $25 gift card for Longhorn Steakhouse. And, the Queenstown package offers one night at Hilton Garden Inn Kent Island, a $100 shopping spree at the outlets and a $25 dinner certificate for Annie's Paramount Steak and Seafood House in Grasonville.
Canadian group-travel organization salutes Maryland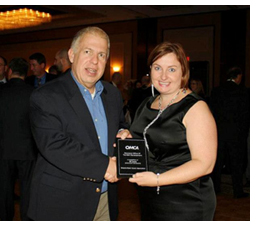 Rich Gilbert, travel trade sales manager at the Maryland Office of Tourism, accepts an award from Ann Fairley, executive vice president of the Ontario Motor Coach Association (OMCA), in recognition of the tourism office's 25-year affiliation with OMCA. The presentation occurred at the OMCA Conference and Marketplace, Oct. 20-24 in Buffalo, N.Y. Doug Switzer, OMCA president, said representatives of the Maryland Office of Tourism have "done a terrific job of promoting group travel to their region for many years" while strongly supporting OCMA.
ICE! returns to Gaylord for winter holiday extravaganza
Gaylord National Resort at National Harbor (Prince George's County) stages its annual Christmas on the Potomac, Nov. 16 to Jan. 6. This year's ICE! attraction is Dreamworks' Shrek the Halls – a 15,000-square-foot display carved out of 2 million pounds of ice with 1,400 LED tube lights. A 60-foot glass Tree of Light, nightly indoor snowfall and 2 million decorative lights are all part of Gaylord's holiday exhibition. Ticket information and reservations available online.
Fishing tournament draws anglers from along East Coast
Thousands of recreational and professional anglers – from Maine to North Carolina – come to Maryland for the 20th annual Chesapeake Bay Fall Classic, the bay's largest rockfish tournament of the season, Nov. 17-18. The Fall Classic is the final event of the year in the Maryland Saltwater Sportfishing Association's tournament series. Last year's event featured 250 boats and a pay-out in cash prizes of $93,000. Weigh stations are open during the day at Sandy Point State Park, Rod N Reel Docks at Chesapeake Beach, Breezy Pont Marina, Calvert Marina, Point Lookout State Park, Knapps Narrows and Taylors Island Family Campground.
Shop Maryland Main Streets on Small Business Saturday
Between Black Friday and Cyber Monday is Small Business Saturday – a day established by American Express in 2010 that encourages shoppers across the country to patronize small businesses. In Maryland, a number of Main Street communities celebrate the day, which occurs Nov. 24 this year.
Get a taste of a colonial kitchen at Maryland's birthplace
Historic St. Mary's City – Maryland's first capital – presents its annual Hearth and Home in Early Maryland event on Friday and Saturday, Nov. 24 and 24, 11 a.m. to 4 p.m. This year's focus is on a local culinary tradition – stuffed ham. Visitors can watch how volunteers make this dish. Demos pertaining to food-preservation techniques and open-hearth cooking will also run at each of the museum's four living-history sites. Hearth and Home's Stuffed Ham Project receives supporting grants from the Maryland State Arts Council and Historic St. Mary's City Foundation. Call or e-mail the visitor center for more information, 800-SMC-1634.
Western Maryland site honors Antietam soldiers
Antietam National Battlefield's annual Memorial Illumination, Dec. 1, pays tribute to the Civil War soldiers killed, wounded or left missing at the 1862 Battle of Antietam – the single bloodiest day of combat in American history. Volunteers place more than 23,000 luminaries along the battlefield for each of the casualties of that epic battle. A driving tour begins at 6 p.m. on Route 34, east of Sharpsburg. Antietam's visitor center is open 8:30 a.m. to 3 p.m.