NEWS IN BRIEF


Sailabration propels 'record-setting' visitation in Baltimore
More than 1.5 million people came to Baltimore for Star-Spangled Sailabration in June and generated $166 million in economic impact for the state and local economies, according to a recently released study. About 435,000 of the visitors were from outside the state.
The free, week-long June maritime festival in and around Baltimore's Inner Harbor launched Maryland's three-year bicentennial commemoration of the War of 1812 and the writing of The Star-Spangled Banner. Forty-five tall ships and naval vessels participated in the event. The U.S. Navy Blue Angels also headlined a festival air show.
Research showed that for every $1 of the $4.8 million spent to stage Sailabration, $35 was generated in direct and indirect impact for Maryland's economy. Of the event's total $166.1 million economic impact, $97.7 million was in direct business revenues, and $68.4 million was indirect spending.
"Our restaurants, hotels, and attractions were packed to the brim," said Don Fry, president and CEO of the Greater Baltimore Committee and president of Star-Spangled 200, Inc. "Sailabration enlivened businesses everywhere – from the waterfront and Federal Hill to Fell's Point and Locust Point. It was truly a great success by all measures."
Funding for Sailabration and the state's three-year commemoration comes from corporate sponsorships, state appropriations and surcharge proceeds received through the U.S. Mint's Star-Spangled Banner Coin program. The coins are available for purchase until Dec. 17.
Star-Spangled 200, Inc., the nonprofit affiliate of the Maryland War of 1812 Bicentennial Commission, commissioned Forward Analytics, a research firm based in Pittsburgh, to conduct the economic-impact report.

Washington County tourism gets Civil War boost
Sesquicentennial commemorations of the Civil War helped to generate an estimated $35 million in economic impact for Washington County during September – $7 million more than a typical September, according to Tom Riford, president and CEO of the Hagerstown-Washington County Convention and Visitors Bureau.
"We have seen an increased number of visitors at our local parks, museums and attractions. Dining and retail establishments also report a healthy year," he said. "Our average occupancy at local hotels, for much of the year, has been up by double digits. Hoteliers tell me that September 2012 was the highest occupancy of any September in recent memory. We have had the best year since 2007, that's for certain."
Visitation has been on the upswing at Antietam National Battlefield, which commemorated the 150-year anniversary of the epic Civil War battle in September. Susan Trail, the National Park Service superintendent at Antietam, said an estimated 50,000 visitors came to the park between Sept. 14 and Sept. 23, making that extended week one of the busiest ever at the park.
Dan Spedden, superintendent of the five state parks known as the South Mountain Recreation Area, said: "The anniversary events, including battlefield hikes, drew a surprising number of visitors. Our new museum exhibits have been well-received, too."
Washington County's tourism industry employs more than 9 percent of the local working population, Riford said. The county is part of the Heart of the Civil War Heritage Area and the Journey Through Hallowed Ground National Heritage Area.

ALTA Awards honor state's living traditions
Maryland Traditions, the folklife program of the Maryland State Arts Council, presents its 2012 ALTA (Achievement in Living Traditions and Arts) Awards on Dec. 1 during a free-admission ceremony and concert at the Montgomery College Cultural Arts Center (Takoma Park-Silver Spring campus). The awards recognize outstanding stewardship of living traditions in Maryland in three categories: people, place and tradition. The three recipients are:
The Carroll County Ramblers (people) – In 1961, Dottie and Leroy Eyler started this bluegrass band, which has performed and mentored bluegrass musicians throughout the mid-Atlantic region. A second generation of the Eyler family has kept the band going.
Sparrows Point Steel Mill and its Communities (place) – Located in eastern Baltimore County for 125 years, the now-closed mill was a place of employment and a center of community life for tens of thousands of steelworkers and their families. It was among the world's largest facilities for steel production, peaking in the 1960s. Two Baltimore County oral historians, Louis Diggs and Elmer Hall, are accepting the award, along with the Dundalk Patapsco Neck Historical Society.
J. Gruber's Hagerstown Town and Country Almanack (tradition) – Among the oldest almanacs in the U.S., Gruber's has published agricultural, meteorological and astrological information – along with folk remedies, local poetry and snippets of traditional community wisdom – for the mid-Atlantic region since its founding in 1797 in Hagerstown. It is still produced by heirs of founder John Gruber. The almanac started as a German-language publication. An English version began in 1822. Both versions continued for the next 100 years, and now it is the English-language edition that survives today.
The ALTA Awards were created in 2007 to honor the cultural conservation work of Alta Schrock (1911-2001), a Garrett County native who was instrumental in starting Spruce Forest Artisan Village, Penn Alps, The Journal of the Alleghenies and the Springs Festival. She also was a biology professor at Frostburg State University.

'Art of the Chesapeake' echoes region's allure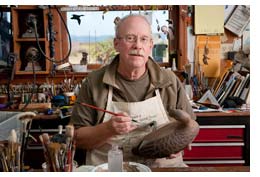 Every November since 1971, the Eastern Shore town of Easton (Talbot County) hosts the Waterfowl Festival, a weekend celebration of wildlife art and Chesapeake Bay culture that benefits conservation efforts across the Chesapeake Bay Watershed. This year's festival, Nov. 9-11, features the work of more than 300 wildlife artists and artisans: paintings, sculpture, carvings, photography, decoys and folk art.
The festival, says the Maryland Office of Tourism, is a signature event for the exhibition of Maryland's "art of the Chesapeake" – one of the state's unique treasures.
"Chesapeake Bay art depicts the places and things that evoke the feeling of the bay region, an area known for its natural splendor, maritime culture and recreational choices," says Margot Amelia, executive director of the state tourism office. "
Amelia says such artwork is widely available in Maryland towns near the bay or one of its tributaries. "These towns, in many instances, have arts and entertainment districts. They tend to be scenic locations with an array of cultural attractions, and enticing dining and lodging choices – perfect for weekend getaways."
A variety of museums in the state also feature Chesapeake Bay art, including: Calvert Marine Museum, Solomons (Calvert County); Chesapeake Bay Maritime Museum, St. Michaels (Talbot County); Havre de Grace Decoy Museum, Havre de Grace (Harford County); J. Millard Tawes Historical Museum, Crisfield (Somerset County); Rock Hall Museum, Rock Hall (Kent County); and Ward Museum of Wildfowl Art, Salisbury (Wicomico County).
Photo: Rich Smoker is a master decoy carver who lives in Somerset County.


Tourism official presents plans for Tubman commemoration
As a guest speaker at the Maryland Commission on African American History and Culture's annual meeting, Oct. 18 at the Historic St. Mary 's City Visitor's Center, Camila Clark, public relations manager for the Maryland Office of Tourism, discussed planned events on the Eastern Shore in March 2013 that will mark the centennial anniversary of Harriet Tubman's passing.
A groundbreaking for the Harriet Tubman Underground Railroad State Park and a ribbon-cutting for the Harriet Tubman Underground Railroad Byway are both scheduled for Saturday, March 9.
Organizations that are planning Tubman-related programs in 2013 may submit their plans to the state tourism office for inclusion in a master schedule of Tubman commemorations. For more information, call or e-mail Camila Clark, 410-767-6298.


Maryland Green Travel welcomes four new members
Maryland Green Travel, the voluntary, self-certification program that encourages tourism businesses to adopt programs for environmental sustainability, has four new lodging-sector members. They are: Holiday Inn Solomons Conference Center and Marina; Hilton Garden Inn Baltimore/Arundel Mills; Hilton Baltimore BWI Airport Hotel; and Courtyard by Marriott-Chevy Chase.




Aquarium offers reduced tickets for state residents
The National Aquarium in Baltimore has launched Maryland Mornings, an incentive program that promotes access to the attraction. Maryland residents receive $8 off the price of general admission for adults and $4 off general admission for children, Sunday through Friday, before noon. This program is available through February. Some black-out dates apply. Tickets may be purchased at the aquarium's on-site box office. Also, Friday admission after 5 p.m. is $12.
Baltimore Beer Week drawing to a close
The 10 days of the 4th annual Baltimore Beer Week end Oct. 28. More than 70 venues across the Baltimore metropolitan area (and beyond) continue to stage 300 events that celebrate local beer culture. Beer enthusiasts began the yearly occasion to pay tribute to Baltimore's beer heritage – a tradition that has evolved with the opening of various craft breweries in the area.
Annual festival brings tall ships to Chestertown
Sultana Projects' Downrigging Weekend, Oct. 26-28 in Chestertown, originally signaled the end of the schooner Sultana's sailing season. Now it's a maritime extravaganza with a weekend of activities and programs, including a boat festival and musical concerts. A fleet of illuminated tall ships parades across the waterfront Friday and Saturday evenings, with a fireworks program at 7 p.m. each day. The Sultana – a replica of an 18th-century British vessel – is used as a floating classroom for learning about the history and environment of the Chesapeake Bay.
Events feature Upper Shore artists, sea-glass art
Fifty artists in Kent and Queen Anne's counties open their studios to visitors during the River Arts Tour, Oct. 27-28 and Nov. 3-4. Eastern Shore artist Cindy Fulton, a co-chair of the tour, says: "Artists flock to the Chesapeake Bay region in search of subject matter for paintings, sculptures, textiles and other forms of art. Each season brings new sources of inspiration – the ever-changing colors of the bay, its beaches, grasses, skies and forests, for instance. Interesting shapes also emerge amid forms in nature and the region's abundant wildlife."
Sea-glass art is also in the spotlight at two upcoming expositions: the Eastern Shore Sea Glass Festival, Nov. 3 in St. Michaels, and the Fall Sea Glass Festival in Queen Anne's County, Nov. 16-17.
32nd Annual Maryland Tourism and Travel Summit


Date: Nov. 14-16, 2012
Venue: Hyatt Regency Chesapeake Bay Golf Resort, Spa and Marina
Address: 100 Heron Blvd., Cambridge, Maryland 21613

Register online