NEWS IN BRIEF

Star-Spangled 200 Grants Awarded to Bicentennial Projects
Dominick Murray, secretary of the Department of Business and Economic Development, was joined by Eloise Foster, secretary of the Department of Budget and Management, to award $1.2 million in matching grants for programming, education, visitor experience and capital improvements for projects that stimulates investment in the commemoration of the bicentennial of the Star-Spangled Banner and the War of 1812 for maximum benefit to Marylanders.
"We are pleased to be able to provide these grants, which will be supplemented by more than $2.5 million in matching funds to revitalize communities, spur tourism and create jobs," said Secretary Murray.
Project summaries of the grants awarded can be found here.


Tourism Professionals to Convene during MTTS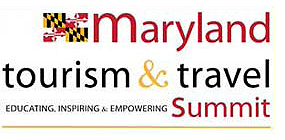 The Maryland Tourism and Travel Summit (MTTS) is the only state program for tourism destination professionals at the state and local level to learn how to better market and grow their destinations. The summit, which will be held Nov. 6 - 8 at the Hotel at Arundel Preserve, is dedicated to exploring ways in which the tourism industry can enhance its marketing performance.
The summit will feature speakers that will give attendees information they need to succeed and includes:
Creating Customer Experiences, John Kennedy, John Kennedy Consulting
The New Normal, Troy Thompson, Travel 2.0 Consulting Group
State of the State of Tourism Address & Trends in Airline Travel, Margot Amelia, Executive Director of the Maryland Office of Tourism & Paul Wiedefeld, CEO Baltimore/Washington International Thurgood Marshall Airport
Taming the Email Beast, Randy Dean, Randall Dean Consulting & Training
There will also be opportunities for tourism professionals to collaborate at networking functions at Maryland Live! and at a behind-the-scenes tour of the stables at Medieval Times.
The industry's best will be recognized by AAA, Maryland Association of Destination Marketing Organizations, the Maryland Office of Tourism and the Maryland Tourism Council.


Film Featured at Regional Summit
The Regional Economic Studies Institute (RESI) at Towson University is hosting an Economic Conference on Wednesday, Nov. 6. A segment of the conference is focusing on the film industry and the impact of this industry on Maryland's economy. Jack Gerbes, director, Maryland Film Office, Department of Business and Economic Development and Thomas B. Riford, president and chief executive officer, Hagerstown-Washington County Convention and Visitors Bureau will be members of a panel discussing the benefits of filming and impact of economic incentives on the film industry. View a video created by Morgan State University students, which touts film production benefits, that premiered at the Reel to Real party.

Maryland Heritage Area Authority Tours Southern Maryland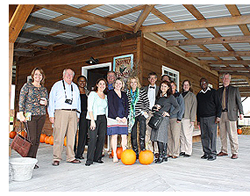 Some of the best learning happens when outside of the classroom – and, outside of the office. As part of its regularly scheduled Maryland Heritage Authority meetings, twice a year members visit heritage areas to exchange ideas and best practices for stewardship and promotion. The October meeting took members to the Southern Maryland Heritage Area where they toured Serenity Farm. View larger image.

Mini-More visits New Jersey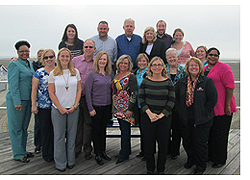 Rich Gilbert, travel trade sales manager at the Maryland Office of Tourism, recently led 18 industry partners on a Mini-Maryland on the Road Enterprise (Mini-MORE) sales blitz of New Jersey. The group, traveling aboard an executive motorcoach, met with 21 representatives from 14 tour operations.
Maryland on the Road Enterprise (MORE) is a cooperative marketing partnership for Maryland's tour and travel suppliers. Where sales partners travel aboard an executive motorcoach, conducting pre-scheduled sales appointments with motorcoach operators, tour operators and travel planners.
Partners included: Jennifer Delancey, Annapolis Tours & Watermark Cruise; Kelly Flanagan, B & O Railroad Museum; Rosie Trout, Baltimore Water Taxi; Tia Gray, Bernstein Companies Hotels; Pat Ambler-Perry, Boardwalk Hotel Group; Marilyn Williams, Colony South Hotel & Conference Center; Mike Rosa, Days Inn Inner Harbor Hotel; Betsy DeVore, Hagerstown/Washington County CVB; Lori Boone, Howard County Tourism & Promotion; Mary Sipes, Lord Baltimore Hotel; Suzie Kogot, Maryland Zoo in Baltimore; Scott Barr, National Aquarium; Nora Campbell, Ripley's Believe It or Not; Steve Jones, Six Flags America; Cheryl Clemens, Toby's Dinner Theatre; Becky Bickerton, Visit Frederick; and Heather Markle, Westin Annapolis. View larger image.
B&O Railroad Museum Executive Director Recognized for Outstanding Leadership and Community Service
B&O Railroad Museum Executive Director Courtney Wilson was awarded the 2013 Katherine Coffey Award at the Mid-Atlantic Association of Museums' annual meeting in Washington, DC on October 22 at the Holiday Inn Washington-Capitol.
The Katherine Coffey Award is given each year by the Mid-Atlantic Association of Museums to an individual in the mid-Atlantic region to recognize distinguished achievement in the museum field. Recipients demonstrate accomplishment in their role and a record of service to the profession on state, regional, national, and/or international levels. Recipients also have a proven record of service to the community in which the museum is located.
"Courtney Wilson is truly one of the innovators in the museum profession today," said Shawn Herne, vice president of the Mid Atlantic Association of Museums. "He not only saved the B&O Railroad Museum from disaster but rebuilt it into one of the finest transportation museums in the world. His recent efforts to save and reopen the Edgar Allan Poe House are just another example of his outstanding leadership abilities and commitment to the community."
Brookeville Event Benefits its Bicentennial Commemorations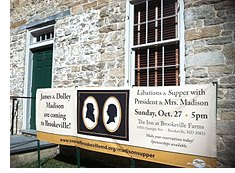 Enjoy a classic 19th-century supper with "President and Mrs. Madison" on Sunday, October 27, at 5 pm at the Inn at Brookeville Farms in Montgomery County, which features a multi-course supper based on menus by Dolley and a discussion of current events of October 1813 by "President Madison" . For more information, visit: www.townofbrookevillemd.org. The event benefits the upcoming Brookeville War of 1812 Bicentennial Commemorations takes place August 30 - 31, 2014.
Last days of Ocean City's fall restaurant week
Ocean City Restaurant Week, actually a two-week event, runs Oct. 13-27. Seventeen participating restaurants feature prix-fixe menus ($10, $20, $30 or $40). The Ocean City Hotel-Motel-Restaurant Association coordinates the event.
Western Maryland artists open studios for yearly tour
Allegany Arts Council presents its annual Mountain Maryland Art Sale and Tour on two successive weekends, Oct. 19-20 and Oct. 26-27. This year's event features 39 artists in Allegany and Garrett counties. Enter a drawing to win $100 in cash following each weekend of the tour. The Maryland State Arts Council is one of the sponsors of this event. For more information, call 301-777-ARTS (2787).