NEWS IN BRIEF


Tourism officials reach out to generate visitation
Representatives of the Maryland Office of Tourism have hit the road in recent weeks in order to entice more tour groups and other visitors to the state.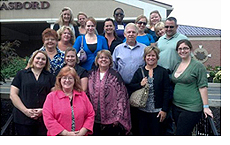 Rich Gilbert, travel trade sales manager at the tourism office, led a group of 17 Maryland tourism partners on a sales blitz through northern and central New Jersey, Sept. 25-27. Participants in the Mini-Maryland on the Road Enterprise, traveling aboard an executive motorcoach, stopped for sales appointments with 27 representatives of 13 New Jersey tour operations.
Camila Clark, public relations manager at the tourism office, met with more than a dozen Canadian media representatives during Discover America Day Canada, Oct. 2 in Toronto. The yearly media marketplace is designed to promote Canadian tourism to the U.S.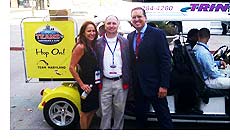 Also, Terry Hasseltine, director of the Maryland Office of Sports Marketing, led a Maryland contingent to Detroit for the annual TEAMS Conference & Expo, Oct. 1-4. The group, which included representatives of destination marketing organizations across Maryland, collectively had 50-plus appointments with sporting-event rights holders to discuss bringing those events to the state.
Top photo:
Members of the Mini-Maryland on the Road sales blitz of New Jersey: Dana Kirn, B & O Railroad Museum; Rosie Trout, Baltimore Water Taxi; Joyce Baki, Calvert County Tourism; Mike Rosa, Days Inn Inner Harbor Hotel; Marie Moore, DoubleTree Hotel-Annapolis; Betsy DeVore, Hagerstown/Washington County CVB; Jamie Moore, Hard Rock Café; Lori Paddy, Howard County Tourism & Promotion; Jane Scheffsky-Cassiere, Maryland Zoo in Baltimore; Traci Silveira, Medieval Times Dinner & Tournament; Christine Bradley, National Aquarium; Chervell Goodman, Phillips Seafood Restaurants; Nora Campbell, Ripley's Believe It or Not; Rebecca Lira, St. Mary's County Office of Tourism; Cheryl Clemens, Toby's Dinner Theatres; Becky Bickerton, Visit Frederick; and Rich Gilbert, Maryland Office of Tourism.
Bottom photo:
Terry Hasseltine, Maryland Office of Sports Marketing, with Lisa Furfine and Tim Schneider, Sports Travel magazine, stand by one of the Team Maryland-sponsored e-cruisers at the TEAMS Conference & Expo in Detroit.


Twenty-two 1812 projects receive state funding
Lt. Gov. Anthony Brown announced the recipients of $1.5 million in matching grants through the Star-Spangled 200 grant program, Oct. 4 at the American Visionary Art Museum in Baltimore. Twenty-two nonprofits and government organizations received the awards for projects tied to Maryland's three-year commemoration of the War of 1812, involving: programming, education, visitor experience and capital improvements.
"The War of 1812 in the Chesapeake and the writing of The Star-Spangled Banner are important chapters in our history as a state and as a nation," said Lt. Gov. Brown. "I want to thank the grant recipient organizations for their commitment to telling this story and using these funds to invest in community revitalization, tourism development and job growth in Maryland."
Star-Spangled 200's grant program is funded through surcharge proceeds from the sale of Star-Spangled Banner Commemorative Coins by the U.S. Mint. The sale of the gold and silver coins ends in mid-December.
Applications for the next cycle of awards – the third of six rounds during the commemoration period – are due by Nov. 1. More information is available online.

Maryland embraces Bavarian fall tradition
Oktoberfest season is here. Maryland Brewers Oktoberfest is Oct. 13 at the state fairgrounds in Timonium (Baltimore County). More than 80 beers from 15 Maryland breweries are in the spotlight at this 11th annual Maryland Brewers Association festival – a nonprofit trade association for Maryland breweries and brewpubs.
Charles County Oktoberfest is Oct. 13-14 at the county fairgrounds in LaPlata. This Southern Maryland venue adopts a Bavarian outlook for the benefit of the Society for the Friends of Hospice. Live music and dancing, a Miss Oktoberfest contest, arts & crafts vendors, and a family-fun area are all part of this community event. Gaithersburg Oktoberfest at the Kentlands is Oct. 14 at Kentlands Village Green in Montgomery County. Admission and parking are free at this 21st annual festival, which offers horse-drawn wagon rides, pumpkin painting, wine tasting and free performances on the Arts Barn Theater stage – in addition to the expected Oktoberfest activities.
The Good Beer Festival in Salisbury (Wicomico County) is also Oct. 13-14. Held at Pemberton Historical Park, this weekend event serves up 50 American craft beers, live music on two stages, a home-brewer competition, brewing classes, a chili cook-off and the Hangover 5K run (and 1.5 walk). A week later, Oct. 20, The Maryland Zoo presents its first OktoBEARfest.
And, the Annapolis Craft Beer and Music Festival is Oct. 27 at Navy-Marine Corps Memorial Stadium in Annapolis. This first-time festival features some 20 craft breweries, two stages (The Lager and Pilsner stages) of live music, beer seminars, a food court with Maryland seafood, and an array of artists and other exhibitors.

Annapolis shows spotlight state's boating sector
Boating enthusiasts from across the U.S. and around the globe continue to come to Annapolis every October for two boat shows (on consecutive weekends) produced by U.S. Yacht Shows, Inc. The 42nd annual U.S. Sailboat Show, Oct. 4-8, and the 40th annual U.S. Powerboat Show, Oct. 11-14, both feature boat dealers, marine-service providers, manufacturers of nautical equipment and apparel, seminars, and of course, a fleet of new boats that takes over Annapolis' harbor by City Dock.
"Most major boat manufacturers not only participate, they bring their entire lines," says Paul Jacobs, general manager of U.S. Yacht Shows. "In fact, many companies choose these shows as the venue in which to premiere their newest models."
The shows are the oldest and largest in-water shows of new boats in the country, organizers say. In the weeks leading up to the shows, some 100 workers build and fill a temporary marina in the harbor. They install more than a mile of dock space, 600 platforms to hold tents and six miles of electrical cable.
"Annapolis is the hub of the sailing industry in North America," says Geoff McCord, general manager of Bavaria Yachts USA, on why his company located in the colonial seaport.
U.S. Yacht Shows also produces two spring expositions, The Bay Bridge Boat Show and the Annapolis Spring Sailboat Show, which made its debut last April.

'Big Slackwater' opens at C&O Canal NHP
A ribbon-cutting ceremony in Sharpsburg at Chesapeake and Ohio (C&O) Canal National Historical Park, Saturday, Oct. 13 at 10 a.m., marks the completed restoration of the C&O Canal towpath area known as "Big Slackwater" – the 2.7-mile segment of the trail that had been washed out by flood damage and closed since 1996. It was the only missing link in the 184.5-mile towpath.
Guest speakers include Sen. Ben Cardin, Rep. Roscoe Bartlett, a representative of Sen. Barbara Mikulski and Steve Whitesell, regional director of the National Park Service (NPS)'s Capital Region. The event is free and open to the public. Following the ceremony, Park Superintendent Kevin Brandt will lead a walking tour of the newly restored trail. Parking for the event will be available at the Bowman Property, 15910 Cheneys Neck Road in Sharpsburg. Free shuttles operate from 8:30 a.m. to 1 p.m. RSVPs are encouraged.
The $19 million reconstruction project was primarily funded through the American Recovery and Reinvestment Act (President Obama's stimulus package). Other sources were the Maryland Department of Transportation's Transportation Enhancement Program, a state of Maryland bond, NPS recreation fee funding and donations from the C&O Canal Association.
C&O Canal National Historical Park is Maryland's largest and most-visited national park; 43 percent of it (including its headquarters) is located in Washington County.


Trail between D.C. and Maryland gets final link
Federal, state and local officials will participate in an unveiling of the Kenilworth Aquatic Gardens Trail – the final link in a nearly 60-mile network of bicycle and pedestrian trails connecting the District of Columbia and Maryland – on Monday, Oct. 15 at 11 a.m. in Washington, D.C., at the intersection of Anacostia Avenue and Benning Road NE. The trail links Benning Road with Bladensburg Waterfront Park in Prince George's County.
Secretary Ken Salazar, U.S. Department of the Interior; Deputy Secretary John D. Porcari, U.S. Department of Transportation; Gov. Martin O'Malley; Sen. Ben Cardin; County Executive Rushern L. Baker III, Prince George's County; and Mayor Vincent C. Gray, Washington, D.C., are among the invited speakers at this event.




Celebrating a decade of success
Baltimore's Station North Arts and Entertainment District – one of Maryland's first A&E districts – celebrated its 10-year anniversary, Sept. 28, with an array of dignitaries that included Gov. Martin O'Malley and filmmaker John Waters (pictured), Baltimore Museum of Art Director Doreen Bolger and Maryland Institute College of Art President Fred Lazarus.

Photo: Executive Office of the Governor
Free Fall Baltimore includes return of Literary Arts Week
The Maryland State Arts Council, along with the Greater Baltimore Cultural Alliance and the CityLit Project, plans a second annual Literary Arts Week in Baltimore, Oct. 14-20, as part of the month-long Free Fall Baltimore. Now in its seventh year, Free Fall Baltimore is a city-wide celebration of National Arts and Humanities Month (coordinated by the Baltimore Office of Promotion & the Arts) that offers 300 free arts and cultural events, programs and activities during October. Literary Arts Week includes author readings, workshops, spoken-word performances and presentations. The Maryland Humanities Council also hosts literary-history walking tours of the city's Mt. Vernon neighborhood.
Ocean City brings back fall restaurant week
Ocean City Restaurant Week, actually a two-week event, runs Oct. 14-28. Seventeen participating restaurants feature prix-fixe menus ($10, $20, $30 or $40). The Ocean City Hotel-Motel-Restaurant Association coordinates the event.
Eastern Shore museum hosts wildfowl exposition
Ward Museum of Wildfowl Art presents its 15th annual Chesapeake Wildfowl Expo, Oct. 12-13 in Salisbury. Admission to the event and the museum is free. The weekend event is a tribute to old, working decoys and also encourages the carving of new decoys through a competition. More than 30 vendors set up on the museum's front parking lot for buying, selling and trading antique decoys, folk art and collectibles related to waterfowling and hunting. The museum was named for the Ward brothers (Stephen and Lemuel) – two Marylanders who operated a shop in Crisfield as pioneers in the decoy-carving industry.
Deep Creek Lake area promotes fall visitation
Garrett County Chamber of Commerce offers a 3-2-1 Lodging & Activity Promotion, Oct. 15 to Dec. 16, in which visitors get three nights for the price of two plus one discounted activity. Ten lodging companies – rental home properties, B&Bs and log-cabin-style hotel suites – are participating in the promotion. Horse-back riding, mini-golf, go carts, laser tag and bumper cars are among the available activities. For more information, call 888-387-5237.
Western Maryland artists open studios for yearly tour
Allegany Arts Council presents its annual Mountain Maryland Art Sale and Tour on two successive weekends, Oct. 20-21 and Oct. 27-28. This year's event features 39 artists in Allegany and Garrett counties. Enter a drawing to win $100 in cash following each weekend of the tour. The Maryland State Arts Council is one of the sponsors of this event. For more information, call 301-777-ARTS (2787).
32nd Annual Maryland Tourism and Travel Summit


Date: 11/14/2012 - 11/16/2012
Venue: Hyatt Regency Chesapeake Bay Golf Resort, Spa and Marina
Address: 100 Heron Blvd., Cambridge, Maryland 21613

Register online