NEWS IN BRIEF

Maryland Productions Win Emmys
Two productions filmed in Maryland won awards at the 65th Primetime Emmy Awards: VEEP and House of Cards.
VEEP is a political comedy set in Washington, D.C., starring actress Julia Louis-Dreyfus as U.S. Vice President Selina Meyer. Ms. Louis-Dreyfuss won the Emmy for best actress in a comedy. She gave a shout-out to Maryland, thanking "the wonderful crew in Baltimore." Tony Hale, who plays Meyer's aide Gary Walsh, won for best supporting actor.
House of Cards, which also has a political backdrop, won the award for best direction for its groundbreaking Netflix Episode 1. It marked the first victory in a major category for an online video distributor. The Emmy win could boost Netflix's prestige in Hollywood as an outlet for high-quality original series. House of Cards also won Emmys for cinematography and casting.
While Maryland-based productions receiving Emmy Awards is impressive, there are other numbers that are very important as well. The two productions have hired more than 3,000 Marylanders and utilized the goods and services of thousands of Maryland businesses. "The professionals in the film industry, the Maryland businesses that service the industry, and the state and local leaders who have supported the film industry should be proud that these critically acclaimed television series call Maryland home," said Jack Gerbes, director, Maryland Film Office.


Garrett County to host ICF Canoe Slalom World Championships in 357 Days
Deep Creek 2014 will play host to the 2014 International Canoe Federation (ICF) Slalom World Championships in McHenry, Maryland, September 17-21, 2014. The Adventure Sports Center International is the prestigious venue for the event and is the only mountaintop whitewater course in the world.
More than 1,500 athletes are anticipated to attend, representing more than 40 countries. It is anticipated that more than 30,000 people will cheer on the athletes and will generate more than $20 million in economic impact for the region.
This will be the first time the Canoe Slalom World Championships will return to the U.S. in 25 years, having first been held in 1989 on the Savage River, also in Garrett County.


Continued growth in tourism performance metrics in FY2013
The latest issue of the Maryland Tourism Monitor – the Office of Tourism's monthly report on measures for marketing, tourism-related sales taxes, lodging and transportation trends, and leisure and hospitality jobs – is available online. While performance measures were expected to decline in FY2013, given that there was no special event planned on the magnitude of FY2012's Star-Spangled Sailabration, most metrics saw growth in FY2013 and all metrics were up significantly from FY2011 results. Among its findings: sales-tax revenue from tourism tax codes grew 1 percent, outperforming the growth for overall sales-tax revenue during the same time period. In addition, strong gains were seen in requests for travel kits from both print advertising and VisitMaryland.org.


September is for Uncovering Uniquely Maryland
What makes Maryland so special? For the state's residents and frequent visitors, it may be the land itself, offering everything from mountains to shorelines and from cities to small-towns, and our vast waterways. In fact, Maryland offers 31 miles of Atlantic Ocean coast, including Assateague Island, the Chesapeake Bay and its tributaries, and 400 manmade lakes. For others, history is the allure. The legendary slugger Babe Ruth was born in Maryland; the first telegraph line in the world was established between Washington and Baltimore; and Maryland was home to Francis Scott Key, who penned the National Anthem aboard a boat in the Baltimore Harbor during the War of 1812. Set amidst this confluence of geography, industry, and heritage, Maryland's museums capture the state's spirit, with venues across the state featuring fine art, historic treasures, and items significant to the state and our nation's growth and expansion.
"As summer draws to a close, it's the perfect time to enjoy the arts, outdoor festivals, and cultural heritage that makes Maryland a truly unique place," said Margot Amelia, executive director of the Maryland Office of Tourism. "With our diverse landscape and an assortment of popular yearly events, residents and visitors will find that there is truly something for everyone here, especially during the month of September."


African American GAR monument Dedicated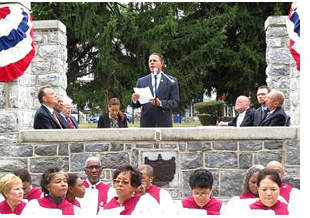 On Saturday, September 21, 2013, Lt. Gov. Brown was the keynote speaker at the unveiling of the monument to the Lyon Post #31 Grand Army of the Republic, an organization created for African-America Civil War veterans. During the ceremonies, the assembly also rededicated the Washington Confederate Cemetery and the grave marker for Jacob Wheaton, the first African-American to cast a vote in the Maryland after the Civil War. The Hagerstown/Washington County CVB was instrumental in raising funds to install the Lyon Post #31 monument at Rose Hill Cemetery.

Post Labor Day School Start Task Force Meets
The task force that will study what impact changing the school start date to follow Labor Day would have on summer tourism, Maryland's economy and local school systems met for the first time on September 17.
Gov. O'Malley signed the legislation entitled "Task Force to Study a Post-Labor Day Start Date for Maryland Public Schools" after public hearings and almost unanimous support in both the Senate and the House. The tourism industry representatives on the task force include Maryland Tourism Development Board Chair (MTDB) and owner, Shenanigan's Irish Pub, Ocean City, Greg Shockley, and former MTBD board member and chief executive officer, Michael Haynie, Parkway Hospitality Management, Baltimore. Mr. Shockley and Mr. Haynie join legislatively appointed board members Senators John Astle and James Mathias on the task force along with representatives from education.
MSAC releases Annual Report
Maryland's arts industry generates $37.8 million in state and local taxes, and supports nearly 11,000 full-time jobs, according to the Maryland State Arts Council's recently released annual report for fiscal year 2013.
"Marylanders are, at heart, a creative and forward-looking people who believe all forms of art—be it music, literature, traditional arts, visual arts— enrich our lives. By supporting arts initiatives, we continue to develop and promote vibrant centers of commerce, culture and creativity throughout our State," says Gov. Martin O'Malley in a published letter that introduces the report.
Available online, the 40-page publication features photos and artwork from a broad selection of MSAC partners and grantees, including arts organizations, programs and Individual Artists Award recipients. The report also includes artist and arts organization profiles, descriptions of all MSAC programs and details of all grants distributed to each county.
The Arts Council awarded nearly $9 million in operating grants to 258 arts organizations across the state for fiscal 2013, in addition to more than $2 million in grants to 23 County Arts Councils and Baltimore City.
Bay-getaway contest includes stay at Island Inn and Resort
Visit the Maryland Office of Tourism's web site and enter to win a fall getaway that features a two-night stay at Island Inn and Resort, Piney Point. The package also includes a Port of Leonardtown Winery tasting for six; tickets to Historic St. Mary's City Living History Museum and lunch at the Inn at Brome Howard; a dining certificate to the Ruddy Duck Seafood and Ale House; and an excursion on the Chesapeake Bay for up to six guests from Fish the Bay Charters and Lighthouse Tours.
SAVE THE DATE:
Mark your calendars for the 33rd Annual Maryland Tourism and Travel Summit to be held from November 6-8, 2013 at the Hotel at Arundel Preserve in Anne Arundel County.

Destination Maryland 2014
THE OFFICIAL GUIDE TO MARYLAND STATE TRAVEL
How do visitors learn about our great state? By reading Destination Maryland. It is filled with facts, features, photos and so much more. This is your #1 ad buy to reach consumers while they are planning their trip. Contact Steve Lassiter at steve.lassiter@mediatwo.com or 443-909-7828 for more information. DEADLINE TO RESERVE SPACE IS OCTOBER 4TH.
Baltimore celebrates literary arts at yearly festival
The Baltimore Book Festival – a weekend extravaganza for the literary-minded – features appearances by 200 local, celebrity and nationally-known authors, September 27-29, 2013, at Mount Vernon Place by the Washington Monument. Readings, workshops, panel discussions, cooking demos, theatrical presentations and musical performances will occur on the festival's 11 stages. The event also offers an array of food and beverage options, and numerous activities for children. Festival hours are noon to 8 p.m. on Friday, and noon to 7 p.m., Saturday and Sunday.
Maryland Performing Artist Touring Roster: Those interested in applying to be on the Performing Artist Touring Roster must submit an application via eGrant by 5:00, October 17, 2013. Roster Guidelines, sample application, general information and updates are available online.
Poetry Out Loud
Registration for Poetry Out Loud 2013-2014 is open, with an application deadline of October 1, 2013. All Maryland schools are eligible to apply.
FY15 Grants for Organizations
Full application deadline is October 24, 2013. The Request for Funding (RFF) for those on a multi-year cycle is December 12, 2013. New applicants must submit Intent to Apply by October 2, 2013. Remember, application assistance is available through a series of MSAC workshops, webinars and sessions.
Bicycle and Pedestrian Master Plan Public Meeting
The Maryland Department of Transportation (MDOT) is leading an update of the existing Bicycle and Pedestrian Master Plan, which was adopted in 2002. This Plan establishes a 20-year vision to guide investments that support cycling and walking, both on-road and off-road, as part of Maryland's multimodal transportation network. A Public meeting to discuss the Draft Plan on November 13 from 6-8PM at the Talbot County Free Library: 100 W. Dover St., Easton, MD.