NEWS IN BRIEF

2013 Maryland Wine Governor's Cup Winner Announced
The First Lady announced the Best In Class winners and then concluded by presenting the Governor's Cup to Black Ankle Vineyards for their 2010 Crumbling Rock, a blend of Bordeaux varieties. This is Black Ankle Vineyards' third Governor's Cup Competition win for Best in Show.
The annual Maryland Governor's Cup competition is evaluated by four select teams of judges from the wine industry including: retail, wholesale, restaurant and media. The competition is blind—judges only know the composition of the wine, not the label, price, intended market or any other details.
"This was one of the most definitive Maryland wine competitions ever, with an equal number of superior red and white wines, representing all of the state's diverse wine-growing regions," said Joe Fiola, Specialist in Viticulture and Small Fruit at the University of Maryland Extension.
Hannah Bryon, assistant secretary of Tourism, Film and the Arts, who was on hand at the ceremony said, "The increase in wineries in the state, in addition to the growing number of wine trails is a perfect blend of viticulture and tourism."
For a full listing of all of the winners, click here. And, to sample many of the award winners, plan on visiting the 30th annual Maryland Wine Festival, Sept. 21-22 at the Carroll County Farm Museum in Westminster. The festival features wine tastings, live music, local-restaurant fare, arts and crafts vendors and wine seminars. For information about Maryland wineries and events, call 800-237-WINE.

Star-Spangled Spectacular Named Top American Bus Association Event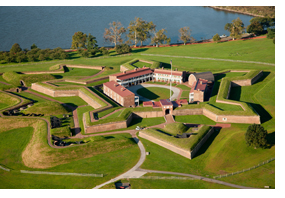 Star-Spangled Spectacular, a 10-day free festival that will celebrate the 200th birthday of the national anthem in September 2014, is the top U.S. event to visit on motorcoach or with a group in 2014 according to the American Bus Association (ABA). The ABA's Top 100 Events in North America serves as a guide for travel professionals and the general public when planning group tours and vacations.
"It is an honor to be awarded this designation," said Margot Amelia, executive director of the Maryland Office of Tourism. "The customers that group tour professionals bring to Star-Spangled Spectacular will go home with amazing memories of this once-in-a-lifetime event, while their spending will deliver great economic benefits to the state."
Group tour professionals comprise the Top 100 Selection Committee. Each spring they select the winners from hundreds of nominated fairs, festivals, parades, exhibits, theaters and shows based on their broad appeal, accessibility to large groups and other criteria.


Commemoration Events Continue
This weekend, Maryland will commemorate events of two pivotal moments in America's history.
Throughout the Heart of the Civil War Heritage Area there will be events and tours during the 151st battle anniversary weekend. South Mountain and Antietam battlefields will be holding talks, tours and weapon demonstrations.
In Baltimore, Fort McHenry will celebrate the 199th anniversary of the heroic efforts that saved a city from British defeat and in turn inspired an anthem. The Maryland Historical Society's newly hand-stitched "Star-Spangled Banner Flag," will have its raising ceremony over the fort and the public is invited to participate. Saturday will feature a symbolic "ship to shore" bombardment and a fireworks display.


Leonardtown launches A&E district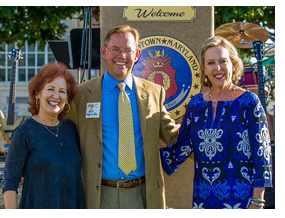 Leonardtown in St. Mary's County is the newest Arts & Entertainment (A&E) District. This designation was announced on September 6 at the town square. The announcement included Hannah Bryon, assistant secretary, Tourism, Film and the Arts, Dan Burris, mayor, Leonardtown and Barbara Bershon, chair, Maryland State Arts Council.
"Arts and Entertainment Districts have proven to be a generator of economic activity and growth," said Hannah Bryon. "With this designation, Leonardtown becomes the first A&E district in Southern Maryland completing a statewide network that provides momentum and credibility to potential investors."

Diamond Jim netted in Maryland Fishing Challenge history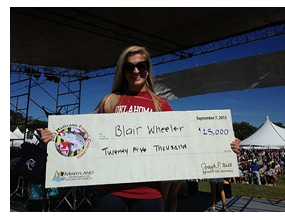 This year, marked the first time in the nine-year history of the Maryland Fishing Challenge that someone hooked Diamond Jim to win the $25,000 cash prize.
Blair Wheeler, of Herndon, VA, caught the winning striper while fishing aboard the charter, Hook Mash out of Deale, as part of a birthday celebration for her brother and husband. The fish was hooked off Tracys Landing and weighed19 pounds.
"They got the trip, I got the fish," said Wheeler. "Even if we hadn't won anything we were going to go fishing again next year. Charters are great. You don't have to be a fisherman to be able to enjoy it." This was her first time fishing in the Chesapeake Bay and she had only been fishing 10 times total.
The purpose of the Maryland Fishing Challenge is to showcase Maryland as a great destination for sport fishing, with affordable, accessible, diverse and high-quality fishing opportunities for Maryland's residents and visitors alike, and to help increase the number of youth and families participating in the sport of fishing.
SAVE THE DATE:
Mark your calendars for the 33rd Annual Maryland Tourism and Travel Summit to be held from November 6-8, 2013 at the Hotel at Arundel Preserve in Anne Arundel County.
Submit nominations for Maryland Tourism Awards
Nominations for the 2012 Maryland Tourism Awards — as selected by the Office of Tourism and the Maryland Tourism Development Board — will be accepted until September 16, 2013 at 5:00 p.m. Award categories are: Green/Sustainable Tourism; Visit Maryland (promotion of the state as a travel destination); Cultural/Heritage Tourism; and Economic Engine. A program overview and a nomination form are available online.
The awards pay tribute to individuals, organizations, businesses or governmental agencies that have significantly contributed to the efforts of the tourism office and board to boost jobs and economic impact in Maryland's tourism industry, and enhance the state's image to travelers. Winners will be announced at the Maryland Tourism and Travel Summit, November 7, 2013. For more information, call or e-mail Jennifer Jones, 410-767-6296.



Destination Maryland 2014
THE OFFICIAL GUIDE TO MARYLAND STATE TRAVEL
How do visitors learn about our great state? By reading Destination Maryland. It is filled with facts, features, photos and so much more. This is your #1 ad buy to reach consumers while they are planning their trip. Contact Steve Lassiter at steve.lassiter@mediatwo.com or 443-909-7828 for more information. DEADLINE TO RESERVE SPACE IS OCTOBER 4TH.
MSAC assists Grants for Organizations applicants
Assistance in how to submit a strong grant application will be offered throughout September and October. These opportunities are listed online.
Maryland Morning
The National Aquarium is working to woo residents with a new program that features reduced admission for those showing proof of Maryland residency when they visit before noon.
A Taste of Smith Island
Dinner/ Cruise and Silent Auction to benefit Smith Island Center on September 21.
Maryland's First Official Maker Faire
The Maryland Department of Business and Economic Development is supporting KID Museum's Silver Spring Mini Maker Faire - a free, family festival - on Sunday, September 29th at The Silver Spring Civic Building, from 12:00-5:00p.m. A Maker Faire features hands-on activities and innovative projects created by inventors, hackers, crafters, artists, and do-it-yourselfers of all kinds.