John Lithgow to Host Star-Spangled Concert
On July 16, Star-Spangled 200, Inc. (SS200), Maryland Public Television (MPT) and dick clark productions (dcp) announced that John Lithgow will host Star-Spangled Spectacular: Bicentennial of our National Anthem at Pier Six Pavilion in Baltimore on Saturday, Sept. 13. The two-hour concert special will also be broadcast live as part of THIRTEEN'S Great Performances series on PBS. The live television event is a highlight of Star-Spangled Spectacular, a weeklong celebration of the 200th anniversary of the National Anthem.
Other concert performers that were announced are: Kristin Chenoweth; Little Big Town; Pentatonix; and the Baltimore Symphony Orchestra. The patriotic program will also include ceremonial activities at Fort McHenry National Monument and Historic Shrine, the magnificent U.S. Marine Corps Band, historical highlights and an extraordinary fireworks display. Tickets for the Star-Spangled Spectacular: Bicentennial of Our National Anthem went on sale Friday, July 18th at 10:00 a.m. and can be purchased online at piersixpavilion.com, over the phone by calling 410-244-1131, or in person by visiting the Rams Head Live (Baltimore) or Rams Head On Stage (Annapolis) box offices.


Tourism Tax Revenues Continue to Grow in FY2014
The latest issue of the Maryland Tourism Monitor – the Office of Tourism's monthly report on metrics for marketing, tourism-related sales taxes, lodging and transportation trends, and leisure and hospitality jobs – is now available online. Among its findings: sales tax revenue from tourism tax codes grew 1.5 percent the first ten months of the fiscal year; the addition of table games and the opening of Rocky Gap led to an increase in gaming revenue of 45 percent fiscal year to date; and the number of hotel rooms sold in Maryland in April 2014 increased 6.2 percent, while room revenue increased 5.4 percent.


Horses: Good for Maryland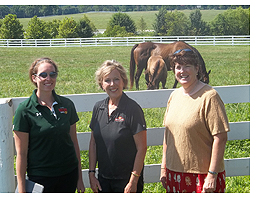 Hannah Byron, assistant secretary, Division of Tourism, Film and the Arts participated in a video production that is being produced by the Maryland Horse Breeders Association to tout the benefits of the state's horse industry. Other experts included in the video production are: Buddy Hance, secretary, Maryland Department of Agriculture; Jay Hickey, president, American Horse Council; and Anirban Basu, chairman and CEO, Sage Policy Group.
The goal of the video is to get varied perspectives about how the Thoroughbred breeding industry contributes to Maryland's economy. Byron pointed out the Horses and Hounds Scenic Byway, and the Preakness and Maryland Million races are a few of the ways that visitors can enjoy Maryland's equine industry.
Hannah Byron (center) is joined by Anne Frederick, social media manager (left) and Cricket Goodall, executive director, the Maryland Horse Breeders Association (right).


Maryland Produces Emmy Contenders
The Maryland productions House of Cards and VEEP are well represented in this year's Emmy nominations. House of Cards received thirteen nominations including Outstanding Drama, Lead Actor and Actress, and Writing. Local crew members were singled out and honored with nominations in Art Direction and Sound Mixing for House of Cards. VEEP received nine nominations including Outstanding Comedy, Lead Actress, and Writing. In addition, local casting director Pat Moran was once again nominated for an Emmy in Outstanding Comedy Casting. While 22 Emmy nominations are impressive, there are other numbers that are very important as well. The two productions have hired thousands of Marylanders as crew, actors and extras, and utilized the goods and services from thousands of Maryland businesses. "The professionals in the film industry, the Maryland businesses that service the industry and the state and local leaders who have supported the film industry should be proud that these critically acclaimed television series call Maryland home," said Jack Gerbes, director, Maryland Film Office.


Now accepting ad reservations for Destination Maryland - Official 2015 Visitors Guide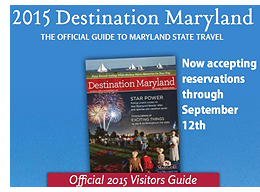 The all-new official Destination Maryland Guide presents our tourism partners with a unique, powerful platform. There is no comparable opportunity available that is 100% focused on visitation to Maryland—and there is no better time to speak to its large audience than when they are actively planning their visit to the state. The Destination Maryland Visitors Guide is sent by request directly to highly qualified travelers who are actively planning a Maryland vacation—most often a long one. In addition to 250,000 printed copies distributed, the Visitors Guide will also be available in both an interactive E-book and I-pad versions which click through to advertiser landing pages.
Contact Carly Stedman for rates and details: carly.stedman@milespartnership.com / 202-681-8169. Deadline to reserve space is September 12, 2014
NAACP to Hold National Convention in Baltimore 2016
The NAACP says it will hold its 2016 national convention in Baltimore. Tessa Hill-Aston, president of the Baltimore branch of the civil rights organization, said in an email on Wednesday that the national board, meeting this week in Las Vegas, selected Baltimore as the site. The organization has been headquartered in Baltimore since 1986.
Star-Spangled Banner National Historic Trail Advisory Council meeting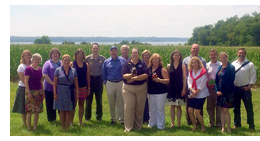 The Star-Spangled Banner National Historic Trail advisory council, chaired by DTFA Deputy Assistant Secretary Bill Pencek, met at Jefferson Patterson Park and Museum, July 9, to refine the vision, mission and goals of the trail beyond the bicentennial.
Maryland Minute
On CBS radio stations in Baltimore and Washington, D.C. plus WBAL-AM, Margot Amelia is featured in the weekly Maryland Minute. This week's version highlights events for this upcoming weekend.
Calling all filmmakers!
The 29 Days Later Film Project, now in its sixth year, is seeking filmmakers to compete in a nearly month-long competition that features more than $1,000 in cash and prizes. Teams must use a prop that is distributed at kick off and create a film between 4 and 9 minutes long in 29 days. The local project, which kicks off in Baltimore on July 16 at 7 pm, had 30+ teams compete last year with more than 350 people attending the screenings. This year's screenings will be on September 4 and 5 at the Creative Alliance in Baltimore. To participate or learn more, visit 29dayslater.com.
Capital Region USA Goes Global



The 2015 International Marketing Summit is a great opportunity to learn about international marketing trends and opportunities, emerging markets and grant programs that can extend your budget. The summit will be at National Harbor on August 20. Registration is open and the fee includes program handouts, lunch, networking opportunities, a prize drawing and a coupon booklet for Tanger Outlets to enjoy after the summit is over!
Submit nominations for Maryland Tourism Awards
Nominations for the 2014 Maryland Tourism Awards — as selected by the Office of Tourism and the Maryland Tourism Development Board — will be accepted until September 15, 2014 at 5:00 p.m. Award categories are: Green/Sustainable Tourism; Visit Maryland (promotion of the state as a travel destination); Cultural/Heritage Tourism; and Economic Engine. A program overview and a nomination form are available online.
The awards pay tribute to individuals, organizations, businesses or governmental agencies that have significantly contributed to the efforts of the tourism office and board to boost jobs and economic impact in Maryland's tourism industry, and enhance the state's image to travelers. Winners will be announced at the Maryland Tourism and Travel Summit, November 13, 2014. For more information, call or e-mail Jennifer Jones, 410-767-6296.