NEWS IN BRIEF

Two new A&E's named; Gateway, Silver Spring win awards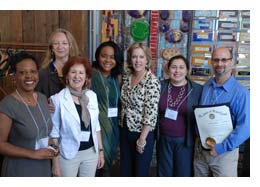 Maryland's Arts and Entertainment Districts program now has 22 designated A&E districts with the addition of Stevensville (Queen Anne's County) and Leonardtown (St. Mary's County), as announced at the program's June 4 annual meeting, held at the Creative Alliance at the Patterson in Baltimore's Highlandtown Arts and Entertainment District.
The A&E designation allows artists and arts enterprises to acquire tax incentives from the state for operating in the districts, which in turn, can lead to a revitalization of those communities. An A&E designation lasts for 10 years. After that time, districts can re-apply for another 10-year certification.
An economic study released in March showed that during fiscal 2012 the A&E districts provided the state with $29 million in tax revenue – $5.7 million through new businesses formed within the districts and $23.3 million through visitor spending in the districts. Towson University's Regional Economic Studies Institute conducted the study for the Maryland State Arts Council. The report further revealed that A&E districts supported nearly 4,200 jobs, while generating $397 million in goods and services, and $128.2 million in wages.

Also at the June 4 meeting, the Maryland Department of Business and Economic Development, which oversees the A&E program through the Arts Council, named the Gateway (Prince George's County) and Silver Spring (Montgomery County) A&E districts as co-recipients of the annual award for outstanding achievement by an A&E district.
Gateway just received a $240,000 grant for its Art Lives Here campaign from ArtPlace America – a consortium of 13 national and regional foundations and six of the largest U.S. banks that supports the efforts of communities across the nation to promote economic development through arts-related enterprises.
Another ArtPlace America grant, for $200,000, went to the Baltimore Office of Promotion and the Arts to use art to make transportation stations in the city's three A&E districts – Bromo Tower, Highlandtown and Station North – more user-friendly and attractive.
Photo (l to r): Carol Bernard, executive director, Gateway Community Development Corporation; Brooke Kidd, executive director, Joe's Movement Emporium (located in Gateway Arts and Entertainment District and leader of Art Lives Here project); Barbara Bershon, chair, Maryland State Arts Council; Rhonda Dallas, executive director, Prince George's County Arts Council; Hannah Byron, assistant secretary, Maryland Division of Tourism, Film and the Arts; Penelope Mendoza, public affairs specialist, Maryland-National Capital Park and Planning Commission; and Stuart Eisenberg, executive director, Hyattsville Development Corp.


International conference brings 1812 experts to Maryland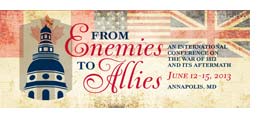 Nearly 200 scholars and historians from around the globe are in Annapolis for a three-day conference at the U.S. Naval Academy, June 12-15, called From Enemies to Allies: An International Conference on the War of 1812 and its Aftermath. Papers will be presented that illustrate the significance of the war and the changes that influenced domestic and international affairs for the U.S., Canada and Great Britain.
The conference is presented by the Maryland War of 1812 Bicentennial Commission, U.S. Naval Academy and U.S. Navy's Naval History and Heritage Command.
"It is truly an honor for Maryland to host this premier conference featuring the best scholarship on the causes, conduct and consequences of the War of 1812," said Gov. Martin O'Malley. "Two hundred years later, our countries are no longer at war, but at peace. Two hundred years later we continue to fly the Stars and Stripes, and together, we can continue to sing the National Anthem – great legacies of the War of 1812 and Maryland's contributions to the great fabric of our nation."
Conference participants will tour Seas, Lakes & Bay: The Naval War of 1812 – a new, free exhibit at the Naval Academy that showcases hundreds of items from the Naval Academy Museum and 86 items on loan from the collection of American businessman and sailor William I. Koch. Some participants are also taking a tour of War of 1812-related sites in the Baltimore area, June 12. Destinations include: The Star-Spangled Banner Flag House, Patterson Park, the North Point State Battlefield and Todd's Inheritance.
National arts blog features interview with Gov. O'Malley
"In Maryland, the arts industry is a billion-dollar industry," said Gov. Martin O'Malley in an interview that appeared in the June 4 entry for Art Works., the official blog of the National Endowment for the Arts. "Every $1 of arts organizations' operating budget generates $3.78 in total economic activity.
The governor discussed why he's shown consistent funding support for the Maryland State Arts Council, even during tough economic times. "In the 21st-century economy of innovation and ideas, the arts foster creativity, a job skill that continues to grow in demand," he said. "In Maryland, we choose to invest in our number-one asset: the talents, skills, ingenuity, and creativity of our people.
He also noted how communities and artists are interdependent. "Our thriving cities and towns rely on our artists to bring creativity, beauty and, of course, economic activity to our main streets."
Gov. O'Malley additionally discussed his side career as a traditional Irish musician and how the traditional arts connect contemporary culture with local heritage through Maryland Traditions, the Arts Council's folk-life program. The program allows accomplished Maryland folk artists to convey their skills to apprentices, which he says, "nurtures living traditions, forges bonds to history, and inspires young people to be a critical part of this chain of history."

Fort McHenry boat tour launches with Star-Spangled grant
The new Fort McHenry Boat Tour: A Star-Spangled Experience – a 45-minute narrated tour aboard a water taxi – began its weekend service June 1. Seven tours depart from Fort McHenry Pier on the hour, starting at 10 a.m. Tickets are $10 for adults, $5 for children and are available dockside at Fort McHenry, 2400 E. Fort Ave. in South Baltimore.
Tour narration depicts Francis Scott Key's perspective (while detained aboard a British naval vessel in Baltimore's harbor) as he watched the British bombardment of Fort McHenry during the 1814 Battle of Baltimore.
A partnership of the Friends of Fort McHenry, Baltimore Water Taxi, Fort McHenry National Monument and Historic Shrine, and the Living Classrooms Foundation created the tour with a grant from the Maryland War of 1812 Bicentennial Commission's Star-Spangled 200 Grant Fund.
Silver Spring, Frederick host film festivals this month
AFI Docs, the documentary-film festival formerly known as Silverdocs, runs June 19-23 at venues in Washington, D.C., and at the AFI Silver Theatre and Cultural Center in downtown Silver Spring. The 11th annual festival, now presented by Audi, features 53 films selected from 1,929 submissions that represent 30 countries. AFI (American Film Institute)'s Silver Spring location is an anchor of the Silver Spring Arts and Entertainment District.
Also, the Frederick Film Festival (F3) returns for a fifth year, June 28-30. Two venues in downtown Frederick – Weinberg Center for the Arts and The Delaplaine Visual Arts Education Center – screen 56 films, representing the work of filmmakers from 26 countries.
A festival kick-off event – with food, drink and live music – takes place June 15 at Monocacy Brewing. F3 Eve, June 27, is a pre-release showing of the horror film V/H/S/2 with Frederick native Eduardo Sanchez (Blair Witch Project) introducing the film. And, an after-party event is set for opening night, June 28 at Brewer's Alley.
F3 features a concert by The Klezmatics at the Weinberg Center following the screening of a documentary about the group, The Kezmatics: On Holy Ground. And, storyteller-musicians Zane and Hugh Campbell close out the festival Sunday afternoon at The Delaplaine after the showing of a documentary about the duo's family called New River: A Family Musical History Tour.
Star-Spangled manuscript comes to Frederick for reunion
The Tourism Council of Frederick County, Francis Scott Key Memorial Foundation and Maryland Historical Society plan a "Star-Spangled" reunion, June 14-15, when the original manuscript of The Star-Spangled Banner – on loan from the Historical Society's museum and library in Baltimore – comes to Francis Scott Key's hometown, Frederick.
On Friday afternoon, June 14 (Flag Day), the document will be on display at Frederick's City Hall. The following day, it will be brought to Key's gravesite in Mount Olivet Cemetery in Frederick. The Colonial Fife and Drum Corps and other units of the U.S. Army Old Guard and National Capital Park Police will accompany the arrival of the document. Frederick-born opera singer Tracie Luck and the Fort McHenry Guard Fife and Drum Corps will perform during a ceremony, scheduled for 3 p.m., prior to the return of the manuscript to Baltimore.
The two-day reunion – Anthem & Author Reunited – includes the unveiling of historical markers at the Frederick Courthouse Square (where Key began his career as an attorney), Harry Grove Stadium (home of the Frederick Keys minor-league baseball team), the Hessian Barracks (site of a militia encampment during the War of 1812) and the cemetery.
And, an exhibit featuring a fragment of one of the British bombs used in the assault on Fort McHenry opens at the Frederick Visitor Center. The center is also the departure point for guided walking tours of Francis Scott Key's Frederick and a Key Bicycle Tour.
Maryland makes pitch for international travelers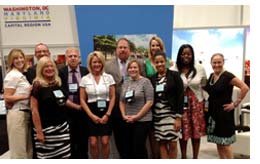 Members of the Maryland team of tourism professionals, representing destinations and attractions in the state, gather at the U.S. Travel Association's annual International Pow Wow (IPW) in Las Vegas, June 10. The marketplace at IPW, which runs to June 12, is the travel industry's single-largest generator of travel to the U.S.
Buyers from 70 countries come to IPW to arrange American travel packages through scheduled appointments with domestic travel sellers. The Maryland team is sharing more than 130 such appointments with travel buyers from the United Kingdom, France, China and Germany.
Wine Week events focus on Maryland wine
Maryland Wineries Association – in conjunction with restaurants, wine bars and wine shops across the state – celebrates the third annual Maryland Wine Week, June 14-24. Participating wine outlets offer dinners, tastings and other events that spotlight Maryland-made wine. Designed to educate consumers about Maryland's more than 60 wineries, Maryland Wine Week reinforces the "buy local" movement at a time when summer produce emerges.

The opening of Maryland Wine Week coincides with the third annual Eat-Drink-Go Local event at North Beach in Calvert County, June 15. This event features local wine, food, artisans and music in an environment that resembles an open-air farmers' market by the water.

View related story: Restaurants are filling glasses with Maryland wine
Maryland cultural traditions on display at annual festival
The Maryland Traditions Folklife Festival will be held June 15 at the Creative Alliance at the Patterson in East Baltimore. As the folk-life program of the Maryland State Arts Council, the festival is an indoor-outdoor arts showcase rooted in multi-cultural appeal. A Native American dance troupe, Khmer classical performers, bluegrass band and Baltimore-based doo-wop group are among the day's entertainers. Visitors can also indulge in traditional Maryland food and beverage choices, like Smith Island cake and locally crafted beer. Free parking and shuttle service are available, 11 a.m. to 7 p.m., rain or shine.
Juneteenth festivities recall ending of slavery in U.S.
On June 19, 1865, Maj. Gen. Gordon Granger and his Union soldiers landed in Galveston, Tex., where he announced that the Civil War had ended and those who had been enslaved were now free – two-and-a-half years after President Lincoln's Emancipation Proclamation. That date, June 19th, became known as Juneteenth – a day for celebration, prayer and family get-togethers.
Watkins Regional Park in Upper Marlboro (Prince George's County) hosts a free, family-style Juneteenth event, Saturday, June 15, 11 a.m. to 5 p.m. The day includes dance and musical performances, heritage-group exhibitions, educational presentations, and discounted train rides and miniature golf.
In Southern Maryland, a yearly Juneteenth festival will also be held June 15, noon to 8 p.m. at Freedom Park in Lexington Park (St. Mary's County). Events include a 5K run/walk, line dancing, a gospel hour, theatrical performances, entertainers and a ceremonial program.
Ocean City hosts Dew Tour's beach championships
The Dew Tour, for the third year in a row, returns to Ocean City with a free, four-day, action-sports festival, June 20-23. As the tour's beach-championship event, it airs on national television, on both NBC and the NBC Sports Network. In addition to BMX and skateboarding events, the Ocean City tour stop – which take place near the Ocean City Pier – includes a surfing competition and evening concerts.
Also, Dew Tour Showcases are a series of local events that highlight the action-sports lifestyle. One such event is Recognize: Art – an art exhibit with an action-sports theme in Berlin, near the Burley Oak Brewing Company, on June 22, 8-11 p.m. Four local bands will entertain at the event.
San Francisco (October) and Breckenridge, Colo. (December) are the other 2013 locations in the Dew Tour's beach, city and mountain championship series.
Bay-getaway contest includes stay at Cambridge resort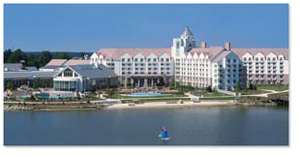 Visit the Maryland Office of Tourism's web site and enter to win a Chesapeake Bay getaway package that features a two-night stay at the Hyatt Regency Chesapeake Bay Golf Resort, Spa and Marina, located along the Choptank River in Cambridge. The package also includes a $250 shopping spree at Queenstown Premium Outlets and gift certificates for these other Dorchester County businesses: Blackwater Paddle and Pedal Adventures, Kay's at the Airport seafood restaurant, and Jimmie & Sook's Raw Bar and Grill.
Apply for funding with recreational trail projects
Maryland State Highway Administration (SHA) is now accepting applications for Recreational Trail Program funding for fiscal 2014. Applications must be submitted by July 1. Funding awards will be announced in the fall. The program encourages projects that develop and maintain recreational trails and trail-related facilities for both non-motorized and motorized recreational-trail uses. Priority projects will enhance Maryland's existing trail network, create connections between communities and natural or cultural areas, and promote tourism-related areas (i.e., Scenic Byways, Heritage Areas, Canal Towns, Main Streets and water trails). Submit applications online to Terry Maxwell at the SHA.