NEWS IN BRIEF

Chesapeake Campaign events continue 1812 bicentennial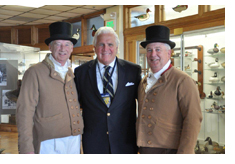 The Maryland War of 1812 bicentennial's Chesapeake Campaign – a new stage of the bicentennial that recalls the invasion of British forces along the Chesapeake Bay in 1813 – began with three events over the past two weekends. Pictured: Senate President Thomas V. Mike Miller, Jr., Havre de Grace Mayor Wayne Dougherty and County Executive David Craig at Decoy Museum before evening ceremony.
Cecil County paid tribute to the Battle of Elk Landing – which occurred April 29, 1813 – with an April 26-27 commemoration that included historical theater, guided-walking tours, candlelight tours and living-history presentations. During the war, militia at Fort Hollingsworth and nearby Fort Defiance fended off British advances and saved Elkton from being burned by the invaders.
Havre de Grace (Harford County) commemorated the British attack on the town, May 3, 1813, with a weekend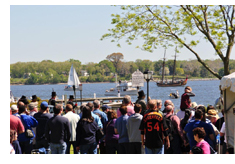 (May 3-5) that featured tall ships, re-enactments of skirmishes throughout the town, a concert with the Columbia Orchestra followed by fireworks, a Red Coat Run 5K race, and a flag-raising with the Fort McHenry Fife & Drums Corps. Pictured: Sultana offshore Havre de Grace, MD Militia at waters edge awaiting landing of "British".
Georgetown and Galena (Kent County) – attacked by the British on May 6, 1813 – held a weekend festival, May 3-5, which coincided with the annual Galena Dogwood Festival. The War of 1812 event had a re-enactment of the burning of Georgetown, boat tours on the Sassafras, artisans' exhibits, fireworks, and music and dancing under the stars. The Kitty Knight House, whose namesake (according to tradition) kept the British from burning more of Georgetown, hosted a dinner with 1812 historian and author Ralph Eshelman.
"The Chesapeake Campaign brought an elevated focus on our community's importance to our nation's history that was fun and engaging to our visitors," said Bernadette Bowman, director of the Kent County Office of Tourism and Economic Development.


Arts Council salutes new class of award-winning artists
The Maryland State Arts Council honors the 87 Maryland artists who won the Council's 2013 Individual Artist Awards (IAA) at a free, public celebration and reception, May 20 at the American Visionary Art Museum, along the southern edge of Baltimore's Inner Harbor. The event runs 7 to 9 p.m. This year's IAA recipients demonstrated outstanding achievement in these five disciplines: fiction; solo theatrical performance; painting; works on paper; and media/digital/electronic arts. Please RSVP online or call 410-767-6555 to attend.
"Artists and art-making in Maryland help fuel our creative economy and expand opportunities for cultural engagement across the state," said Theresa Colvin, executive director of the Arts Council when the award-winners were announced. "The diverse works of exceptional individual artists is essential to the arts industry, which generates a billion dollars a year in Maryland."
Phil Wiggins, known for his Piedmont-blues style of playing on the harmonica, performs at the IAA event. Also, author Michael Downs, one of the 2013 IAA recipients (fiction), reads from his work, and Blessed Sheriff, Maryland's 2013 Poetry Out Loud champion, delivers a poetry recitation. (See story in The Washington Post regarding Sherriff's second-place finish at the national POL competition.)
IAA artists received grants of $1,000, $3,000 or $6,000. Out-of-state juries representing each artistic discipline reviewed nearly 600 applications anonymously before awarding the individual grants, which were determined solely on the basis of artistic merit. The Mid Atlantic Arts Foundation administers the selection process. The IAA program grants awards in 18 artistic disciplines, which are split into three groups. Grants are awarded for each discipline every third year.
Maryland wineries cater to Mother's Day excursions
Every mom deserves a bouquet. This Mother's Day, take mom to a winery and present her with the aromatic nuances – also known as the bouquet – of a glass of Maryland wine.
"Wineries tend to be located in some of Maryland's most scenic countryside," says Margot Amelia, executive director of the Maryland Office of Tourism. "From the mountains of Western Maryland to the Chesapeake plains, Maryland wineries provide a wide variety of delightful settings for a family adventure."
Maryland's 61 wineries and six wine trails, she says, "present plenty of options for getting familiar with Maryland wines. And, in addition to all the May winery events – including many planned for Mother's Day – this time of year ushers in a new season of wine festivals around the state."
The number of wineries in the state reflects a nearly 50 percent increase over the number of Maryland wineries three years ago. Most wineries are in central Maryland's Piedmont Plateau. Additional wineries are located in the state's southern and western regions, and the Eastern Shore.
1812 conference offers look at state's role during war
The Maryland War of 1812 Bicentennial Commission, U.S. Naval Academy and U.S. Navy's Naval History and Heritage Command jointly stage a War of 1812 bicentennial conference at the Naval Academy in Annapolis, June 12 to June 15, titled From Enemies to Allies: An International Conference on the War of 1812 and its Aftermath.
Papers will be presented illuminating the significance of the war and the changes that resulted in domestic and international affairs for the U.S., Canada and Great Britain. Four panels of presenters will have a Maryland focus: "Privateers," "The Enslaved Chesapeake," "African-American Combatants" and "Chesapeake Victims."
Conference registration includes a reception and tour of Seas, Lakes & Bay: The Naval War of 1812, a new exhibit at the Naval Academy. Pre-conference tours of sites linked to Maryland's role in the War of 1812 are available on June 12. Register for the conference online. For more information, call or e-mail Kathi Ash, 410-767-6341.


Bay-getaway contest includes stay at Cambridge resort
Visit the Maryland Office of Tourism's web site and enter to win a Chesapeake Bay getaway package that features a two-night stay at the Hyatt Regency Chesapeake Bay Golf Resort, Spa and Marina, located along the Choptank River in Cambridge. The package also includes a $250 shopping spree at Queenstown Premium Outlets and gift certificates for these other Dorchester County businesses: Blackwater Paddle and Pedal Adventures, Kay's at the Airport restaurant, and Jimmie & Sook's Raw Bar and Grill.


Tourism performance measures on positive track
The Maryland Office of Tourism Development is pleased to re-launch the Maryland Tourism Monitor — the Office of Tourism's monthly report on measures for visitation and marketing, tourism-related sales taxes and leisure and hospitality jobs, now that Diana Chen has joined the Division of Tourism, Film and the Arts as its new Research and Performance Metrics Manager.
Among its findings: Sales-tax revenue from tourism tax codes grew 1.5 percent the first eight months of the fiscal year — more than 70 percent above the 0.86 percent rate of growth for overall sales-tax revenue during the same time period. Additionally, with an increased advertising budget, the tourism office has seen 28 percent more web-advertising responses, 38 percent more print-advertising responses and seven percent more broadcast responses compared to the same time period last year.
Maryland Film Festival expands to five days this year
The 15th annual Maryland Film Festival – running May 8-12 at the Charles Theater and other venues in Baltimore's Station North Arts and Entertainment District – screens nearly 50 feature films and 75 short films.
Maryland Institute College of Art's Brown Center hosts the festival's traditional opening-night program of shorts at 8 p.m. The closing night film, Mother of George, will be shown at the Charles, May 12 at 7:30 p.m. Directed by Andrew Dosunmu, who will present the film at the festival, Mother of George looks at daily life for African immigrants in an American city.
Saturday and Sunday discussions with filmmakers take place at the festival's Tent Village, across the street from the Charles. These sessions are free and open to the public.
Wineries convene for yearly festival in Columbia
Wine in the Woods – one of Maryland's signature wine festivals – celebrates its 21st annual exposition, May 18-19 at Columbia's Symphony Woods (Howard County). The weekend event features three-dozen Maryland wineries, wine seminars, juried artisans and crafters, area restaurants and caterers, and a full schedule of live entertainment on two stages. Tickets are available online. Saturday tickets include lawn admission to a concert that evening at Merriweather Post Pavilion. For more information, call the Howard County Department of Recreation and Parks, 410-313-4700. Also, more than 400 volunteers are needed for this two-day festival. Volunteers receive one admission ticket (for either day) and a T-shirt.
Write a six-word story about a museum experience
Visit Baltimore and the city's cultural community are celebrating Baltimore Museum Week, May 19-24, as a way to showcase the local cultural landscape to the 6,000 museum professionals from 64 countries who will attend the American Alliance of Museum (AAM)'s annual conference and trade show, May 19-22 at the Baltimore Convention Center.
The city plans to present thousands of submitted six-word stories – that respond to the question "What is your most unforgettable museum experience?" – in an interactive exhibit at the convention center. Museum Week officials say the exhibit will tie into AAM's conference theme: "The Power of Story."
Baltimore Museum Week's public programs committee has borrowed the six-word story concept from an incident involving Ernest Hemingway. The writer answered a challenge that required him to write a story in just six words. His story: "For sale: baby shoes, never worn." The committee is accepting six-word museum story submissions online. Prospective volunteers may also register online and attend the conference at no charge.
Apply for funding with recreational trail projects
Maryland State Highway Administration (SHA) is now accepting applications for Recreational Trail Program funding for fiscal 2014. Applications must be submitted by July 1. Funding awards will be announced in the fall. The program encourages projects that develop and maintain recreational trails and trail-related facilities for both non-motorized and motorized recreational-trail uses. Priority projects will enhance Maryland's existing trail network, create connections between communities and natural or cultural areas, and promote tourism-related areas (i.e., Scenic Byways, Heritage Areas, Canal Towns, Main Streets and water trails). Submit applications online to Terry Maxwell at the SHA.