O' Say Can You Sing? Star-Spangled Sing-Off
The Maryland State Arts Council (MSAC) and Star-Spangled 200 (SS200) invite Marylanders to enter the Star-Spangled Sing-Off for a chance to perform the National Anthem during Star-Spangled Spectacular in September. The top prize also includes $1,814 and accommodations during the event.
"Two hundred years ago, Maryland-born Francis Scott Key was so inspired by the Star-Spangled Banner flying over Fort McHenry during the Battle of Baltimore that he wrote the words to a poem that would become our National Anthem," said Bill Pencek, executive director of the Maryland War of 1812 Bicentennial Commission. "This September we will commemorate that moment at Star-Spangled Spectacular and I am delighted that we will hear the voices of Marylanders as part of the celebration."
To participate, vocalists must record their solo, a cappella rendition of the National Anthem, post it to YouTube and enter the contest at www.msac.org/singoff by Sunday, May 25, 2014.
For full information, please refer to the Contest Rules.


Garrett County Readies for Canoe Championships
Deep Creek 2014, Adventure Sports Center Institute and Garrett County are readying to host the ICF Canoe Slalom World Championships in McHenry, September 17-21, 2014. This is only the second time that this competition has been held in the United States. Twenty-five years ago, it was hosted on the Savage River in Garrett County and organizers are eager for its return.
The Maryland Office of Tourism staff went to Garrett County to meet with the event organizers to discuss maximizing the short- and long-term return. The ICF World Championships not only provides an opportunity for Western Maryland to showcase its adventurous side to whitewater enthusiasts, it also is estimated to generate significant economic impact through competitor and visitor spending.


Maryland Folklife Archive opens at UMBC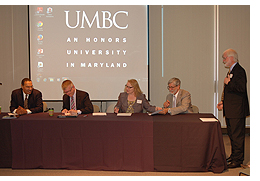 Maryland's rich folklife traditions will now be preserved for generations to come through a partnership between UMBC and the Maryland State Art Council's Maryland Traditions Program. The collection includes stories of Maryland icons, such as Arabbers and watermen; photographs of Baltimore screen painters and Native American beadworkers; and recordings of African-American hymns and Appalachian songster Ola Belle Reed. The collection has grown since the hiring of Maryland's first folklorist 40 years ago.
In thanking UMBC for its partnership, Dominick Murray, secretary, Department of Business and Economic Development said, "It's Maryland history as told by the people who lived it. Collecting these stories is very worthy, but ongoing, never-ending work. And we are lucky to have UMBC join us in that. This partnership will give all of us a place to hear the voices of past generations and learn about our rich, shared history."


Engaging Students for the Bicentennial
In September 2014, America will commemorate the 200th anniversary of the Star-Spangled Banner. Maryland and Marylanders played a pivotal role in the causes, conduct and outcomes of the War of 1812, and created two of the most prominent symbols of America – the flag and the anthem – while the Chesapeake was engulfed in War.
Many bicentennial activities are being planned for Maryland in 2014 for the K-12 audience in virtual and non-virtual formats. Some of the most notable and easily accessible opportunities currently operating or planned include:
For more information on any of these activities and more please contact Heather Ersts, Outreach and Partnership Coordinator at the Maryland War of 1812 Bicentennial Commission or Abbi Wicklein-Bayne, Education Specialist, The Star-Spangled Banner National Historic Trail.


Tourism Tax Revenues continue to grow in FY2014
The latest issue of the Maryland Tourism Monitor – the Office of Tourism's monthly report on metrics for marketing, tourism-related sales taxes, lodging and transportation trends, and leisure and hospitality jobs – is now available online. Among its findings: sales tax revenue from tourism tax codes grew 0.7 percent the first seven months of the fiscal year; the addition of table games led to an increase in gaming revenue of 53 percent; and Amtrak and BWI Airport both saw gains in travelers – up 4 percent and 3 percent, respectively.
State Legislature Approves Historic Preservation Tax Credit
The Maryland General Assembly reauthorized the Sustainable Communities Tax Credit Program, which funds historic renovation and helps bring economic development and revitalization to communities throughout the state. House Bill 510 extends the program for three years and adds a small business component.

Designed to encourage the redevelopment of historic buildings, the program, administered by the Maryland Historical Trust (MHT), has a 17-year history of creating jobs, boosting property values, encouraging reinvestment and transforming neglected neighborhoods into vibrant places.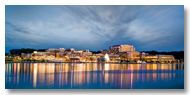 National Harbor Summer Getaway Sweepstakes
Enter for a chance to win a two night stay at Gaylord National Resort Hotel & Convention Center, Tanger Outlets and dining gift cards, boarding passes for water cruises, a ride on the brand new Capital Wheel, and more!
Calvert Marine Museum Opens After Renovation , May 3
Just in time for the Solomons Maritime Festival, the museum re-opens after its renovation. The event includes The Antique Boat and Marine Engine Show which features exhibits from more than 30 collectors of antique and classic boats and vintage marine outboard and inboard engines. There will also be crab picking and oyster shucking lessons, local gospel and old time music, and model boat water-based demonstrations.
Maryland International Film Festival, May 1 – 3
Hagerstown hosts the Maryland International Film Festival, May 1–3. The festival is organized by filmmakers and marketing executives who understand the power of film and support the talent of the independent filmmaker.