NEWS IN BRIEF


Tubman weekend features park groundbreaking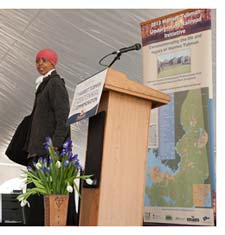 Performances by a Baptist church choir and a Harriet Tubman re-enactor, along with remarks by Gov. Martin O'Malley, U.S. Secretary of the Interior Ken Salazar, National Park Service Director Jonathan Jarvis and Tubman relatives marked a groundbreaking ceremony, Saturday morning, March 9, on the Eastern Shore for a 15,000-square-foot visitor center that will anchor the Harriet Tubman Underground Railroad State Park. More than 200 guests and spectators witnessed the outdoor event

The park – adjacent to Blackwater National Wildlife Refuge near Cambridge – is expected to open in 2015. It will include walking trails, a garden and a visitor center with exhibits that depict Tubman's efforts to secure freedom for those enslaved in the area during the years leading up to the Civil War.

"In the initial stages," Gov. O'Malley said, "approximately $8 to $10 million in annual economic benefits will be generated from visitation to the state park, and increase to as much as $10 million annually."
The groundbreaking coincided with the official opening of the Harriet Tubman Underground Railroad Byway, which stretches for 125 miles through Caroline and Dorchester counties. Both events were part of a weekend that commemorated the centennial anniversary of Tubman's passing.


Md. senators endorse C&O Park's advisory group
U.S. Senators Ben Cardin and Barbara A. Mikulski recently re-introduced a bill that sustains the continued involvement of the Chesapeake & Ohio National Historical Park Advisory Commission in matters related to the C & O Canal National Historical Park.

Established in 1971 as part of the Chesapeake & Ohio Canal Development Act, the commission serves in an advisory role to the National Park Service (NPS), which manages the 184.5-mile-long park. It provides a link between NPS and communities along the park's linear route. Congress must re-authorize the commission every 10 years. After gaining re-authorization three times since 1971, the commission was due for re-authorization in 2011.
"The advisory commission," said Sen. Cardin, "has become a model of how communities and the NPS can interact in a way that is beneficial to both."
The park – and its well-known towpath used by bicyclists, hikers and runners – stretches along the Potomac River, from the Georgetown section of Washington, D.C., northwest to Cumberland in Allegany County, intersecting a collection of pre-Civil War towns in Maryland – Hancock, Hagerstown, Williamsport and Sharpsburg.
More than 3.75 million visitors came to C&O National Historical Park in 2009, making it Maryland's most popular national park.
Arts Council public forums to address strategic plan
As the Maryland State Arts Council (MSAC) prepares to update its current five-year strategic plan, Imagine Maryland, it has arranged six public forums during March and April to discuss how to best serve art communities across the state. The regional meetings – hosted by county arts councils – will be held at locations operated by MSAC grant-recipient organizations.
The forums, listed by region in order of date, are below. Registration for each session is available online (by clicking on the name of each region).
Central Maryland (Anne Arundel, Baltimore, Carroll, Cecil, Harford and Howard counties and Baltimore City), Monday, March 18, 1:30-4 p.m., at the Creative Alliance in East Baltimore.

New members officially join state tourism board
Four new members of the Maryland Tourism Development Board were sworn in on Feb. 25. They are:
Anthony Cohen, founder and executive director, Menare Foundation, Brookeville (Montgomery County) – Cohen started the foundation– a nonprofit dedicated to preserving the history of the Underground Railroad – 13 years ago. He is a public historian with expertise in research regarding the African-American experience.
Jim Grube, owner Woodlawn Estate and Slack Winery, Ridge (St. Mary's County) – Grube had purchased Woodlawn Farm in 2005. He and his family then converted the property into a bed and breakfast. They began making wine in 2009, and opened a tasting room for the winery a year later. Grube is a former men's collegiate lacrosse coach.


Patricia Heffelfinger, executive director, Maryland Soccer Foundation, Boyds (Montgomery County) – After joining the foundation in 1998, Heffelfinger helped to develop the 22-field Maryland Soccerplex and Discovery Sports Center, located near Germantown. The facility hosts more than 650,000 visitors each year.
Ray Nelson, vice-president, Customer Service & Quality Assurance, Veolia Transportation, Baltimore – With 25 years of experience in transportation management, Nelson has worked in customer relations, sales and marketing, driver training and call-center management. Veolia is the largest private provider of multiple modes of transportation in North America.


Historical preservation leader takes on national role
Elizabeth A. Hughes, deputy director of Maryland Historical Trust (MHT), was elected president of the National Conference of State Historic Preservation Officers, Feb. 27 at the conference's annual meeting in Washington, D.C. The national group is affiliated with the National Governors Association.

Hughes becomes one of 23 designated members of the U.S. Advisory Council on Historic Preservation. The council promotes preservation and enhancement of historic resources in the U.S., and advises the president and Congress on national policy for historic preservation.
Through her tenure at MHT, Hughes continues to oversee preservation programs across the state. She helped to develop Maryland's Heritage Areas Program, which received a Preserve America Award from President Bush in 2006. Hughes also serves on the Captain John Smith Chesapeake National Historic Trail and Star-Spangled Banner National Historic Trail advisory councils.

SHA offers funding for alternative-transportation projects
The Maryland Department of Transportation's State Highway Administration (SHA) seeks proposals for transportation-related projects to be partially funded through the newly established Transportation Alternatives Program (TAP). With $20 million in federal money available for fiscal 2013 and 2014, TAP can fund such alternative transportation projects as the planning, design and construction of on- and off-road facilities for pedestrians, bicyclists and other non-motorized transportation.
Program guidelines and applications are available online. Applications may be submitted to SHA now through May 15. For eligibility information, call or e-mail Jessica Silwick, SHA's Transportation Alternatives liaison, 410-545-5675. SHA is located at:
National Harbor, Talbot restaurant weeks this month
Expand your appetite for new culinary experiences with these two local restaurant weeks. View the online sites below for more information about each event.
Film festival debuts in Annapolis
The inaugural Annapolis Film Festival, featuring approximately 90 films – including features, documentaries, shorts and student productions – runs March 21-24. More than 50 filmmakers and industry guests will attend. Screenings take place at Maryland Hall for the Creative Arts, St. John's College, Banneker-Douglass Museum, St. Anne's Church and Bay Theatre. Tickets are $75 for a four-day pass, $30 for a one-day pass and $10 for a single screening of a feature film or group of short films. Student tickets are also available. Films in the festival were selected from more than 400 submissions.
S. Md. festival showcases Solomons eateries
Restaurants in Solomons Town Center (Calvert County) serve up a one-day food festival, Saturday, March 23, 11 a.m. to 4 p.m. The 13th annual Taste of Solomons is a signature event that benefits the Solomons Business Association's yearly Fourth of July fireworks display. For more information, call 410-326-9900. Richard Fitzwater, event chair, says: "The Taste of Solomons is just another reason our town has been rated among the top-15 happiest seaside towns in America."
Learn how to entice international tourism
Capital Region USA (CRUSA) – in conjunction with the Maryland Office of Tourism and Visit Baltimore – presents a seminar, Monday, May 20, which shows hoteliers how to tap into the international market. The seminar runs 2 to 4:30 p.m. at Visit Baltimore's office, 100 Light St. (12th floor) near the city's Inner Harbor. Registration is free, but space is limited.
Speakers and topics include: Julie Katz, managing director, Tour Mappers – Working with an FIT (Frequent Independent Program); Kolja Kassner Sr., vice-president, CANUSA Touristik (Germany) – How overseas tour operators drive business to a destination; and Andrea Evans, account director, Miles Partnership (formerly Miles Media) – Reaching consumers through online channels.
Remember the Ark and the Dove on Maryland Day
Two boats of English settlers sailed up the Chesapeake Bay in March 1634. After landing at St. Clement's Island, they established the colony of Maryland. Celebrate the anniversary of Maryland's founding at these Maryland Day commemorations: March 22-24 in Anne Arundel County's Four Rivers Heritage Area; March 23 in Historic St. Mary's City (site of the first settlement); and March 25 at St. Clement's Island Museum. The first Maryland Day occurred in 1903, when the State Board of Education selected one day during the school year to be dedicated to Maryland history.
Registration open for 1812 conference in June
The Maryland War of 1812 Bicentennial Commission, U.S. Naval Academy and U.S. Navy's Naval History and Heritage Command will jointly host a War of 1812 bicentennial conference at the Naval Academy in Annapolis, June 12 to June 15, which is titled From Enemies to Allies: An International Conference on the War of 1812 and its Aftermath. Scholarly papers will be presented on topics linked to the historic significance of the war and the changes that resulted in domestic and international affairs for the U.S., Canada and Great Britain. Pre-conference tours of sites linked to Maryland's role in the War of 1812 are available on Wednesday, June 12. Register for the conference online. For more information, call or e-mail Kathi Ash, 410-767-6341.