NEWS IN BRIEF


Tourism leaders meet with state legislators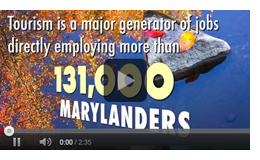 About 200 Maryland tourism leaders assembled at the Miller Senate Office Building in Annapolis, Friday morning, Feb. 8, in anticipation of meeting with their state legislators to advocate for Gov. Martin O'Malley's recommended budgets for the Maryland Tourism Development Board, the Office of Tourism Development and the War of 1812 Bicentennial Commission.
Following those individual meetings, the tourism professionals returned to a ground-floor room in the Senate Office Building where they reported to their colleagues about the morning talks and listened to a series of speakers – including some of the legislators – during a Tourism Day lunch. Tourism Day is annual event sponsored by the Maryland Tourism Council and the Maryland Destination Marketing Organizations (MDMO) that occurs during the opening weeks of the state legislative session.
A day before Tourism Day, Feb. 7, legislators heard testimony from several tourism leaders including Maryland Tourism Development Board president, Greg Shockley.
View an infographic about the economics of tourism in Maryland.


Tubman national parks bill gets new life in Congress
Today, Maryland's U.S. Senators Ben Cardin and Barbara A. Mikulski, along with New York's Senators Charles Schumer and Kirsten Gillibrand were joined by leaders of the National Association for the Advancement of Colored People (NAACP), National Organization for Women (NOW), National Urban League, National Council of Negro Women and the Harriet Tubman Home to call for immediate Congressional action on the Harriet Tubman National Historic Parks Act. The act would establish two national parks – one on the Eastern Shore of Maryland and the other in Auburn, N.Y. – to honor the life and legacy of Harriet Tubman, the preeminent conductor of the Underground Railroad during the years leading up to the Civil War.
Born in Dorchester County, Tubman spent her first three decades in slavery before escaping in 1849. She soon returned to Dorchester and Caroline counties, and for the next 10 years, helped to ferry enslaved African-Americans to freedom. Tubman later moved to Auburn where she advocated for aging African-Americans and the women's suffrage movement. March 10 is the 100-year anniversary of her passing.
The Tubman park in Maryland would include nearly 2,775 acres located in the master plan boundaries of Blackwater National Wildlife Refuge in Dorchester County, about 2,200 acres in Caroline County and 725 acres by the Choptank River in Talbot County.
"Harriet Tubman was a courageous fighter who delivered countless slaves to freedom on her Underground Railroad. She bore the lash, bore the pain and then came back to run the Freedom train," Senator Mikulski said. "Today as we mark Black History Month and commemorate the 100th anniversary of her passing, I am proud to support the creation of these national parks to honor the legacy of Harriet Tubman."
In addition to the current Senate bill (which had been introduced during each of the three previous sessions of Congress), Rep. Dan Maffei (N.Y.) intends to present a companion Tubman parks bill in the House of Representatives.


March weekend honors Tubman anniversary
In tribute to the centennial anniversary of Harriet Tubman's passing, several events will be held during the March 8-10 weekend on the Eastern Shore.
An artist's reception at the Museum of Rural Life in Denton (Caroline County), Friday, March 8, marks the opening of an exhibit of paintings and drawings by Mark Priest, which were inspired by Tubman's connection to the Underground Railroad. Priest spent the past decade following the routes of the Underground Railroad and researching Tubman's life.
On Saturday, March 9, Underground Railroad historian Tony Cohen leads a one-mile walk during the afternoon of the annual Eagle Festival at Blackwater National Wildlife Refuge, outside of Cambridge (Dorchester County).
Also on March 9, the Harriet Tubman Museum and Educational Center in downtown Cambridge hosts a banquet at Governor's Hall in Sailwinds Park to honor Tubman's life and legacy. Underground Railroad historian Clara Small and jazz musician Marcus Shelby are part of the program. Shelby and his quartet then perform in a Tubman-tribute concert, Sunday afternoon, March 10, at the Hyatt Regency Chesapeake Bay Resort in Cambridge.
Tickets for the art reception, banquet and concert are available online. Or, call 1-800-522-T0UR or 410-228-1000.


1812 book among winners of Preservation Awards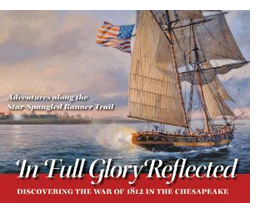 Maryland Historical Trust (MHT), an agency of the Maryland Department of Planning, recently selected 10 projects, organizations and individuals as recipients of its Maryland Preservation Awards for 2013.
"These individuals and projects represent the best in heritage education, community revitalization and volunteerism in Maryland," said Charles Edson, chair of MHT's board of trustees.
The award for Excellence in Media and Publications went to a book authored by Ralph Eshelman and Burt Kummerow – In Full Glory Reflected: Discovering the War of 1812 in the Chesapeake. A historical narrative and travel guide, the book depicts the war along the Star-Spangled Banner National Historic Trail, which goes through Maryland, Virginia and the District of Columbia.
"Creating this resource for trail visitors was truly a collaborative effort with trail partners, the Maryland War of 1812 Bicentennial Commission, the Maryland Historical Trust and the Federal Highway Administration," said John Maounis, superintendent of the Star-Spangled Banner NHT.
Other recognized programs and organizations included the Watermen's Heritage Tourism Training Program (Preservation Partnerships); Discover London Town! (Excellence in Programming and Exhibits); and Interpreting Hagerstown's Civil War History (Excellence in Community Engagement).

Arts Council to update five-year plan
Imagine Maryland – the Maryland State Arts Council's five-year strategic plan that launched in April 2009 – is about to be evaluated and updated.
"This important process will allow us to gauge the success of the past five years and building on that foundation, identify opportunities to broaden the cultural and economic impact of the arts in years to come," said Barbara Bershon, chair of the Arts Council.
Dreezen and Associates, a Massachusetts-based consulting firm that has helped to develop strategic plans for more than 60 nonprofit cultural organizations and public agencies across the U.S., will work on the Arts Council plan.
Bill Mandicott, a current member of the Arts Council who was chair when Imagine Maryland was developed, is now leading the Council's Strategic Planning Committee.
Since Imagine Maryland was implemented, the Arts Council has designated two additional arts and entertainment districts, established the annual Maryland Traditions Folklife Festival and completed the 9/11 Memorial of Maryland.

Governor salutes Ravens after Super Bowl win
Gov. Martin O'Malley issued the following statement following the Baltimore Ravens victory in Super Bowl XLVII:
"The Baltimore Ravens have proven that they are the team of destiny this year. We are incredibly proud of Coach John Harbaugh and our entire Baltimore Ravens team for bringing the Lombardi Trophy back to Baltimore.
"Our Ravens have provided an inspirational lift for all of us to reach beyond our dreams this season. They are the heart and soul of Baltimore, and fans across our great State are celebrating in the historic accomplishments of this team. We look forward to the Ravens homecoming and the parade in the days to come.
"Congratulations to Joe Flacco for being named Most Valuable Player. We also wish Ray Lewis well in his future endeavors, and we are forever grateful for what he has done for Baltimore for 17 years. Go Ravens!"
Maryland Arts Day brings advocates to Annapolis
Arts advocates from across the state voice their support for Maryland arts funding during meetings with state legislators on Maryland Arts Day, Wednesday, Feb. 20 at the Miller Senate Office Building in Annapolis. Maryland Citizens for the Arts (MCA), an advocacy group for Maryland artists and arts organizations, sponsors the annual event. Registration for Maryland Arts Day is available online. Dr. Charles Limb – a surgeon, researcher, teacher and musician associated with The Johns Hopkins School of Medicine and Peabody Conservatory – will address the advocates as the keynote speaker.
Black History Month exhibit reveals runaways' stories
A new exhibit at the Historic Annapolis Museum depicts stories of resistance to slavery in the Chesapeake region between the 1720s and the 1860s. The exhibit – Freedom Bound: Runaways of the Chesapeake – runs Feb. 23 to March 2. A part of the Historic Annapolis Foundation, the museum is located at 99 Main St. in downtown Annapolis. It's open Monday through Saturday, 10 to 5, and Sunday, 11 to 5.
NPS grants promote development of regional trails
The National Park Service Chesapeake Bay office is accepting project proposals from Chesapeake Bay Gateways and trails partners for financial assistance awards. Awards may range from $10,000 to $125,000. Applications are due by Friday, March 1. Public-access projects that advance the development of the Captain John Smith Chesapeake National Historic Trail, Star-Spangled Banner National Historic Trail or Chesapeake Bay Gateways water trails are the funding priority for fiscal 2013.
Registration opens for 1812 conference in June
The Maryland War of 1812 Bicentennial Commission, U.S. Naval Academy and U.S. Navy's Naval History and Heritage Command will jointly host a War of 1812 bicentennial conference at the Naval Academy in Annapolis, June 12 to June 15, which is titled From Enemies to Allies: An International Conference on the War of 1812 and its Aftermath. Scholarly papers will be presented on topics linked to the historic significance of the war and the changes that resulted in domestic and international affairs for the U.S., Canada and Great Britain. Pre-conference tours of sites linked to Maryland's role in the War of 1812 are available on Wednesday, June 12. Register for the conference online. For more information, call or e-mail Kathi Ash, 410-767-6341.