NEWS IN BRIEF


Authentic Maryland experiences await travelers in 2013
Make it a New Year's resolution to visit more of Maryland more often, says the Maryland Office of Tourism.
"The diverse range of attractions and destinations in the state affords both residents and out-of-state visitors with opportunities to discover authentic Maryland experiences throughout the year," says Margot Amelia, executive director of the state tourism office. "Our state is brimming with history, culture, recreation and sheer natural beauty."
Each month, the tourism office spotlights a single travel theme. View a dozen travel suggestions, which reflect the destinations and events that will be highlighted on a monthly basis in 2013.
In January, for instance, Wisp Resort – located by Deep Creek Lake in Western Maryland – features skiing and snowboard instruction. Also, Maryland's state parks offer venues for winter recreational sports and accommodations that range from campgrounds to heated cabins and cottages.
Other suggestions for upcoming months include the opening of the Harriet Tubman Underground Railroad Byway on the Eastern Shore, horseracing, and seafood and wine festivals.
Dominick Murray named Johansson's successor at DBED
Gov. Martin O'Malley has named Dominick Murray to succeed Christian Johansson as secretary of the Maryland Department of Business and Economic Development (DBED), the department that includes the Division of Tourism, Film and the Arts. Murray was DBED's deputy secretary prior to the December resignation of Johansson, who is joining Baltimore-based Laureate Education.
"We are fortunate to have someone with Dominick's knowledge and extensive background in economic development take the helm at DBED," said Gov. O'Malley in a published statement, adding: "I want to thank Christian for his work in creating an economic development strategy centered on creating jobs not just for today, but creating jobs for generations to come."
Murray led Baltimore City's economic development team when Gov. O'Malley was the city's mayor. He has served as DBED's deputy secretary since 2007.
View related stories in the
Baltimore Sun
and
The Washington Post
.
New geocaching trail promotes Maryland destinations
The Maryland Municipal League (MML) launched its Discovering Maryland MML Geotrail, Jan 5 with kick-off events in Greenbelt, Hancock and Perryville. As MML's second state-wide geocaching project, the trail includes 49 municipalities.
Geocachers use smart phones or hand-held GPS devices to locate hidden containers (caches) that have information about attractions and destinations along a designated trail.
"MML has proven that a geocache trail is a great way for cities and towns to expand tourism by attracting visitors from among the thousands that participate in geocaching throughout the United States," said Scott Hancock, MML executive director, in a recent statement.
MML is a nonprofit association located in Annapolis that represents 157 municipal governments in Maryland. The Discover Maryland trail is sponsored by Magellan GPS, L. L. Bean, Maryland Geocaching Society and the City of Havre de Grace Economic Development Office.
Geocachers can access coordinates for the Discovering Maryland trail by registering at Geocaching.com.
Read more about this new trail in a (Hagerstown) Herald-Mail article.


MLK salutes set for Jan. 19 weekend across state
Baltimore's Reginald F. Lewis Museum celebrates Dr. Martin Luther King Jr. Weekend, Jan. 19-21. The weekend includes: a free, public opening on Saturday of an exhibition by children's book illustrator Bryan Collier; author and radio host Marshall C. Bell and a choral music presentation on Sunday; and a screening of the inauguration of President Barack Obama on Monday.
Also, the 13th annual Dr. Martin Luther King Jr. Parade in Baltimore begins at noon on Jan. 19, starting at Martin Luther King Jr. Boulevard and Eutaw Street. The 9th annual Southern Maryland Martin Luther King Jr. Prayer Breakfast is Jan. 21 at St. Mary's College of Maryland in Historic St. Mary's City.
Annmarie Sculpture Garden and Arts Center in Solomons presents MLK Days, Jan. 19-21, with community art activities suitable for all ages. And, on the Eastern Shore, a Dr. Martin Luther King Jr. Birthday Celebration is at the Todd Performing Arts Center at Chesapeake College in Wye Mills on Jan. 21, 1-3 p.m.

Tap into global market with CRUSA sales missions
Capital Region USA (CRUSA) – the regional destination marketing organization that promotes international travel to Virginia, Maryland and Washington, D.C. – plans upcoming sales missions to Brazil and China. Participants in these missions will meet with tour operators and travel agents who send business to the U.S.
The Brazilian trip goes to Sao Paulo, Feb. 24-28, and costs $2,500 (not including flights and accommodations). Deadline for registration is Feb. 1. Brazil ranks as the fourth-largest overseas market for both the Capital Region and the U.S.
The Chinese trip goes to Beijing and Shanghai, April 21-28, and costs $3,500 (not including flights and accommodations). Deadline for registration is March 1. China is the second-largest overseas market for the Capital Region.
For more information or to register, e-mail Kimberly Petersen, CRUSA marketing coordinator.
View a story in The Washington Post about Chinese tourism in the West
.


College basketball tournament moves to Baltimore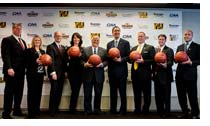 Officials representing Maryland, Baltimore and the Colonial Athletic Association (CAA) – including former DBED Secretary Christian Johansson (center) – announce the move of the CAA's annual March basketball tournament to Baltimore's First Mariner Arena for the 2014 through 2016 seasons. The tournament had been in Richmond, Va., since 1990. Officials estimate the tournament to have a $6.5 million economic impact on the region. View a related story in the Baltimore Business Journal.
Riford selected as industry leader by national magazine
Tom Riford, president and CEO of the Hagerstown-Washington County Convention and Visitors Bureau, was named one of the top leaders in the meetings and events industry by Rejuvenate magazine. Riford was the only Marylander among the 34 names that were submitted to the magazine by its industry partners across the U.S. Rejuvenate is a source of information for faith-based meetings, conferences, retreats and other events. It serves this industry through a magazine, web site and social-media network.
1812 militia on Eastern Shore welcomes re-enactors
Two meetings to discuss the formation of the Eastern Shore Militia re-enactment group will be held Saturday, Jan. 12. The first is at noon, at the Miles River Yacht Club in St. Michaels (Talbot County), 24750 Yacht Club Rd., and a second meeting is at 4:30 p.m. at the Queen Anne's County Library, 121 S. Commerce St. in Centerville. The re-enactment group – a project of the Eastern Shore War of 1812 Consortium – plans to participate in events linked to the bicentennial commemoration of the War of 1812. Funding for the militia comes from the Maryland War of 1812 Bicentennial Commission, and Caroline, Dorchester, Kent, Queen Anne's and Talbot counties. For more information, call or e-mail John Wyman, 443-350-6277.
Also, auditions will be held Feb. 1 for two War 0f 1812-related theatrical productions, presented by the Friends of Kent County, Maryland War of 1812 Committee.
Restaurant Weeks afford new dining experiences
January marks the return of the winter Restaurant Week season. Participating restaurants offer prix-fixe lunches and dinners at special prices. Check these dedicated online sites for Baltimore and Howard counties, and Baltimore City. Also, Calvert County debuts its first-ever Restaurant Week, Feb. 1-10 (an online site goes live Jan. 11).
Film festival for kids runs Jan. 19 in Frederick
The third annual Maryland International Kids FilmFest, a spin-off of the Frederick Film Festival, runs Saturday, Jan. 19 at the Weinberg Center for the Arts in downtown Frederick. Event includes animation workshops and the screening of approximately 50 short films. Two Oscar-winning Wallace and Gromit films – A Grand Day Out and A Matter of Loaf and Death – will be shown at 4:30 p.m. and 5 p.m. Tickets are $10 for the day. Purchase information online.
Advocate for tourism at Taste of Maryland
The Maryland Tourism Council and the Restaurant Association of Maryland, in conjunction with the Maryland Association of Destination Marketing Organizations and the Maryland Hotel and Lodging Association, present the 23rd annual Taste of Maryland Legislative Reception, Monday, Jan. 21, 5 to 7:30 p.m. at the Loews Annapolis. Event includes complimentary beverages provided by MillerCoors and the Maryland Wineries Association. For more information, call or e-mail Nicole Toland, 410-290-6800. Tickets are also available online and include admission to three sessions of seminars that begin in the afternoon.
Green Travel offers open 'help desk' in Southern Md.
Representatives of Maryland Green Travel will host a 90-minute information session for Southern Maryland attractions, restaurants and accommodations on Wednesday, Jan. 23 at the Holiday Inn Solomons Conference Center & Marina, starting at 10 a.m. Please RSVP online to attend. Maryland Green Travel is a statewide program that promotes sustainable best practices for the state's tourism industry through voluntary and free certification.
Online registration opens for Maryland Arts Day
Arts advocates from across the state will voice their support for Maryland arts funding during meetings with state legislators on Maryland Arts Day, Wednesday, Feb. 20 at the Miller Senate Building in Annapolis. Maryland Citizens for the Arts (MCA), an advocacy group for Maryland artists and arts organizations, sponsors the annual event. Registration for Maryland Arts Day is available online. Dr. Charles Limb – a surgeon, researcher, teacher and musician associated with The johns Hopkins School of Medicine and Peabody Conservatory – will address the advocates as the keynote speaker. Also, MCA is accepting nominations for its annual Sue Hess Maryland Arts Advocate of the Year Award until Jan. 19.